/ Integrating CRM and business intelligence to supercharge your sales team
Article
Integrating CRM and business intelligence to supercharge your sales team
Customer Relationship Management (CRM) software is a type of software used to manage the relationships you have with your customers. A CRM assists businesses in developing effective customer connections by centralizing all customer information.
Tracking client interactions from the first interaction to effective conversion and beyond improves customer satisfaction and allows sales, marketing, and customer support teams to communicate more effectively. CRM technology enables the customer lifecycle to be simple to follow and comprehend, saving time and effort for sales and marketing organizations.


What are the benefits of customer relationship management software for businesses?
Your sales team's hidden superpower is sales analytics obtained from CRM software. It can help your agents detect critical trends, delve deeper into data, forecast results, and boost productivity. Your team will be able to customize their efforts and target high-value prospects thanks to accurate analysis. Furthermore, it may assist in identifying fresh options for your company to pursue.
You can use sales analytics through a business intelligence (BI) platform to better assess team performance and identify areas for improvement. Better training, more reachable goals, and a cohesive team result from understanding those strengths and shortcomings.
Many organizations, particularly small ones, may feel that basic contact database software is "good enough" for client contact tracking. However, organizations that do not use CRM software today are at a significant disadvantage.
Marketing and sales efforts, both inbound and outbound, are streamlined with a successful CRM. It not only keeps track of changing relationship marketing plans, but it also assists your firm in organizing:
Every customer encounter, including phone calls, texts, emails, and spoken interactions
Prospective customers, lead generation, and existing customers
Lists of internal team members, as well as vendors and competitors
Sales funnels and marketing campaigns
Pricing and access to pending agreements
Customer-driven business decisions based on real-time analytics data
What are the most important characteristics of a CRM system?
Most of the following capabilities will be included in the best sales CRM software:
Unified contact management
A contact management software allows you to do more than just save the names and contact information of future and present customers in a single database. You can also do the following with this basic CRM feature:
Tailor your marketing and sales strategy, and categorize, classify, and search your contacts.
Ensure communication is well-timed and individualized, and keep track of all calls, interactions, emails, and messages.
Pipeline coordination and automation
The capacity of a fully-integrated CRM system to boost sales funnel productivity is one of its most impressive capabilities. CRM tools can help you establish optimized CRM sales process phases by:
Automating prospecting and lead creation
Using lead scoring tools, make it easier to identify qualifying leads
Creating tailored quotations using comprehensive consumer information
Keeping track of your closing accomplishments and setbacks
Providing useful information regarding why deals are won or lost
However, make sure your sales teams have enough time to incorporate CRM best practices in order to get the most out of these time-saving sales funnel solutions. After all, all the bells and whistles in the world won't help if your team doesn't know how to use them.
A CRM dashboard that is simple to use
The data from your CRM sales analytics solution should be presented in an easy-to-understand style. Every day, your team sees your CRM dashboard, which provides a real-time visual interface into the sales organization. As a result, you'll want to make sure it's user-friendly and configurable for CRM connections. You can build an effective CRM dashboard using a BI tool. The dashboard can give stakeholders a unified view of your CRM,including:
Calendars, appointments, notes, and tasks
Emails, calls, and messages
Top deals, new deals, concluded deals, and more
Revenue targets and pipeline data
Forecasted sales and performance metrics for sales
A customizable dashboard ensures that you and your team aren't overburdened with information you don't require. Choose a CRM that integrates well with a BI platform to create dashboards that are easy-to-navigate and will generate helpful insights from your CRM data.
Data-driven CRM reports
The collecting, organization, and analysis of critical sales and marketing KPIs are among the most powerful BI tools you can leverage with your CRM. You'll obtain a thorough insight into the sales and marketing operations thanks to the simple generation of useful reports.
They'll provide you the tools you need to:
Identify the main variables that lead to good customer encounters quickly
Improve your sales procedures
Identify the areas that require the most attention
The benefits of CRM software
Integrating CRM software with your BI solution can be a significant change for all departments ranging from marketing, sales, customer support, IT, and finance–but it comes with significant benefits.
We'll look at three ways a CRM platform can help your organization in the following sections.
Increase customer satisfaction
A CRM system does more than just build a consolidated database of client information. A good one will also integrate with customer support platforms, allowing you to see when clients require assistance.
Happy customers become loyal clients, and loyal clients tell their friends and colleagues about your business. Understand why and when customers are irritated by using sales CRM analytics. Make the necessary adjustments to your procedures.
Boost productivity with intelligent automation
CRM automation systems should be simple to use, save time, and allow your salespeople to concentrate on what they do best: building strong customer relationships as well as closing deals.
Firms have been able to reduce proposal timeframes from days to hours with the use of automated CRM operations, saving them substantial time and money.
According to some experts, roughly a third of the total sales tasks may be automated, and businesses that use sales automation have 53 percent greater conversion rates and 3.1 percent faster yearly growth.
Improve departmental communication and coordination
CRM technology is the most effective way of making sure that sales and marketing efforts are coordinated. Sharing data between departments is simple with sales CRM software. This will allow you to follow clients' progress in real-time, verify support tickets, and deliver a consistent customer experience.
CRM software enables marketing companies to find more qualified prospects, sales teams to tailor communication, and customer service teams to know precisely what each customer requires—all while staying in sync.

How do you pick the best CRM platform for your company?
Choosing the best CRM for your business is a difficult undertaking. Sure, you want a long list of features, seamless integration, easy-to-use mobile alternatives, and a large amount of cloud storage. However, once you've chosen a CRM system, the team will need to learn how to utilize it. Before you buy, take the time to understand your brand's and business's CRM requirements, as well as your team's technological expertise.
The correct CRM software can boost your team's productivity dramatically, but only if the CRM software is simple to use. It's not going to delight anyone if one headache is replaced with another, so research is essential.
Another element to consider when selecting a CRM platform is its ability to integrate with your BI solution. BI vendors work well with many different types of CRMs, ranging from the most popular options to more niche varieties. Before making a decision, ensure that the CRM and BI platform are easy to integrate.


When is the best time to put a CRM system in place?
If you're looking for CRM information, you've probably realized that your company could profit from one. Even if your firm is still tiny, CRM for smaller companies can help you increase efficiency and scale more quickly without becoming overwhelmed.
Keeping track of clients, sales, and a plethora of other more or less relevant information becomes too difficult at some point. CRM software may be the answer if your employees are buried in lists of email addresses, spreadsheets, and disorganized email layouts. CRM software can help you organize your customer data and offer you critical insights into crucial company performance metrics that you wouldn't have access to otherwise.
For the best results, follow these steps to combine CRM and BI.
Know your customers
To find the KPIs (key performance indicators) that are most closely connected with the business's goals and objectives, get to know your customers. Reassess your KPIs on a regular basis to keep an eye on changing business conditions, opportunities, and dangers that could alter your data's outcome. The millennial generation, for example, is extremely active on social media and produces a wealth of unstructured and structured data through their posts, but their concentration will shift with time. This relationship would be captured through a social CRM strategy, which would reveal patterns and insights both now and in the future.
Identify data sources
Make a list of data sources that will deliver the most useful information. Database systems, accounting software systems, enterprise resource planning programs, and content management software can all be used as data sources. Additional sources of unstructured data, such as email queries and social media, should not be disregarded.
Test and clean your data
An estimated 63 percent of businesses lack a systematic method to reduce dirty data. Structured and unstructured data both hold a wealth of information, but only if you have a strategy for appropriately combining them. Test the quality of your data sources and choose a program to assist you clean and manage your data on a regular basis. Export a small number of indicators at a time to the system's data visualization and charting functions to make the big data smaller.
Analyze and improve
As user adoption rises, keep records of employee engagement with the BI tool by evaluating the number of users and reporting usage to see if your intelligence is useful. As the big data and acceptance rate grows, you'll need to refine your metrics. Add new dashboards, KPIs, and reports which are useful on a regular basis, and remove or update those that aren't.

Conclusion
Sales metrics, which are derived from CRM sales analytics, can help you enhance your performance, optimize your sales efforts, and improve accountability. Your sales team is responsible for a wide range of operations and works in a fast-paced atmosphere. A sales analytics plan that is well-defined gives your team direction and clarity, allowing them to focus on what they do best.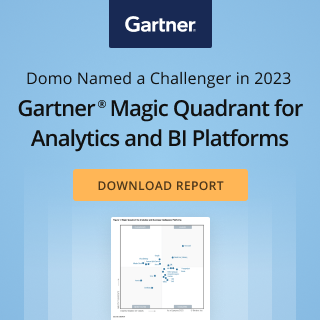 Check out some related resources:
Domo Named a Leader in Nucleus Research's 2023 Analytics Technology Value Matrix
POV: Next-Generation Banking
Creating modern data experiences that help your customers succeed
Try Domo for yourself. Completely free.
Domo transforms the way these companies manage business.