/ Creating reports in Excel and business intelligence solutions
Article
Creating reports in Excel and business intelligence solutions
Using Excel in your reporting can be a great idea when you're looking to get the most out of your business data. Whether it's for an executive presentation or for sharing information with coworkers, creating an excel report is easy and can help you convey your findings in multiple formats.
However, for many business owners, the idea of using Excel can seem daunting. And for those who do use it, the process of automating and sharing a report is extremely time-consuming. Luckily, there are new tools such as business intelligence (BI) software that make automating excel reporting easier than ever.
So if you find yourself struggling with how to get value out of your data or have wondered how to create an effective reporting solution, this post is for you.
In this article, we are going to walk through the process of how business intelligence tools can help you take your Excel reports to the next level. We'll start by making sure your data has been entered in a scalable manner and then move on to discussing how best to present information from your report.
How should my Excel report be structured?
It's important to review a few best practices before we pull your Excel sheets into a BI tool. Whereas you're probably used to creating pivot tables and charts in Excel, we want to establish an automated data pipeline that scales without you having to update flat files.
An Excel report should be viewed as a dataset and not a tool for analysis
Leave data in its most raw form as we'll be transforming the structure downstream
Make sure all of your columns have headers with columns displayed horizontally along the top of the sheet
Avoid pulling in pivot tables if possible. Your data will be aggregated once we've pulled it into your BI tool
Step 1: Know your data before you begin
One of the most important steps to take when automating reporting based on Excel reports is taking the time to understand the data you're working with. It's critical to know what data you have and what format it's available in before you start making changes or uploading files.
Oftentimes workbooks will contain several sheets that cross-reference one another. However, we want to automate the ingestion of the flat file before any formulas such as VLOOKUPs are performed.
To start, think about how the data arrives when it is first exported from your source system. If it already adheres to the best practices we mentioned above, don't touch it. We'll automate all the cleanup you need to do downstream.
If you can't avoid making some manual changes, try to keep them as minimal as possible. Remember, all the manual steps you take at this point in the process will need to be repeated each subsequent time the data is updated.
Step 2: Organize your data
Next, organize workbooks a single sheet at a time. We will combine data from disparate sheets in your BI tool, but it's important to have them separate and distinct at this point in the process.
For example, let's say you're building a report that looks at sales numbers vs. quota by region. You probably have an Excel sheet for both actuals as well as quota figures. In the past, you've probably joined the two together based on a VLOOKUP of the region column, but for our purposes here let's leave them as two separate sheets.
Yes, you may have an Excel macro set up that can perform this task quickly and easily, but we're trying to save you the time of having to execute that macro in the first place.
Step 3: Upload Excel docs and automate workflows
Whether you're working with spreadsheets locally in excel, or online via a tool like Google Sheets, BI tools have options to make the upload process easy. For example, you can send spreadsheet exports straight from the source systems or upload them at the appropriate cadence.
It's important to keep in mind that schema changes or naming convention changes will impact your automated data transformation processes downstream. The steps you take to automate repetitive workflows will require some maintenance over time as your data evolves.
After you've organized your data into raw tables and uploaded each of those tables to your BI tool, you can now start the process of data transformation.
Chances are your data needs some cleanup. If you need to edit data types, rename columns, or remap certain values, it's better to go through the process once rather than every time you need to update the data.
Leading BI tools like Domo provide more functionality beyond data visualization as they allow you to automate the process of consolidating and cleansing your data in preparation for reporting.
Step 4: Present your data effectively
Now that you've built a solid and scalable data pipeline, it's time to start building out reports. At this point, you may be tempted to start creating tables to display information, but use this as a chance to improve your reporting. You haven't come all this way to simply re-create your excel sheet.
Here are a couple of best practices when it comes to architecting an effective dashboard:
Focus on displaying metrics that drive action
If it isn't clear what question your visualization answers, simplify
Think about the end-users and what they are most interested in analyzing
Prioritize the quality of your intended message over the number of metrics and dimensions
Excel is a powerful tool for ad-hoc analysis but a poor fit for scalable reporting and data analysis. Use your Excel sheets as a foundation for a much more robust and targeted business intelligence strategy.
The benefits of BI reporting
If you find yourself struggling with spreadsheets or building complex macros to address redundant tasks, consider a BI tool as a modern alternative when needing to create reports.
There are several benefits to using BI when reporting your business data. Here are the top three:
It's easy to organize and condense huge amounts of data
You can format reports quickly without the need for design software
It allows you to present information in a variety of ways, making it appealing to almost any audience
Using a BI tool is a great way to make your business data easier to read and understand. Use interactive dashboards and visualizations to present information that can communicate ideas to users in a way that a giant Excel table just can't.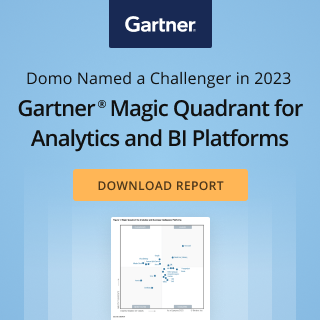 Check out some related resources:
There's an App for that—Tips for Crafting Apps, Dashboards, and other Engaging Data Experiences
POV: Next-Generation Banking
Domo for Marketers: Tips and tools to seamlessly manage marketing data
Try Domo for yourself. Completely free.
Domo transforms the way these companies manage business.