/ Cloud data warehouses: The key to exceptional business intelligence
Article
Cloud data warehouses: The key to exceptional business intelligence
To make key decisions, businesses rely on precise analytics, reports, and monitoring. These insights are made possible by data warehouses, which are designed to handle a wide range of data that feeds these reports. The data in these data warehouses is typically derived from a variety of independent data sources, such as flat files, CRM, and product sales, to name a few.
What does a cloud data warehouse entail?
A cloud data warehouse is an array of current and historical data. It is a place of storage for data that serves as the foundation for a company's business intelligence architecture. Unlike a database, which is a transaction processing system, a data warehouse is designed to handle enormous data sets that support analytical queries.
A cloud data warehouse is optimized for usability, analytics, and scalability, and is supplied as a managed service on the public cloud. These data warehouses help business intelligence teams produce faster and better insights and enable organizations to concentrate on running their operations instead of managing a server room.
Cloud data warehouse's key features
The following are some of the most notable characteristics of cloud data warehouses:
Massive parallel processing (MPP) architectures are utilized in data warehouses that are cloud-based. They enable big data projects by providing high-performance searches on massive data volumes. Multiple servers run in parallel in MPP systems to share processing burdens.
Columnar data storage, which stores data by columns rather than rows, is typical of MPP data warehouses and is the most versatile and cost-effective storage method for analytics. This method of storage greatly reduces the time it takes to run complex queries.
Cloud data warehouse vs. traditional data warehouse
A traditional data warehouse is one that is installed on hardware at a company's office. Companies must buy and configure their own servers. A significant amount of time and resources are required for the installation and management of this type of data warehouse.
As the name implies, a cloud data warehouse is a cloud-based data storage system. It is not necessary for businesses to own and maintain their hardware. Third-party cloud data warehouse vendors handle all hardware updates, maintenance, and scalability.
Cloud data warehouses are compatible with most other business software tools used in organizations, which facilitates seamless integration of a cloud data warehouse within a company.
Advantages of a cloud data warehouse
Previously, if a company needed data warehousing capabilities, it had to either build and configure an on-site server or rent servers off-site and then configure the connections between necessary assets.
Either option requires a large financial investment. These problems are minimized with cloud-based data warehouses. Cloud-based data warehousing solutions are accessible at a range of prices that are a fraction of the cost of earlier solutions in terms of money, time, and stress.
Cloud-based data warehouse systems provide scalability in addition to ease of use. Previous iterations would have necessitated the development of capacity that took future growth into account, which growth is difficult to accurately predict.
Using cloud-based data warehouses, this issue is no longer relevant because your package can be quickly scaled to meet your demands, regardless of how they change over time (as long as they stay within the service's constraints).
Cloud data warehouse concerns
The primary concern about cloud data warehouse services is security, because the service companies have privy to their customers' data. While there are service contracts and public legislation in place to protect data privacy, it is important to remember that these businesses may edit or delete data, either by mistake or intentionally.
Another important security problem is the hacking of cloud systems by cybercriminals who are continually looking for and exploiting weaknesses in these platforms in order to obtain access to the personal data of users and corporate data of organizations.
Users' data is protected to the greatest extent possible by providers. Users are also given options for how their information is stored, like having it encrypted to prevent illegal access.
How do you select the right cloud data warehouse?
Making the best decision demands a deeper grasp of how different aspects of data warehouses are configured, such as architecture, scalability, storage, and pricing.
You should also consider the use cases that any cloud data warehouse should accommodate:
Analysts compiling reports based on previous data
Dashboards developed by analysts using historical or real-time data
Ad hoc analytics in interactive dashboards
High-performance analytics for queries involving complex big data sets
Data processing is carried out as part of the data pipeline
Using machine learning to develop predictive models
What you should know about cloud data warehouse automation
Some current data integration technologies automate the whole data warehouse lifecycle to speed up the availability of data that is analytics-ready. Your data engineers will be able to develop, install, and manage cloud data warehouses faster with agile data warehouse services.
Three main productivity factors of the agile data warehouse are explained below:
Real-time data ingestion and updating: A simple and universal approach for constantly importing enterprise data into cloud-based data warehouses
Workflow automation: A strategy to improve routine data warehouse operations
Secure data sharing: A secure way to distribute data throughout your organization
Because of the complexity of manual integration, firms are increasingly opting for automated and continuous integration of data warehouse systems. This is not only practical, but also very simple to utilize and requires no technical understanding.
Conclusion
As organizations and their customers generate more and more data each day, it is essential for businesses to harness the value of this data. Using a cloud data warehouse to store this data is the first step toward gaining vital insights that can inform critical business decisions. As opposed to on-premises data warehouses, cloud data warehouses provide instant, relatively low-cost scalability, ideal for analytics that can address rapidly changing business needs.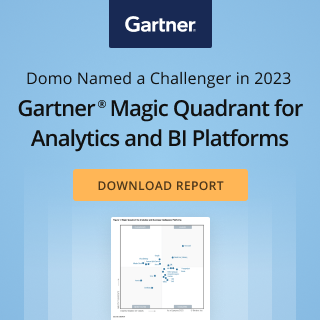 Check out some related resources:
IT Leads and BI Analysts Versus Dark Data
How dark data is hurting your business
TTCU's Journey to Rapid Business Clarity
Try Domo for yourself. Completely free.
Domo transforms the way these companies manage business.