/ 5 industries that can benefit from a key performance indicators dashboard
Article
5 industries that can benefit from a key performance indicators dashboard
Across industries, data in decision-making is becoming more critical than ever. Businesses that wish to be successful must set clear goals and track their progress.
A key performance indicators (KPIs) dashboard provides your business with the necessary data to better understand internal processes and find areas for improvement, ultimately ensuring that your company's resources are being used in the most effective way possible.
No matter what role you play in your company, you can benefit from the information provided by a KPI dashboard.
In fact, business owners and managers at every level can use data provided by these dashboards to make informed decisions about their employees and other aspects of company operations.
Let's take a closer look at five industries that can benefit immensely from the information provided by a KPI dashboard.


1. The financial industry
The financial services industry is perhaps the most data-driven in the world; every move made must be meticulously tracked and analyzed before making any million-dollar investments or stock trades.
A key performance indicators dashboard provides this valuable real-time data in an easy-to-read format.
What a financial KPI dashboard may include:
A financial KPI dashboard can include data related to any aspect of your business.
The dashboard can be broken down by department, for example, giving you access to information related to your HR department or marketing initiatives. Some common KPIs that are used in the financial industry include:
Revenue generated per business unit
Cost of goods sold (COGS)
Number of deals closed per employee
Average sales per employee
Employee engagement levels (calculated by an internal survey)
Customer satisfaction levels
Using the data provided by a financial KPI dashboard, you can identify trends in your business and adjust your strategy accordingly.
For example, suppose one branch of your bank generates more revenue than other branches but has lower customer satisfaction. In that case, you can investigate the staff at that branch and determine why they are performing better than their counterparts.

2. The retail industry
In addition to being a great resource for customers, a KPI dashboard is also beneficial for retailers because it allows managers to better understand what motivates employees and keep track of their performance levels company-wide.
What a retail KPI dashboard may include:
Retailers can use the data provided by a KPI dashboard to calculate various departmental metrics such as:
Average order value (AOV)
An employee's average customer rating (ACR)
The percentage of orders placed online and/or picked up in-store
The percentage of orders that generated positive feedback (customer survey)
The number of customer complaints per employee, department, etc.
Using this data, you can quickly determine which metrics are most important to your company's success and prioritize accordingly.
You can also use the information provided by a KPI dashboard to identify trends and make changes accordingly.
For instance, if a region is experiencing high customer turnover or low ACR scores, you can use the information provided by a KPI dashboard to figure out why this is happening and implement a solution.

3. The travel and tourism industries
In addition to being used in many other industries, key performance indicators dashboards can be incredibly beneficial for travel and tourism companies.
This industry often deals with a lot of data, including revenue, passenger count, employee satisfaction scores, and more.
What a travel KPI dashboard may include:
A travel and tourism KPI dashboard may include data related to both inbound and outbound sales. Some standard metrics used in the travel industry include:
Customer satisfaction levels
Sales conversion rates
Percentage of bookings made through an online channel (i.e., website or mobile app)
Number of customer complaints per business unit
Average number of days between order placement and delivery
Product return rates
A KPI dashboard can be customized for a particular department or region and can provide you with valuable data to make informed decisions about future initiatives.
For instance, if one region is experiencing higher-than-average booking cancellation rates, you can use this information to figure out why customers aren't booking with you and implement steps to get them back.


4. The manufacturing industry
In addition to being beneficial for companies of all sizes, a KPI dashboard can provide invaluable insight for large-scale manufacturers who need a better understanding of their current performance levels.
Because manufacturing is such a complex industry with so many moving parts, identifying trends in your production process can be an incredibly valuable way to maximize efficiency.
What a manufacturing KPI dashboard may include:
Manufacturing KPIs are usually broken down department-by-department with metrics like:
Number of defects per employee (for each machine)
Number of hours overtime
Quality vs. quantity (quality assurance vs. production)
A dedicated KPI dashboard for your manufacturing team will help you identify areas of improvement across your company, especially in departments that have historically had difficulty meeting their targets.
By breaking down the data provided by a KPI dashboard on an individual or departmental level, you can figure out what's working and what isn't, which allows you to make more informed decisions about future initiatives.

5. The shipping and logistics industries
Businesses in the shipping and logistics industries are constantly working to find ways to save time, money, and resources.
A KPI dashboard can provide valuable insight into how efficiently your team is operating so that you can implement changes accordingly.
What a shipping and logistics KPI dashboard may include:
Depending on your company's needs, a shipping & logistics KPI dashboard may include metrics like:
The number of deliveries per employee (per hour)
Number of customer complaints vs. compliments
Average shipping time for shipments that trucks or ships delivered on-time
With the information provided by this data, you can identify problem areas within your company and implement changes to make future deliveries run more smoothly.
For example, suppose you notice that the average shipping time for on-time deliveries has increased over the past few months.
In that instance, you can use this data to find out why your delivery times are longer and take steps to improve them before customers start switching over to other carriers.

Conclusion
A KPI dashboard is an invaluable tool that benefits all industries.
Whether you're evaluating your company's performance or looking to make improvements within one department, this data can spell out exactly where you need to focus your efforts for maximum impact.
Discover how a KPI dashboard can help you achieve your goals and utilize the power of key performance indicators in your next initiatives.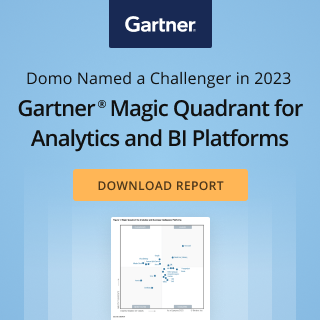 Check out some related resources:
Fight the 'Sleepworking' epidemic with better data and tech access
Variables use case and feature walkthrough
Domo recognized by Forrester in new Generative AI report
Try Domo for yourself. Completely free.
Domo transforms the way these companies manage business.