/ Customer Story with Sweetwater Sound: Revolutionizing Modern BI for Enterprise Scale
Video
Customer Story with Sweetwater Sound: Revolutionizing Modern BI for Enterprise Scale
Hear how America's largest online music equipment retailer uses its data to achieve enterprise scale.
Learn how the Sweetwater team is adopting modern BI capabilities to inject data-driven insights throughout their business, revolutionizing their abilities to improve performance, forecast and predict with greater accuracy and maximize returns.
Hear from Grant Smith, Senior Data Analyst at Sweetwater Sound, as he shares how Domo is helping to quickly:
Build complex analytics
Crunch through billions of rows of data
Surface clean insights around their customers
Automate reports to run weekly
Publish to governed dashboards
FEATURED SPEAKERS
Grant Smith
Senior Data Analyst
Sweetwater Sound
Grant Smith is a Senior Data Analyst and Major Domo at Sweetwater Sound, the #1 online retailer of pro audio and music instruments in the United States. As a thought leader and early beta participant, Grant has been active in utilizing Magic ETL 2.0 dataflows to help streamline data processing and improve BI at scale. He is also an active member of the Domo Dojo community.
Try Domo for yourself. Completely free.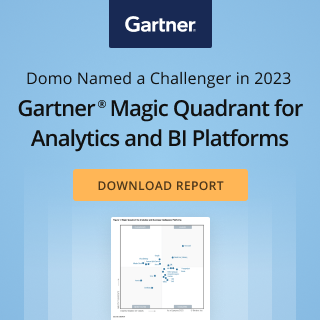 Domo transforms the way these companies manage business.