/ 9 Ways Modern BI for All Differs from Traditional BI
Article
9 Ways Modern BI for All Differs from Traditional BI
Business everywhere is undergoing continuous and rapid change, driven by a dynamic global economy, evolving customer demands, and the widespread use of sophisticated applications, connected devices, and advanced technologies.
To remain relevant and keep providing the extraordinary value that businesses rely on, BI must change, too. It must be designed to accommodate the kind of change businesses must deal with now. And it must be built for all.
That kind of BI is what we call Modern BI for All™. Whereas traditional BI constrains IT and makes managing, adding, and changing data sources time consuming, Modern BI for All empowers your organization to leverage 100% of its available data across 100% of the business.
Modern BI for All is about helping users easily access and share real-time data that's relevant to their work—on any device. And they can play a role in the new competitive advantage that modern organizations possess: the ability to use data to drive intelligent action and achieve real-world results.
Of course, there's more to what separates Modern BI for All from traditional BI, and the following chart spells out those differences:
In summary, Modern BI for All offers capabilities that traditional BI can't match. It makes data easy to integrate and understand, empowers everyone within an organization to find answers to even the smallest questions on their own, removes barriers to how and where insights can be accessed, allows users to base decisions on real-time information, and opens the door to a transparent business ecosystem.
In today's ever-changing, fast-paced world, the combination of attributes Modern BI for All possesses makes it the obvious BI choice for organizations seeking to not only survive but thrive.
To learn how you can begin leveraging Modern BI for All in order to achieve business outcomes faster than ever before, click here.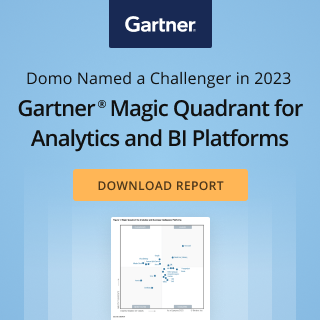 Check out some related resources:
Domo's AI Service Layer: Unlocking the Power of Generative AI
Domo and Regional One Health Named 2023 Nucleus ROI Award Winners
AI in Business: The Importance of Responsible Innovation
Try Domo for yourself. Completely free.
Domo transforms the way these companies manage business.