/ What should be on an executive dashboard?
Article
What should be on an executive dashboard?
An executive dashboard is a powerful tool to help executives make decisions based on the most current and relevant information. However, an executive dashboard needs to be effectively designed to be of any use.
Executives need a solution that provides all of their necessary information in one place so that they can quickly get an overview of the critical KPIs of your organization.
The best way to ensure this is by ensuring your executive's dashboards include updated, real-time, and highly reliable data displayed in an engaging and clear visualization.
So, how do you decide what elements should be included in your executive dashboards?


Monitor key metrics closely with executive dashboards
Executive dashboards are the tools of choice for delivering insights to executives, allowing them to monitor the performance of their business at a glance.
They can be used to show KPIs, goals, and trends. They can also be used by managers to track progress against targets or even as a tool for salespeople to demonstrate the value they add through their work.
The executive dashboard you choose should be simple, easy to use, and mobile-ready. Its content needs to be specific to its audience and it should deliver key insights. This means you need to build a solution that considers:
The type of audience
You will want to make your executive dashboard easy to digest while still providing the level of detail required by the individual executive. The best way to do this is by identifying who it's for and tailoring their experience accordingly.
Who are your executives? Are they technical? Do they have a background in finance or marketing? How much time do they have available to review data?
A chief marketing officer's data needs will differ from a chief technical officer's needs. You can't expect the same dashboard to meet the needs of both roles at once; you have to think about what sort of insights the CMO wants and what sort of insights the CTO wants.
Ease of use
The executive dashboard should be easy to understand. If a particular metric or chart is too difficult for an executive to understand, they don't have the time to drill down or get more context. They're just going to ignore it.
You need to strike a balance between simplicity and informational completeness so that your executives can get the information they need without feeling overwhelmed by technical details.
Executive dashboards should also be easy to access. High-level business leaders don't want to spend a ton of time messing with BI apps and credentials to access their dashboards. Consider more streamlined approaches like embedded analytics for these sorts of dashboards.
Customizability
Your executive suite isn't a coherent block of people, all with the same goals and priorities. It's made up of decision makers who all manage different aspects of your business and have different data priorities.
Often, you can't fully anticipate what those data priorities will be when you construct your dashboards. Since needs change and executives might want to see different analytics, it's important to build executive dashboards with flexibility and customizability in mind.
That means including features like ad-hoc analytics, card and dashboard-level filtering, drill paths for deeper context, and other things that help
Real-time updates
The point of an executive dashboard is to give accurate data in real time. When executives make decisions, they will use the data being presented as justification for their actions.
That means that they need the most recent, up-to-date data possible. BI tools allow for dynamic dashboards that update when the data that powers them does, which is extremely useful for executive dashboards.
Mobile-friendliness
Executives are rarely tied down to one specific desktop or other workstation. Often, most of an executive's data experience will be mediated through mobile devices. This is especially true for executives who travel frequently.
Since executives will be viewing your dashboards mostly on smartphones and tablets, it's important to design them so that their meaning isn't lost or confused when they're viewed at that size and on those screens.
Forecasting
Historical and current data are useful for executives to make their decisions, but the true power of data analytics is the power to make predictions about how things will trend in the future.
A forecast will give you the best way for your executive team to see where their metrics are trending to in the future. This will help them make decisions like how much money they should invest in new products– as well as what steps need to be taken next year.
A forecast can also show different scenarios based on various actions taken by management or customers. This allows decision-makers to better understand what could happen if significant changes occur.


What types of metrics should the BI executive dashboard include?
The next step is to identify the most critical metrics. This is what will drive the design of your executive dashboard and how it's going to look like in the end.
Every executive dashboard is going to be different, with unique challenges and metrics to track. All your executives manage different aspects of your business, which means they have different priorities and want to see different sorts of data.
For that reason, there aren't many metrics that should be on every executive's dashboard. It's best to think of the executive that will be using the dashboard, then design the dashboard around that role.

Executive dashboards for sales and finance
Sales and finance executives will be most worried about business health and the financial success of your ongoing operations. They're going to want metrics that are related to the company's finances and sales success.
A financial executive, like a chief financial officer or a business manager, will want to track financial metrics mostly unrelated to how they correspond to the efforts of other departments. They'll need to track things like payroll, overhead, outgoing spend, and expenses– that other executives mostly see as externalities.
Sales executives want to see how that financial data correlates to sales efforts in the real world. They want to track things like deal pipelines, overall revenue, product success, and customer satisfaction.
There's some overlap between these general categories. For example, both a CFO and a head of sales will want to know total revenue, but for different reasons. A CFO wants that data to see what the company's overall margins are, but a sales executive probably wants that data to determine sales success.

Executive dashboards for marketing and other operations
Many executive dashboards are designed to manage one specific aspect of business operations. For example, a chief marketing officer doesn't need to see broad business trends; they just want to see how their department is doing.
Dashboards for these executives should be hyper-tailored, so that they can get all of the information they need. That's going to change from department to department; the key is that those metrics are made available to decision-makers.
However, it's important to not encourage micro-managing with these sorts of executive dashboards. A CMO doesn't want to gauge the progress of every one of their campaigns individually; they want to see broad strategic trends.


Dashboards for the highest executives
Executives at the highest level, like CEOs and COOs, need dashboards too. Clearly, their data priorities are different from those of even other executives. Instead of managing one specific aspect of a business, they manage broad business health.
These dashboards should show the most important– and most valuable metrics for gauging overall business success. Metrics like overall revenue, overall sales, and stock prices are key on these dashboards.
Often, these dashboards also need to manage the other executives. This means showing metrics like marketing success, sales success, and so on.

Driving success with executive dashboards
A good executive dashboard is easy to use and understand. Your executives need to be able to access the data easily and in a format that they can quickly review on their mobile devices.
Never forget that your executives are busy people. They most likely do not have the patience to dig through a complex dashboard, nor should they be spending their time trying to reinvent the wheel.
At the end of the day, the solution you pick needs to fit the audience, and that will generally mean being as clear, precise, updated, and visual as possible.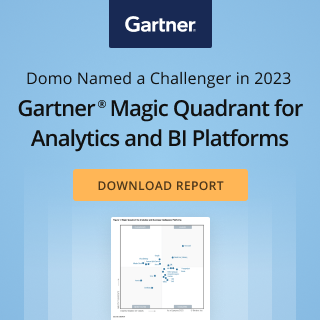 Check out some related resources:
Harnessing the Power of Data to become a better Credit Union
POV: Next-Generation Banking
Data Never Sleeps 10.0
Try Domo for yourself. Completely free.
Domo transforms the way these companies manage business.