/ The importance of data culture in the modern world
Article
The importance of data culture in the modern world
The world is getting smaller, more connected, and more volatile. We're amid a pandemic, but other disruptive forces in 2020/21 have taught organizations the importance of developing a high-functioning data culture to meet their and their customer's changing needs.
Given the distributed and digital ways we now work, there is a renewed emphasis on having data at the forefront of business culture. Whether that culture is top-down or bottom-up, organizations must improve their analytics capacity. Those who do can be most agile, adapting quickly to pivot to new ways of working that ensure employees can carry on functioning with minimal disruption, while better serving their customer's evolving needs and pushing them ahead of the competition.
"External threats, whichever form they take, powerfully demonstrate the power of data and analytics inside a company," explains Tom Thomas, VP of Data Strategy, Business Intelligence and Analytics at FordDirect, in the sixth episode of our 'Curiosity: Do Data Differently' series. "Because things change, people don't rely on the status quo, [an organization's] future becomes uncertain in terms of what consumers are doing, how it's going to affect sales, how it's going to affect service… so people immediately have this enormous thirst to understand what is happening in the real world, and [data] can provide that [knowledge]."
Well-structured companies that are strategically prepared to deal with rapidly changing customer demands are best able to handle cultural change. Jill Dyché, strategy consultant and executive director at Outta the Cage, explains: "The maturity of the incumbent data foundation is directly proportional to [an organization's] ability to pivot to this new world. The companies that succeed are the ones that have [an] established data foundation, irrespective of what it is — a legacy data warehouse, a data lake, or a series of heterogeneous cloud solutions. The fact they have their arms around what their data is, where that data is, and its value to the current business problem has everything to do with the maturity and effectiveness of the data-driven culture."
Governance: an enabler or a hindrance for agility?
Governing data is often thought of as being invasive to the work culture of an organization, but a strong foundation of data governance can enable organizations to develop a strong data culture, ensuring that data is harnessed for business value.
Thomas explains that while governance can be an "unopposed force against a highly proficient data-driven culture," the key to getting it right is to "wrap data governance into the culture itself and make it part of the culture — that is, the ability to exploit and go after data opportunities in a smart, safe, and compliant way."
Bottom-up or top-down?
There are two basic approaches to shaping culture: top-down and bottom-up. With a top-down approach, executives redefine the mission and values of the organization, then seek to cascade the changes to the organization at large. A bottom-up approach, with employees in the driving seat, focuses on a culture that works for everyone, with people able to shape the environment and behaviors of the workplace.
While there are pros and cons to both structures, Dyché believes that a top-down data culture only works if it is strategy-driven. "If there's clarity among the executives and board of directors on where the company is going and what the strategic initiatives are that we can plug data into, then top-down really works. That clarity of overarching corporate direction really makes a difference. But executives talking the data-driven language is not enough."

However, the organization is structured, achieving a high level of confidence in data and analytics is the essence of becoming data-driven and data-informed. Predictive analytics allows business leaders to make future projections based on historical and present data, giving them the confidence to make future decisions.
"What really gives leaders confidence to understand what's going on is having enough historical data and customer behavior data so they can see the difference in what is happening now compared to what happened in the past, and why that matters," says Thomas. "Your best predictions are based on historical activity and historical behavior. The more history you have, the better predictions [for determining what will work in the short and long term]. That drives confidence."
Fostering a healthy sense of curiosity in data analytics is one way to empower people across the organization to access or question data, and act on it. That means leaders must learn to trust their staff to make the right decisions with the data they have, while employees must be open to the possibility of shifting processes or solutions to facilitate better collaboration.
Empowered colleagues are more likely to collaborate with other teams and different stakeholders, including customers, to create the best result for the business, because they feel more involved and more responsible for the success of the organization. As a result, organizations that stimulate empowerment and foster a collaborative, data-driven culture are more likely to achieve favorable outcomes over more traditional and controlled businesses.
Domo offers modern BI solutions for all that empower organizations and their employees. Find more information here. You can also learn more about Domo's self-service cloud BI here.
Try Domo for yourself. Completely free.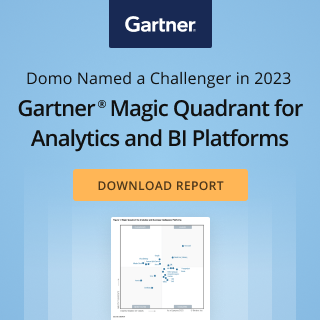 Domo transforms the way these companies manage business.