WATCH THE VIDEO
"The users know what they want, and with Domo they can go ahead and build it." 
Jeff McCorstin
President of Global Freight Forwarding at UPS®
UPS® is a leading provider of global supply chain management solutions, delivering packages each business day for 1.6 million shipping customers to 11.1 million delivery customers in over 220 countries and territories. 
Industry
Other
Departments using Domo
CEO/C-Suite, Operations
Company Size
550,000 employees
Challenge:
UPS® struggled with hundreds of disconnected data sources spread across the globe. 
Solution:
Thanks to Domo, the global freight forwarding business unit at UPS® can now provide real-time data to business users so they can answer their own questions. 
Impact:
Warehouse operators used to spend 2 hours daily completing manual reports. With Domo, the report is now done automatically in 15 minutes.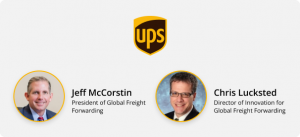 UPS® delivers big data to business users with Domo.
When it comes to big data, it doesn't come much bigger than UPS®. The delivery and logistics company has more than 550,000 employees across 220 countries and territories focused on moving more than 23 million packages and shipments worldwide daily.
The global freight forwarding business unit at UPS® is responsible for organizing and coordinating client shipments across the ocean, in the air, and everything in between. The business unit relies on Domo to connect and maximize the value of its data.
"Being able to harness big data appropriately is critical for UPS®. Having big data and not being able to use it doesn't help you much. Domo brings our disparate data together to give our teams everything they need," said Jeff McCorstin, President of Global Freight Forwarding at UPS®.
Creating connections
Before Domo, UPS® struggled with hundreds of disconnected data sources spread across the globe. Frontline management and staff would spend days or even weeks trying to access data, or often didn't even realize the data source existed, hampering their ability to make accurate, real-time business decisions.   
"UPS® has data everywhere, with hundreds of different systems containing useful data. However, we had no complete, central repository for this data," said Chris Lucksted, Director of Innovation for Global Freight Forwarding at UPS®. "We had a few data warehouses lying around, but they were difficult to access and weren't always complete, reliable, or as up-to-date as they should be." 
Because data was siloed in disparate systems, using data to answer questions was time-consuming for both IT and management. "It was historically a month-long process to answer a question through data. We would have to figure out where the data was, we'd have to make it accessible somewhere, and then we'd have to try to give the user the insight they were asking for," said Lucksted. 
Thanks to Domo, the global freight forwarding business unit at UPS® now puts data at the fingertips of its business users so they can answer their own questions. 
"Domo gives us speed, agility, dynamic reporting, the ability to bring in disparate data, and the ability to leverage real-time updates with proactive alerts. It's been extremely valuable for how we manage workflow and empower our teams," said McCorstin.  
Empowering citizen developers
One example of how UPS® is leveraging Domo to optimize freight movement can be found at its Boston distribution center. Before Domo, workers would have to go through a checklist twice a day that required a team member to manually pull data from 17 different sources. This critical process helps the team determine the most important priorities for the day, but because it could take two hours to complete it prevented teams from getting to work quickly.   
"We found that the first 90 minutes of the process was just downloading a bunch of files and sorting data in Excel," said Lucksted. "Now it's point and click. Multiply 90 minutes saved twice a day over thousands of hubs in the United States alone and you can see how this is a spectacular labor savings for UPS®."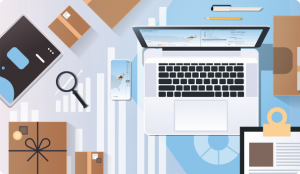 "Not only does it save time, but it takes the human error out so that we prioritize and dispatch based on what is most important. Everyone is really enjoying the direction that Domo allows us to go in," said McCorstin. 
UPS® has more than 50 other use cases currently in development thanks to its team of citizen developers. These non-technical subject matter experts are exploring how to use data in new ways to run different parts of the business.  
"The users know what they want, and with Domo they can go ahead and build it," McCorstin said. "We're training a lot of our citizen developers to see how they can harness all the big data that we've put together through Domo for global freight forwarding to see how they can extract value." 
"By letting citizen developers see what's possible with Domo, it's really gotten those creative juices flowing," said Lucksted.
In addition, UPS® is working to embed Domo's analytic capabilities into its existing customer-facing application, UPS Supply Chain Symphony®, so customers can have access to real-time insights alongside them. "Customers that use our different services get different experiences. What UPS Supply Chain Symphony® does is pull all those platforms together, and Domo will facilitate that by helping us present a unified customer interface," said McCorstin.  
"The goal is to create a whole new market for UPS® services," said Lucksted.

"Bringing Domo into that and giving our end customers a vastly enhanced experience around analytics, reporting, and dashboards is a tremendous opportunity. With Domo and UPS Supply Chain Symphony®, we're going to be able to differentiate by giving customers the same flexibility we're giving our internal teams." 
Check out more stories of digital transformation.
Ready to get started?
Try Domo now or watch a demo.