WATCH THE VIDEO
"In a matter of five minutes in the morning, I have everything I need to know if I've got an issue for the day."
Steve Doctor
CFO at Ingo Money
Since 2001, Ingo Money has provided innovative payments and risk management technologies that make money movement easy, instant, and safe for digital account funding, transfers, and payouts of all kinds.
Industry
Financial Services
High Tech
Domo Users
400
Departments using Domo
CEO/C-Suite, Finance, Other
Company Size
250 Employees
Challenge: Before Domo, Ingo Money relied on manual Excel spreadsheets to track the business and PowerPoint for reporting. 
Solution: Thanks to Domo, a single source of truth is now available for users across the organization, allowing each user, department, and business group to use real-time data to make decisions.
Impact: Ingo Money relies on Domo to manage and track organizational and business unit data, driving faster, more informed strategic decision-making, productivity improvements and bottom-line impact.
Ingo Money uncovers real-time business insight with Domo.
Ingo Money is on a mission to give people access to their money when they most want it: now. By enabling real-time payments and payouts, their customers can use the Ingo Money platform to create a modern payments experience that is instant, digital, and secure.
"We are responsible for millions of transactions worth billions of dollars across thousands of customers," said Jasmin Allgood, VP Check Operations at Ingo Money. "We interact with dozens of systems encompassing millions of rows of data, and Domo enables us to bring it all together."

"Domo helps me multiply my impact by giving me better access to data so I can make decisions quicker. Some of the decisions I make today would have taken anywhere from half a day to two weeks. Domo helps me make those same decisions in a matter of seconds." 
Making data accessible.
Before Domo, Ingo Money relied on manual Excel spreadsheets to track the business and PowerPoint for reporting. "We did a good job. It wasn't hard to do. It was just time-consuming," said Steve Doctor, CFO at Ingo Money. "Domo allows us to let people access data instantly and directly, which frees up time for my small team. We're able to impact so many more people so much more easily now."
"We had to work with an Excel download of one month's worth of data that was thousands for rows and 50 columns. It was impossible to compare month to month for even major KPIs. It could take a full day of work just to pull up the file, run our formulas, and extract data into a major file to compare them," said Shannon Maiolo, Director of Business Insights at Ingo Money.
Thanks to Domo, a single source of truth is now available for users across the organization. This accessibility allows each user, department, and business group to use real-time data to make decisions without waiting or adding analytical headcount.
"Our client services group no longer has to analyze and build reports for each client. Those reports just go out. We've quadrupled in size since we added Domo and our client services group is actually smaller," Doctor said.
"Domo is important to me because I am able to use information to understand what's going on in the company. I can better identify trends, point out things I think are good or bad, and drill down to ask more valuable questions. I couldn't do without it," said Drew Edwards, CEO at Ingo Money.
"Domo is a very easy tool for us to use to dig into data," said Allgood. "Before, it was all just numbers that didn't mean a lot. With Domo, we can create these charts that tell a story. We can share these charts with other parts of the business, and then those other users can dive into those charts themselves to uncover a pattern that maybe we didn't initially know about."
Improving employee performance.
Ingo Money relies on Domo to manage and track employee performance in its Risk Center, the hub of its operations. The Risk Center is where Ingo Money interfaces with its customers' transactions to ensure fraudulent transactions don't take place, which is critical when considering the real-time nature of its payments.
The Risk Center uses Domo to track employee metrics related to productivity and performance. Employees can easily track their own performance to ensure they are keeping pace with their established productivity goals, mitigating any surprises when it comes time for their performance review. Supervisors use Domo to identify employees that are struggling so they can provide additional coaching and support, while identifying high-performing employees so they can be celebrated and rewarded.
Risk Center employees can monitor their performance on a ticket-by-ticket basis in real time so they can leverage feedback to improve their work. "They don't have to wait to speak to a supervisor. They can see a notation or comment in a certain transaction as soon as it happens, which is really powerful," Maiolo said.
"I've seen improvements in the overall margins of the business because the Risk Center has 24/7 visibility into their individual metrics and KPIs," said Edwards. "They are using data at their level to make changes that positively impact our business."
Like many organizations, the Risk Center went primarily remote during the pandemic. Ingo Money used Domo to track employee performance when working at home. This helped supervisors ensure employees were still meeting their performance goals while helping to identify employees who were having issues so they could get the support needed to work effectively.
"Supervisors weren't able to walk around to monitor people's activity, so we were able to instead create a report that combines ticket activity from multiple data sets with punch-in/punch-out times from our payroll system to give supervisors insight into how people were working at home," Maiolo said.
Creating business impact.
Domo has helped Ingo Money revolutionize the way they manage their business. For example, Domo Alerts allows the company to manage by exception, alerting managers when a fraudulent activity takes place instead of requiring employees to constantly monitor and analyze data.
"One of the biggest impacts we've seen from Domo is the time savings. We have several alerts set up so we can identify in real time when fraud is happening instead of discovering it after the fact. Our investigations team can now go and investigate it and take action without the wait," Allgood said.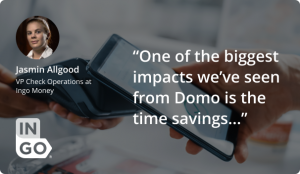 Domo has also helped Ingo Money use data to better understand its customers. "We used Domo to identify a specific set of new customers that aren't necessarily as risky as we thought they were. This allowed us to create a rule that gives them a higher rate of approval to improve our success rate with them," Allgood said.
For the finance team, a special dashboard dubbed Ingo News was created to provide daily insight into the financial health of the business. "Ingo News has all the information and visuals I need to know very quickly what's going on," Doctor said. "It combines all the transactions from yesterday with forecasting to help tell me what my revenue will be for the month. If I see the number moving, I know something happened. In a matter of five minutes in the morning, I have everything I need to know if I've got an issue for the day."
Check out more stories of digital transformation.
Ready to get started?
Try Domo now or watch a demo.