/ The Ultimate Guide to Business Intelligence Today
Guide
The Ultimate Guide to Business Intelligence Today
From Big Data To Better Decisions
THE BI GUIDE: WHAT YOU'RE GOING TO LEARN.
From sales opportunities to supply chain logistics, and from accounting software to social media stats, your organization is bursting at the seams with data. Business intelligence (BI) is the combination of tools, processes, and skills that help turn that vast amount of data into digestible information. With information coming from every part of your organization, everyone needs better access to data to do their job well. Chances are, you need it, too. It's why you're reading this guide. Browse our list of chapters to go straight to information specific to your needs, or feel free to read it cover to cover for a holistic view at how you can use BI to shape your work.
BI HAS OUTGROWN SPREADSHEETS AND DATA WAREHOUSES.
Before business intelligence was "business intelligence," it was nothing but numbers written on spreadsheets (the actual paper variety). But as technology grew, little changed with how business leaders consumed information—they moved from paper to digital, and when the volume got to be big enough, they moved the data from desktop spreadsheets to a massive table known as a database. In the end, the results were the same: static information presented in a document, maybe with a few graphs thrown in for good measure. But you don't need new ways to replicate antiquated business practices. If you can get real-time updates on obscure college friends' lives through social media, then you should be able to access information from your business anytime, anywhere. Now it's time to learn how to access the right data at the right time. Keep reading—you're in the right place.
WHY YOU SHOULD READ THIS GUIDE.
Data is on everybody's minds—from executives pushing their teams to take advantage of all the data the business collects, to consumers worrying about sharing too much of their personal lives. This guide cuts through the buzzwords and the technical jargon to give you an overview of business intelligence—the tools, processes and skills that help us harness the data explosion to make better and faster decisions. A state-of-the-art BI environment ensures the shortest and most reliable path from data to decisions that make your business more successful.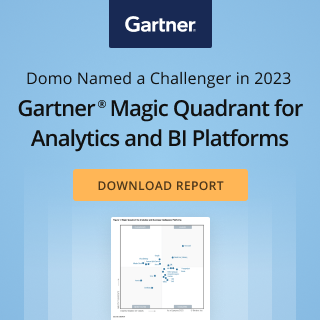 Check out some related resources:
Foundations in Applied AI
AI in Business: The Importance of Responsible Innovation
Navigating AI Challenges and Opportunities: Thought Leader Roundtable
Try Domo for yourself. Completely free.
Domo transforms the way these companies manage business.