Domo runs on the business cloud.
The world's first business optimization platform.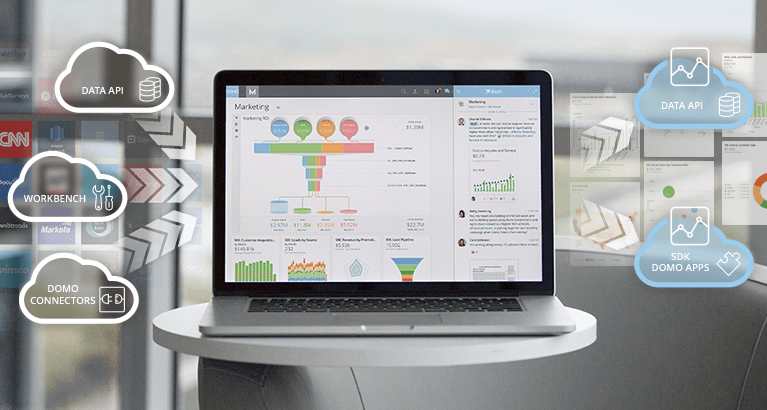 Ecosystem and Apps.
Domo can be tailored to meet the unique needs of your business. Select from over 1,000 apps to quickly leverage the expertise and workflows your team needs to succeed. Plus, build custom apps quickly with powerful design tools and use APIs to connect to proprietary data sources and systems in real-time.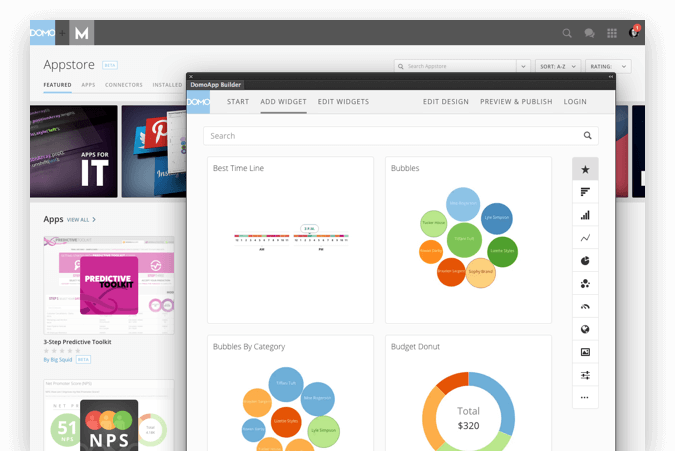 1,000 Apps and growing
With Apps from hundreds of developers already on the Appstore, you can get the industry-centric or role-specific insights your company needs, instantly. Explore the Appstore


Build your own custom app
With tools designed for every skill level, everyone from developers to graphic designers can build Domo Apps quickly. Check out the App Design Studio and App Dev Studio.
Flexible Deployment Options.
While we're proud proponents of the cloud, we recognize it poses challenges to some organizations. In situations where contractual or regulatory circumstances require data to be contained behind a firewall or in an existing data warehouse, Domo has you covered there too.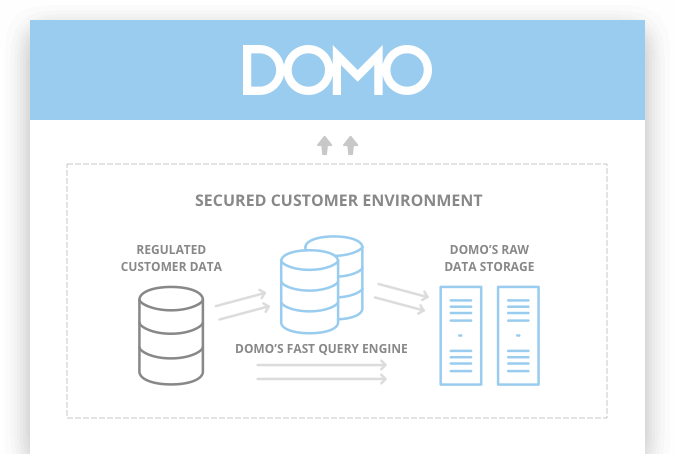 Cloud flexibility
With active deployments on private clouds, and also on both Amazon and Azure public clouds, Domo takes a diversified approach. Multi-tenant and single-tenant options are also available.

A hybrid cloud
For sensitive or regulated data, the hybrid solution ensures your data can remain in compliance. Domo combines a secure on-premise data storage solution with the Business Cloud to provide a responsive and scalable solution.

Federated queries
For customers with large data volume and existing investments in data warehouses, Domo can federate queries between the cloud and the on-premise data stores without duplicating data.
Scale and Support.
Whether you're a startup with 50 users or an enterprise firm with 50,000, the Business Cloud scales to meet your needs. And because The Business Cloud is an open system platform, it's not constrained to one specific model or deployment methodology.

Scale & Performance provisioning
As SaaS solution, Domo automatically scales resources up and down to meet your needs. In addition, Domo fully manages the infrastructure, scalability, redundancy and provisioning of your Domo instance.

Open Data Platform
The Business Cloud lets you control the upload of data, as well as extract data for a wide-variety of purposes. In addition, Domo provides APIs so you can leverage The Business Cloud alongside your existing systems to optimize your operations.

In-Product Support & Education
Domo offers implementation and consulting services, as well as product tutorials for new and existing customers. Domo provides a wide-variety of learning resources through our help center, Domo University, and online community.
Data Acquisition and Transformation.
The Business Cloud has powerful acquisition solutions that bring in your relevant data, no matter where it's stored. And once the data is in Domo, dynamic ETL tools help users of any skill level get it ready for visualization.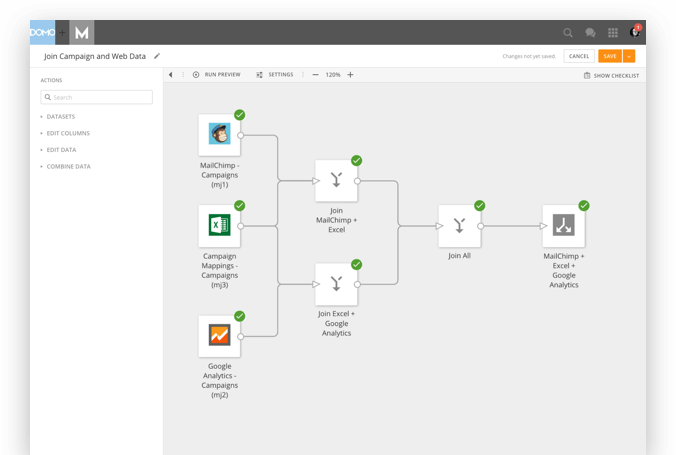 Domo APIs
Pre-configured APIs let you bring data from your proprietary systems into Domo and create customized interactions like exports, list creation, naming and more.
Learn more about APIs

On-premises Data
Securely upload legacy and on-premises data with Workbench. Create a single connection to your environment and bring in a variety of data types including: ODBC, XML, Jira, SAP HANA, and many more.

Clean and prepare data
Magic, Domo's self-service ETL toolkit, provides dynamic data transformation capabilities for users of all skill levels. Or, use plugins to work with your existing ETL tool, all within Domo.
Collaboration and Mobile.
Some of your most valuable insights come from people—their conversations, context, interests, and behaviors. The Business Cloud brings all of that together seamlessly with your business data in a way that's both natural and totally unprecedented.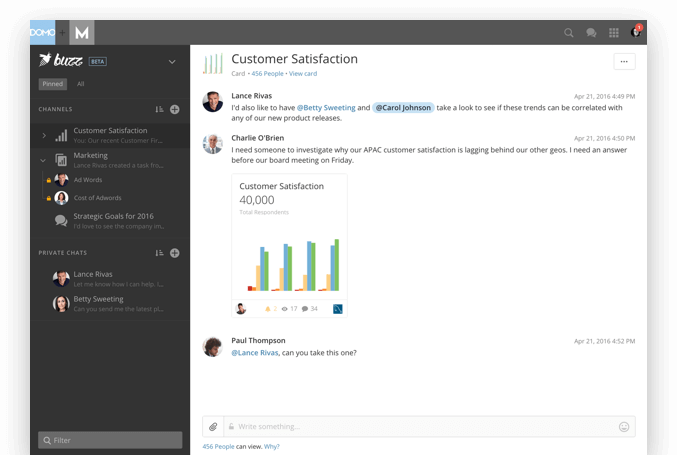 Data-driven conversations
Buzz, Domo's fully integrated collaboration platform, allows users to have data-centric discussions in group chats, private chats, and topic based channels. Learn more about Buzz

Mobile Optimization
Powerful apps for iOS and Android, along with an optimized mobile web experience, let you engage with the business and optimize anywhere. Learn more about Mobile

Collaborate and view for free
Buzz is absolutely free so you can invite non-Domo users to view shared data and contribute to the conversation.

Alerts and Notifications
Domo lets you create custom alerts and get notified by email or mobile when there are important changes to your business. Take action when alters trigger and rest easy when they don't.
Security and Administrative Control.
Domo performs rigorous compliance testing to ensure the Business Cloud platform meets and exceeds industry security standards. With The Business Cloud, your data is controlled, available and safe from compromise.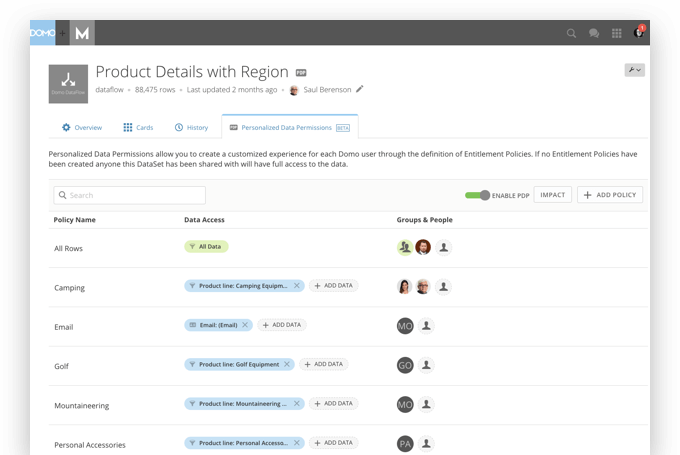 Platform Security
Domo utilizes industry-leading firewall and network security technology. In addition, Domo has complex monitoring solutions that both prevent attacks and alert Domo's security and IT teams of threats to data confidentiality, integrity and availability.

Administrative Control
Domo Admins have all the tools they need to administer and govern Domo. This includes full control of DataFlows, inviting/removing Domo users, assigning Security Profiles to colleagues, creating row-level security policies, and much more.

Secure Access
Domo provides a single sign-on (SSO) solution that integrates with your existing SAML-based SSO solutions. Or, if you prefer, you can create user accounts solely for use with Domo. In addition, multi-factor authentication allows users to authenticate and get alerts of discrepancies right from their mobile device.

Major Domo Certification
In addition to Admin tools, Domo offers an advanced user certification program called Major Domo. As a Domo expert embedded in your organization, a Major Domo can disseminate best practices and help take you to the next level.
x
Domo requests your consent to send you email communications. Please customize your Domo experience:
By selecting "YES" and clicking "Submit", you agree that Domo, Inc. and its representatives may contact you at the email address provided. You may
unsubscribe
, or view our
Privacy Policy
, at any time.