Introducing The Business Cloud by Domo.
The world's first open, self-service platform for running your entire business.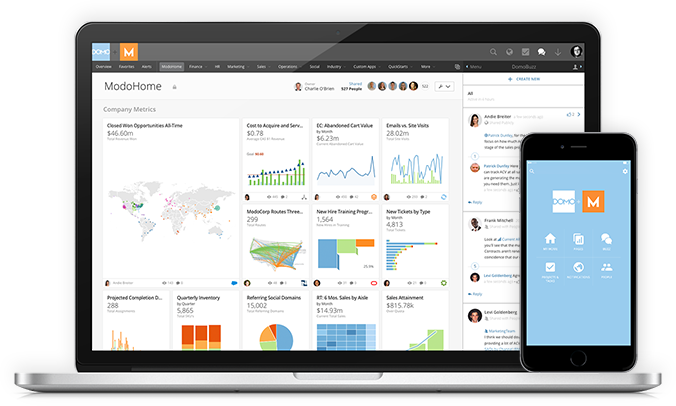 Catch the backstory to The Business Cloud announcement.
WATCH THE VIDEO
(15 min)
An operating system for your business.
Domo's Business Cloud solves today's most pervasive business challenges. Learn how.
It has the data.
The Business Cloud offers the broadest, most flexible array of data connection options. That means you can easily access the data you need to make decisions—regardless of whether you're a non-technical business user or a hardcore data analyst.
Learn More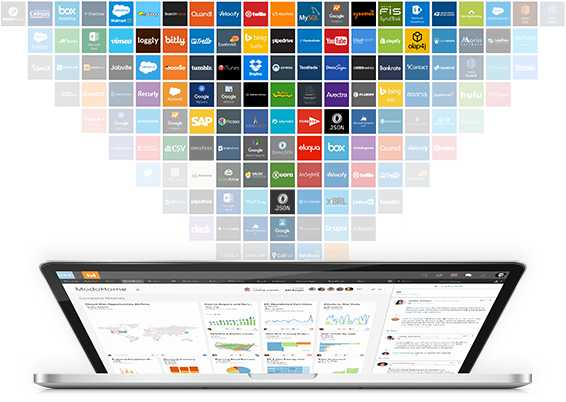 It provides the visualizations.
Visualizations are impactful in ways that rows and columns of data can never be. Domo gives you the freedom to visualize your data any way you want, so it can clearly inform the decisions that move your business forward.
Learn More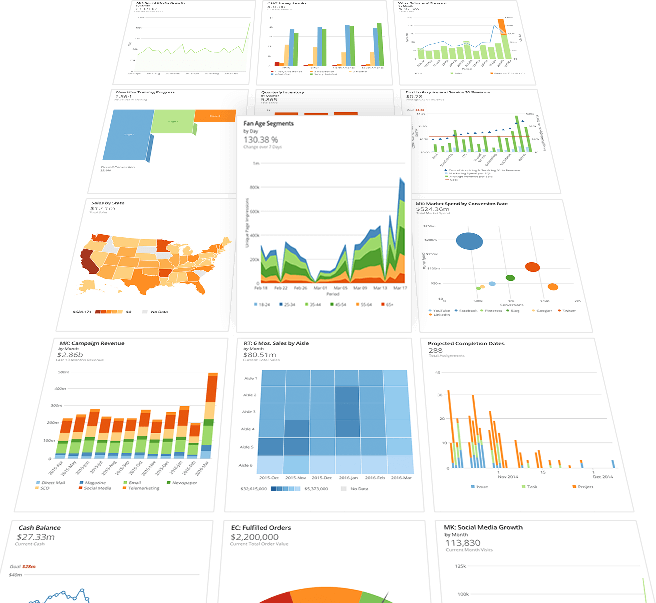 It's uniquely social.
Some of your most valuable insights come from people—their conversations, context, interests, and behaviors. The Business Cloud brings all of that together seamlessly with your business data in a way that's both natural and totally unprecedented. 
Learn More
It's mobile first.
The Business Cloud is ubiquitous—it's available to anyone, anytime, on any device. A fresh mobile web experience and native Android and iOS apps enable you to not only consume information, but actively manage and stay ahead of your business, wherever you happen to be.
Learn More
It's an open ecosystem.
When you open your platform to contributions from the world's smartest minds, everyone wins. Core to The Business Cloud are developer tools and programmatic APIs that enable anyone to build and deliver Apps to Domo's Appstore—the premier destination for answers to your most pressing business questions.
Learn More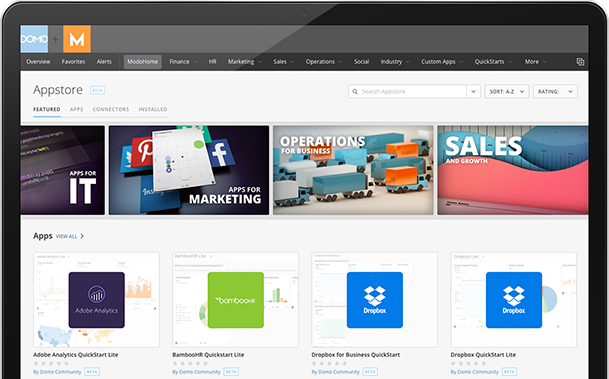 It's powered by apps.
Developed by an open ecosystem of partners, these 1,000+ Apps answer meaningful questions across a variety of industries, functional roles, and business activities. Deploy instantly, then power with your own business data to begin making better decisions.
Learn More

It's enterprise scale.
When everyone in an organization has the power to ask and find answers to their own business questions, incredible things happen. Which is why The Business Cloud is built to operate at scale—complete with enterprise-grade data and security controls.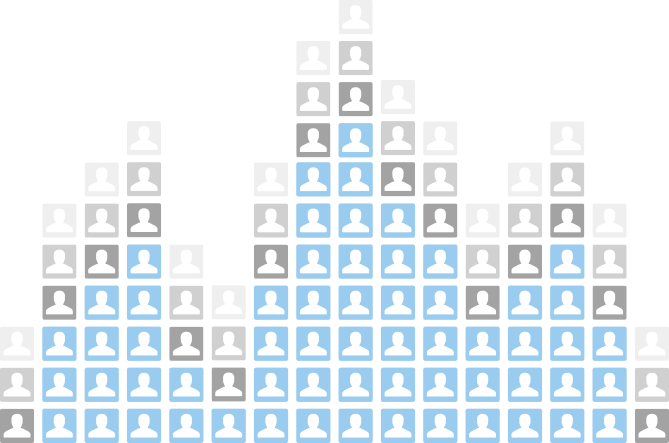 See how our customers are using The Business Cloud.
Experience it for yourself.
Traditional BI and data discovery tools have always been for data analysts and other technical users. But The Business Cloud is for the 1 and the 99 percent—giving everyone in your organization the ability to make better decisions with data.
x
Domo requests your consent to send you email communications. Please customize your Domo experience:
By selecting "YES" and clicking "Submit", you agree that Domo, Inc. and its representatives may contact you at the email address provided. You may
unsubscribe
, or view our
Privacy Policy
, at any time.