Watch Demo
With Domo, you can pull Salesforce data—along with data from any other source—into a single, intuitive platform. This lets you see Salesforce in the context of other business metrics, and use its data in new, more impactful ways.
Enhance your Salesforce insights with data from finance, marketing, operations, and—you name it. The best part? Cleaning and combining your data takes just seconds with Magic ETL, Domo's extract, transform, and load engine, no SQL or coding required.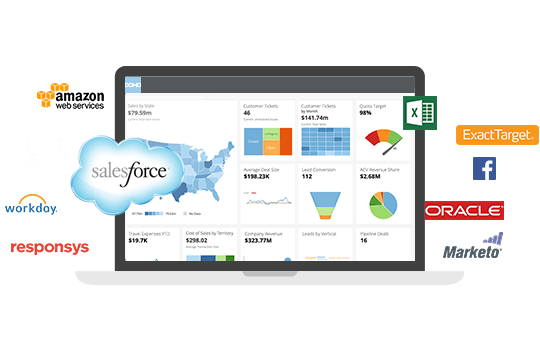 Why Salesforce users love Domo:
Connect with the data you need instantly, with 1000+ connectors to the most popular business applications.
Assemble, organize, and visualize all your sales tracking metrics in one place.
Get intelligent mobile alerts the minute someone hits quota, or when they start to lag behind.
 Access premium Domo sales apps like Pipeline Velocity, Sales Trends, and more.
Take a look at Domo today. Fill out the form to watch a video demo.
Domo helps businesses of all sizes, in every industry: