/ Leveraging business intelligence for unique solutions
Article
Leveraging business intelligence for unique solutions
Business intelligence (BI) is no longer exclusively the domain of big businesses. In fact, many small and medium-sized businesses are now taking advantage of advanced BI features to gain a competitive edge. BI tools can help you automate business processes, improve decision-making, and gain unique insights into your data. In this article, we will explore some of the more advanced features that BI tools offer and how they can benefit your business.


How have BI tools evolved?
The area of business intelligence is a rapidly growing market that leverages new technologies to help businesses accomplish more than ever before. Thanks to technologies such as cloud computing, computer science, and software development, BI is able to become so much more than a simple reporting tool.
We will now explore some of the more powerful capabilities of modern BI.
Advanced data analysis
One of the most powerful features of BI is advanced data analysis. With advanced data analysis, you can go beyond simple reports and get deep insights into your data. This can help you identify trends and patterns that would be otherwise hidden. Advanced data analysis can also help you make better decisions by providing you with a more complete picture of your data.
Making big data easier
Advanced data analysis starts with the ability of a BI tool to import and process more data than traditional tools such as Excel. Datasets can even range in the trillion of rows and hundreds of columns. Data of this size can provide massive benefits for data science teams who are able to train machine learning models.
Data analysis for the business user
BI tools also offer new data analysis capabilities for business users who may not have prior experience with data. Instead of relying on SQL or a coding language, business analysts can use declaratives that allow them to configure data through a few short clicks. Advancements in data analytics tools are helping them become increasingly popular among businesses and teams that traditionally have no technical resources.

Data integration and writeback services
Modern BI has also developed new data services that allow for the automatic import and export of data from source systems. Automation is a critical piece of any BI tool, with the end goal of minimizing the amount of routine data work a company has to perform on a daily basis.
Data integration
BI tools offer quick and easy data integration into the source systems your business is already using. Through the use of data connectors, millions of rows of data can be automatically imported into the BI tool on a daily basis. That data can then easily be shared with stakeholders across the organization, allowing more teams to benefit from the data.
Data write-back
Data write-back is also a new feature present in Modern BI. With write-back services, transformed data that has been analyzed by the BI tool can be sent back to the source system from which it came. This allows businesses to generate unique insights by combining data from multiple systems, transforming it with the BI tool, and then pushing it back to business systems for future use. This can drastically reduce the amount of manual time your team spends updating data from system to system. With a modern BI tool, integration and write-back services can easily be implemented to promote operational efficiency.

Embedded analytics
Embedded analytics is a new technology designed to make data analysis and business intelligence more accessible by any application or user. In short, it allows an organization to share its data and insights with external users in a much easier fashion, usually through the use of a dashboard or report.
Data is extremely important to your customers, employees, and partners. Embedded analytics provides an elegant solution to control the distribution of your BI tool to different parties. As your organization creates different dashboards and reports, it can appropriately share them with the right individuals using embedded analytics.
Common use cases for embedded analytics include:
Embedding a dashboard in a company website
Creating a portal that allows customers to view and export reports
Distributing BI tools throughout the organization using business systems that your employees are already familiar with
Exception reporting and alerts
Another advanced feature of BI is the ability to create custom alerts to notify you when exceptions occur in your business. These alerts can be based on statistical analysis or custom business logic that you input into the BI tool.
BI tools are excellent at catching exceptions exactly when they occur, giving your team more time to handle these stressful situations. Alerts can be sent via text message, phone call, email, or even instant messaging services. This means that no matter where your workforce is or how they work, they can easily be notified when action needs to be taken.


Custom data applications
Another powerful feature of BI tools is the ability to create custom solutions. With custom solutions, you can tailor your BI tool to fit the specific needs of your business. This means that you can get the most out of your BI tool and use it to its full potential. Custom solutions can also help you automate business processes, which can save you time and money in the long run.
BI is not meant to be a one-size-fits-all; it's able to adapt according to your unique business needs. Using a BI platform, you can create highly customizable reports, charts, and dashboards using your business data. In addition, you can also create your own custom applications that sit on top of the platform. These apps can seamlessly interact with your end-users and data that already resides on the BI platform.

Conclusion
So, if you're looking for ways to automate your business processes, improve decision-making, and gain unique insights into your data, BI may be the solution for you. In this article, we've explored some of the more advanced features that BI tools offer. If you're just starting out on your analytics journey or are looking for ways to take your business intelligence capabilities to the next level, consider how BI can help you advance in your analytics journey.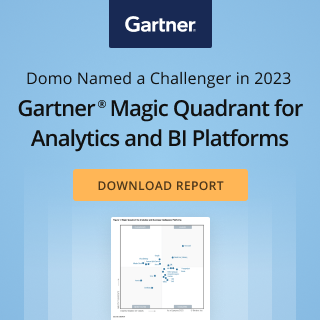 Check out some related resources:
Domo Ranked #1 Vendor in Dresner Advisory Services' 2022 Analytical Platforms Market Study
Keeping a Pulse on Performance: Using Domo to Monitor the Business of Healthcare and Improve Patient Outcomes
Domo Named a Leader in Nucleus Research's 2023 Analytics Technology Value Matrix
Try Domo for yourself. Completely free.
Domo transforms the way these companies manage business.