/ Understanding data analytics tools—and how they help businesses thrive
Article
Understanding data analytics tools—and how they help businesses thrive
Big data is big business. From small entrepreneurial pursuits to enterprise-level businesses, organizations are looking for a way to make sense of the large volumes of data they collect.
As a result, the importance and popularity of analytics have increased exponentially over the past few years. More and more companies turn to advanced analytics as their method for success.
Advanced analytics can be defined as an umbrella term encompassing predictive analytics, text analytics, social network analysis, spatial analytics, predictive modeling, statistical forecasting, optimization analytics, and prescriptive analytics.
So what do these tools have to offer businesses? In this article, we will break down the benefits of data analytics tools so that you can understand why this approach is growing in popularity.
What is advanced analytics?
Beginning with the most basic definition, analytics is the discovery and communication of meaningful patterns in data.
The main purpose of these discoveries is to help businesses gain insight into their operations and make better decisions that will improve company performance.
The term "advanced analytics" refers to a set of analytical techniques and tools that draw on techniques from statistics and computer science.
Advanced analytics can be applied by professionals who work in marketing, human resources, supply chain management, and finance.
The following are some of the benefits that organizations can expect when using advanced analytics:
Improved decision making
Organizations that use advanced analytics to assist in decision-making efforts will gain access to better information and a clearer understanding of their current situation. This, in turn, makes it easier for them to see what is working and where they should dedicate their efforts.
Enhanced performance analytics
Today, most organizations are under pressure to show evidence of performance or progress, both internally and externally.
With advanced analytics, companies can now provide scorecards with detailed information on how they are meeting their objectives and what areas need improvement.
This helps them make more informed decisions about engaging in business activities that will most benefit the organization.
More Intelligent Data Management
As more and more companies focus on big data, they are beginning to see that it is easier to manage their data intelligently with data analytics tools.
These tools can help companies collect and organize data from a variety of sources, allowing them to gain a better understanding of their overall operations.
Higher caliber of data-driven insight
One of the most valuable benefits that companies can gain from using advanced analytics is improved insight into their data.
With this information, they can make better decisions about where to allocate resources, improve their processes, and understand which strategies to pursue to improve their business outcomes.
The insights from data analytics tools can provide a wealth of benefits for businesses of all sizes when used effectively. By understanding these benefits and how they can be applied, organizations can make the most out of these valuable tools.
Subsets of advanced analytics
In order to make better decisions, it is crucial to have a sound understanding of the different types of analytics.
Predictive analytics: Predictive analytics is a process of analyzing current and historical data to make predictions about future events.
Social network analysis: Social network analysis is the study of relationships and behaviors between individuals or organizations.
Data mining: Data mining is the process of extracting valuable knowledge from large data sets.
Statistical analysis: Statistical analysis is the use of statistics to draw useful conclusions.
Machine learning: Machine Learning teaches computers to learn from data without being explicitly programmed.
Clustering: Clustering is the process of grouping items into clusters based on their specific attributes.
Association rules: Association rules are a type of pattern recognition that can be used to discover interesting relations between items in data sets.
Neural networks: Neural networks are machine learning algorithms that use an interconnected group of nodes to process information.
Simulations: Simulation is the creation of a model for an object, process, or system.
Forecasting: Forecasting is the attempt to predict future outcomes based on historical data.
Many different types of analytics can be used to gain insight into data, but advanced analytics refers specifically to correlations that are not readily apparent or do not follow conventional analysis methods. These correlations are typically identified through an iterative process of refinement, validation, and testing.
Which data analytics tool is right for you?
Before implementing a data analytics tool, it is essential to assess which features are a good fit for your business.
There are several key factors to consider when making this decision, including:
Data volume: The size of your data is an important consideration when deciding which data analytics tool is the best fit for you. Many solutions work just fine when the data is small but they don't scale with your business as it grows.
Modern data analytics tools such as Domo were built with growth and scale in mind.
The complexity of your data: The complexity of your data is also a factor to consider. If your data is difficult to understand or analyze, you can benefit from the features of today's leading analytics solution.
The type of analysis you want to conduct: Different types of analytics tools can be useful for different purposes. Here again, you'll want to consider an analytics tool that was built for scale.
The expertise of your team members: The skill level of the people on your team is also an important consideration. Domo takes a unique approach amongst modern BI platforms and offers functionality for both business minded users as well as technical analysts.
Once you have considered these factors, you can select the business intelligence and data analytics solution that offers the best return on your investment. Speak with a Domo expert today to learn more about how Domo can help you.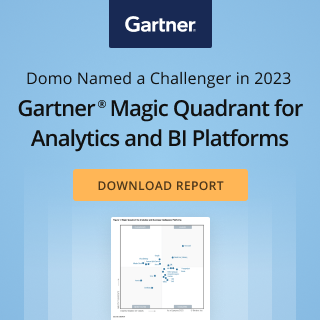 Check out some related resources:
Developing a Data Governance Model that Meets Your Modern Business Needs
Climate Impact Analysis for Flood Mitigation Planning & Action
Keeping a Pulse on Performance: Using Domo to Monitor the Business of Healthcare and Improve Patient Outcomes
Try Domo for yourself. Completely free.
Domo transforms the way these companies manage business.