See you in 2020.
Let's reimagine how business can be done with data.
March 17–20, 2020 | Salt Lake City, UT
20
20
20
20
20
Vision:
Catch the future of insight-driven business and explore where the Domo Platform can take you and your business. Domopalooza product announcements offer the chance to experience Domo's latest product advancements.
Inspiration:
Discover everything from how to succeed to growing your business to managing your teams from world class speakers like Drew Brees, Judd Apatow, Magic Johnson, Theo Epstein, this list really does go on and on.
Community:
Network with peers in your industry, learn from Domo experts guiding breakout sessions, and get hands on training; all coming together to make a difference in your business with the power of Domo.
Be a Domopalooza Insider
Join the Domopalooza insider's list to get notified when registration for Domopalooza 2020 opens. Don't miss out on early bird pricing or exciting Domopalooza 2020 updates.
"We're moving from prescriptive to predictive marketing. The forecasting element is key. Domo's platform gives us that ability.
—Vincent Stuhlen, Global Chief Data & Performance
The data science behind Domo encourages us to dive even deeper than we ever have before.
—Jean-Paul Beauchemin, People Analytics Consultant, TripAdvisor
The more data you connect into the Domo platform, the more powerful it becomes for you.
—Catherine Wong, CPO and EVP of Engineering, Domo
Domopalooza by the numbers.

The power of the platform
Domopalooza 2019 showed us how to build a digitally connected business, pulling from everywhere, integrating everything, and connecting everyone.
CAROLYN MILES
President and CEO of Save the Children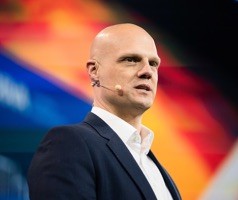 DEREK WHITE
Global Head of Client Solutions, BBVA
DREW BREES
Super Bowl MVP-winning Quarterback for the New Orleans Saints
JUDD APATOW
Director and Producer
TONY SCOTT
Senior Advisor for Cybersecurity and Privacy, Squire Patton Boggs
CATHERINE WONG
Chief Product Officer, EVP of Engineering, Domo
JOSH JAMES
Founder, CEO & Chairman of the Board, Domo
2019 Sponsors
Contact sponsors@domopalooza.com for Domopalooza 2020 sponsorship opportunities.