/ Modern BI tools: The benefits of building no-code custom apps
Article
Modern BI tools: The benefits of building no-code custom apps
Companies are increasingly turning to no-code or low-code development tools for their business intelligence software.
Why? For one thing, BI is an increasingly important area of the organization. More and more companies are using data to make decisions, both in day-to-day operations and strategic planning.
The proliferation of mobile devices has opened up new avenues for organizations to collect data about customers' needs and desires. And there's a growing realization that BI can be used as a tool for executives and employees at all levels of the company who want to use business intelligence software to gain insights into their workflows.
These days, you don't need traditional programming skills to build custom business intelligence applications and experiences. Modern BI tools can help users build custom apps for various purposes, including data visualization, reporting and analytics, and automation.
In this article, we will look at the benefits of building BI apps in low- to no-code environments and give some examples of how these tools can help various industries.
What is no-code?
The term development can be somewhat misleading since it implies that users need to use a form of coding to build BI applications.
This isn't the case. Most no-code or low-code development tools rely on simple drag and drop methods in order to make building applications easier for non-programmers. These tools come with a library of pre-built components that users can drag and drop into their dashboards or workflows.
In most cases, users won't need to know how to write code in order to build high-quality user experiences when leveraging a user-friendly BI tool. SQL and general database knowledge will certainly be helpful, but it's no longer a requirement in BI development.
These low-code development tools are the latest innovations in the business intelligence software market. They allow users to build an application with no code or very little code by dragging and dropping components like charts, tables, grids, gauges, calendars, pivot tables, and widgets onto custom dashboards.
With the technical barrier to entry lowered, IT teams can place the data in the hands of business users and allow them to create their own custom-built dashboards or applications. Data professionals still have their place in the organization, but they no longer need to be the bottleneck.
Benefits of building BI apps with no-code
Several benefits include more flexibility, faster results, and lower costs when you build an application or dashboard using the latest no-code solutions:
More flexibility
No-code development tools give you more flexibility when it comes to working with business data.
For one thing, they offer a free-form approach to data construction that lets users collect and combine data from different sources in more user-friendly ways.
You can use this type of flexibility to develop dashboards that are relevant at the organization, department, and even individual level. The easier it is to create content, the lower the lift for creating dashboards around specific use cases.
Faster results
Since you don't have to spend time writing custom code, no-code development tools can help you get results faster.
This is especially true for organizations that are new to BI or haven't used business intelligence software in the past.
Since traditional programming languages require some expertise, more companies are turning to low-code development tools to build custom applications for data collection, reporting, and analytics.
Lower costs
Building an application with low code takes less time than writing code from scratch, which means that your time on building BI apps is significantly reduced. Additionally, highly technical resources can be extremely expensive due to the increasingly high demand.
With no coding involved, there are fewer opportunities for error and more options for who can contribute. This results in lower costs since you will spend less on fixing bugs and less money on hiring the proper team members.
Examples of how low-code BI can help different industries
The benefits mentioned above can apply to a variety of organizations, including the following:
Marketing
Building a marketing dashboard is often time-consuming and costly because it involves connecting to so many third-party APIs. This process often requires a technical team with a web-development skill set to build the various integrations.
But when you use no-code tools, you can improve productivity by building a marketing dashboard in a few hours instead of days or weeks via pre-built connectors. Simply enter your credentials, select the data points you need, and schedule the data to refresh at a regular interval.
Low-code development tools let you build marketing dashboards quickly and with minimal coding so you can get started with data visualization and analysis immediately.
Customer service
Customer service teams rely on BI apps to provide them with customer profiles, ticket information, and other pertinent data for resolving customer issues.
While traditional BI tools would require a good bit of programming to merge data from multiple systems, a low-code tool makes combining data much more straightforward.
Using modern low-code development tools, you can build a simple data pipeline and custom customer service dashboard with extensive customer profiles and support ticketing functionality in just a few hours. This can allow customer service reps to spend less time building reports and workflows and more time resolving issues.
Manufacturing
Manufacturing companies need complete visibility of their inventory and supply chain data at all times.
Oftentimes this information is housed both in on-prem as well as cloud-based databases. No-code BI tools provide a simple path to merging these disparate data sources into a single environment.
No-code development tools leverage pre-built engines to pull your data and even offer fully packaged dashboards that will enable you to build an inventory and supply chain dashboard in weeks as opposed to months. Your organization already has manufacturing and supply chain experts, no need to add data professionals to the mix as well.
Finance
A finance dashboard lets managers monitor the health of the company, including cash flow and profit/loss ratios across varying time periods.
Finance reporting inevitably requires period-over-period comparisons as well as dynamic calculations to measure KPIs. A traditional BI tool would lean heavily on SQL expertise to accomplish these tasks.
Modern low-code development tools let you build custom financial dashboards with a variety of metrics via a user-friendly drag and drop interface. These modern BI engines reduce the time and investment needed to build out complex logic and make the implementation of financial use cases much more approachable.
Conclusion
When you're using traditional BI tools, creating custom applications for different business cases can be extremely time-consuming and expensive due to the need to write custom code.
Modern low-code development tools can help you build custom applications for data collection, reporting, and analytics in a few hours, resulting in higher productivity and lower costs. These benefits make reporting for a variety of business functions much more straightforward.
Are no-code-oriented BI tools right for you? It's important to consider your team's skillset, the use cases you need to address, and the time to value you're targeting. Low-code BI tools allow you to build customized applications in a few hours without writing any code and immediately realize an increased ROI with the right solution.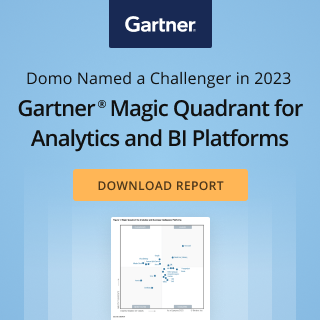 Check out some related resources:
Elevate Your Organization's Data-Driven Culture with Strong Governance Practices
Climate Impact Analysis for Flood Mitigation Planning & Action
Domo Named a Leader in Nucleus Research's 2023 Analytics Technology Value Matrix
Try Domo for yourself. Completely free.
Domo transforms the way these companies manage business.