/ How modern business intelligence tools leverage cloud connectors
Article
How modern business intelligence tools leverage cloud connectors
Businesses are collecting more data than ever before, but making sense of all that data can be a daunting task. That's where business intelligence (BI) tools come in. These tools help you make better use of your data by providing insights and trends that would otherwise be hidden in the noise. But what if you could get even more value from your BI tools? What if you could connect to different data sources in real-time and get instant insights? With cloud connectors, that is now possible.
What is a cloud connector?
Cloud connectors are tools that help you connect to different cloud-based services. They provide an easy way to access data from multiple sources, allowing you to get instant insights into your business. By using cloud connectors, BI tools can leverage the power of the cloud to create connections with other systems in real-time. This allows businesses to make better use of their data and get more value from their BI tools.
BI tools and cloud connectors
If you're looking for a way to get even more value from your BI tools, consider using cloud connectors. These connectors provide an easy way to connect to different cloud-based services, giving you instant access to valuable data. With cloud connectors, BI tools can become even more powerful and useful for your business.
Modern BI relies on cloud connectors as the important first step to any data project. With data being stored in more systems than ever before, it's important that the BI tool has the capability to connect to these different source systems. Cloud connectors help automate this process by creating an easy-to-use interface that allows non-technical users to connect to their data.
How BI tools leverage cloud connectors to create value
Cloud connectors create value for a business through automation and integration. By using a pre-built cloud connector, businesses can connect to their data systems and automate the import of data into the BI tool.
Traditionally, technical data teams were required to do weekly uploads of data from the different systems that the company uses. Today, modern BI provides an elegant solution that allows teams to set up the data source once, and then the BI tool takes care of the rest. Data can be imported on a regular basis, even as quickly as every 15 minutes. Access to real-time data may be the most valuable aspect of cloud connectors.
The benefits of using BI tools with cloud connectors
There are several benefits of using cloud connectors in conjunction with a BI tool. These technologies operate hand-in-hand to provide a business with accurate and timely data. Here are a few key benefits of using cloud connectors:
Automation
Cloud connectors can automate the import of data from source systems. This can save your teams valuable time that was previously spent doing manual data entry and ad-hoc analysis.
Businesses thrive when their employees spend the most time at what they're best at. Cloud connectors help reduce headaches when it comes to so many data tasks that your teams are currently doing on a daily basis.
Integration
Cloud connectors also seamlessly integrate business systems with your BI tool. This is great because it allows your business to become more connected than ever before.
With even small businesses using a plethora of different software tools, integration is key to operational efficiency and effectiveness. By integrating all business systems together, you can ensure that your teams remain connected and have access to all the data that they need.
Unified view of the business
Cloud connectors also allow a BI solution to become a single source of truth for the business. When data is stored in a single repository, it becomes much easier to access and use for business analysis.
End-users can also trust that the data is complete and accurate as you use cloud connectors. Instead of relying on manual processes that are prone to error, cloud connectors and BI are the perfect combination of tools that your business can use to ensure data quality.
Examples of how BI tools are being used with cloud connectors today
Modern BI tools have created thousands of cloud connectors that can be integrated with the business systems you use today. Modern businesses are already leveraging cloud connectors to import all sorts of business data into their BI tools. Here are a few examples.
Connecting to sales data
Popular customer relationship management (CRM) tools such as Salesforce and Hubspot contain a wealth of information about your customers and prospects. Cloud connectors allow businesses to connect to these CRM systems with just a few clicks. In seconds, sales teams are able to import and analyze data about key accounts, opportunities, contacts, and leads.
Connecting to finance data
Finance teams also heavily rely on data in order to analyze the financial health of their business. Tools such as NetSuite and QuickBooks have pre-built cloud connectors, allowing teams to access important financial data in real-time. Whereas traditional reporting focuses on monthly or quarterly reports, cloud connectors allow finance teams to create reports in real-time, including essential reports such as balance sheets or statements of cash flow.
Connecting to operations data
Large retail businesses are also leveraging cloud connectors to integrate with key transactional systems such as SAP or Oracle. These systems can often contain millions or even billions of rows of data. With modern BI and cloud connectors, data of these sizes can easily be imported into the BI tool on a regular basis. Operational teams will be amazed by just how powerful cloud connectors can be for their teams.
Connecting to product data
Many businesses generate millions of data points based on their interactions with customers. These data points can be stored in various systems such as cloud databases, transactional systems, or customer management tools. Cloud connectors offer integrations with hundreds of different services and can allow you to import all your customer data into a BI tool for further analysis and reporting.
Conclusion
BI tools are valuable resources for businesses of all sizes. By taking advantage of the data that's available to you and using BI tools to unlock its value, you can make better decisions about where your business is headed. Consider investing in a BI tool today to get the most out of your business data. With the right tool in hand, you'll be able to answer questions about your customers, product performance, market trends, and so much more. What insights could you gain with access to cloud connectors and real-time data?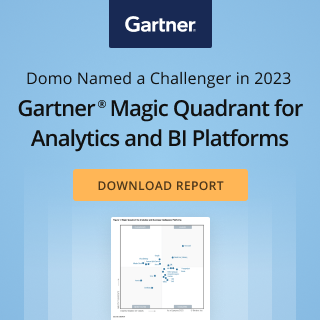 Check out some related resources:
Elevate Your Organization's Data-Driven Culture with Strong Governance Practices
Intro to Domo Workflows: Intelligently Automate Business Processes 
Domo Named a Leader in Nucleus Research's 2023 Analytics Technology Value Matrix
Try Domo for yourself. Completely free.
Domo transforms the way these companies manage business.