/ How embedded ad hoc reporting can revolutionize company performance
Article
How embedded ad hoc reporting can revolutionize company performance
If you are a manager or executive at an organization, you know that data can be your best friend. But how do you make sure the insights from your data are meaningful and actionable?
One way is to embed ad hoc reporting in dashboards. An embedded report allows for quick updates of information on other sites and apps, which can help align stakeholders with shared goals. Supporting ad hoc reporting in these experiences allows end-users to explore custom insights based on the data they've been given access to. This capability allows users of your embedded analytics solution to be more agile and self-sufficient.
In this article, we'll explore the benefits of embedded ad hoc reporting. We'll also take a look at some industries and use cases where this capability is particularly beneficial.
The benefits of embedded ad hoc reporting
When it comes to data, speed is essential. The faster you can get insights from your data, the more agile you can be in your decision-making. That's why embedded ad hoc reporting is so valuable. It allows you to change and update your dashboards in real-time without going through a separate process.
This can be especially beneficial in industries where changes happen rapidly, such as retail or technology. It can also help when you need to quickly get data in front of stakeholders who aren't located in the same place.
For instance, if you want to share results with team members or investors who need to be able to dig into greater detail, embedded ad hoc reporting can provide the ability to produce custom reports to answer more specific questions.
With embedded ad hoc reporting, you can also avoid the need for separate reports and presentations. This can save you time and ensure that everyone is seeing the same information—without the fear of someone having an out-of-date version.
Industries that will benefit from embedded ad hoc reporting
Whether you're in retail, technology, or another industry, embedded ad hoc reporting can be a helpful addition to your BI tool. Here are some real-world use cases of how this capability can come in handy:
Retail
As we mentioned, embedded ad hoc reporting can be useful in rapidly changing industries — and the retail industry is a prime example. With new products and promotions coming out all the time, it's essential to be able to update your information quickly.
Retail is a perfect example because companies need to frequently update their customers with data pertaining to their products or service. With the ability to embed ad hoc reports in dashboards, you can quickly share information with customers and provide an enhanced level of transparency.
Technology
Data insights are vital for any company that develops technology or sells IT products and services.
For example, if you're a software developer working on the next big mobile app, you'll need to provide analytics as to how your app benefits your target market.
With embedded ad hoc reporting, you can get this information in front of the people who need it most. Allowing customers to see the benefit of your product or service whenever they have a question produces an increased level of trust and a better customer experience.
Pharmaceuticals
The pharmaceutical industry is a highly regulated sector where data is absolutely essential for making informed decisions.
While the industry is constantly evolving, it's important to foster trust from the community in the new drugs and treatments that are being developed. To provide clinicians, academics, and the general public with increased access to the data resulting from clinical trials, pharmaceutical companies can proactively demonstrate the benefits of pharmaceutical innovation.
With embedded ad hoc reporting, you can quickly provide data to answer basic questions while also allowing particularly invested parties to dig deeper and obtain a more thorough understanding.
Financial Services
The financial services sector is another industry where data is critical for making informed decisions.
Banks, insurance companies, and other financial services organizations are all looking to provide transparency as a point of differentiation in their respective markets. Whether you're looking to track your stock portfolio, the housing market, or weekly budget, financial services providers are competing to master their analytics experience.
Embedded ad hoc reporting can allow financial institutions to place their customer in the driver's seat. A better and more thorough understanding of their financial product or service will net more new customers and higher retention rates.
Education
The education sector is another industry where the need for data is constantly increasing.
With data-driven decisions becoming more important, schools and universities are looking for ways to make insights available to everyone who needs them.
Student services rely on updated data from admissions departments and matriculation. Similarly, financial service offices utilize updated student information to deliver scholarships and collect tuition payments.
With embedded ad hoc reporting, educational institutions can make better decisions by seeing exactly the data they need when they need it.
Hospitality
The hospitality industry is always looking for ways to improve the customer experience. This often means making changes quickly in order to respond to customer feedback.
Embedded ad hoc reporting can help by giving decision-makers the ability to act on feedback immediately.
Faster insights empower restaurants, hotels, and other businesses in the hospitality industry to improve their customer service faster than ever before. For example, businesses can track food shipments and analyze customer behavior with ad hoc reporting that enhances data-driven decision-making.
Transportation
The transportation industry is constantly changing, with new technologies and business models emerging all the time.
Embedded ad hoc reporting can provide visibility into ever-changing supply chains and timelines. With this data at their fingertips, transportation companies can stay ahead of the curve when it comes to shifting economic conditions and provide the best possible service to their customers. With shipping delays rising yearly and a greater number of goods passing through global markets, having the right data is critical.
The bottom line is that embedded ad hoc reporting can be a valuable addition to the reporting capabilities of almost any company. By giving decision-makers the ability to act on data quickly, it can help your company stay ahead of the competition.
How ad hoc reporting is innovating decision-making
Embedded ad hoc reporting is changing the way decisions are made. Giving decision-makers the ability to act on feedback immediately makes it possible for companies to respond more quickly to changes in the market. This is a huge advantage in industries that are constantly evolving.
Embedded ad hoc reporting tools can be a game-changer for companies that need to respond quickly to market changes. They shorten time to insight while giving you the flexibility of ad hoc reporting tools.
As companies seek to embed ad hoc reporting solutions into their existing products, they find that the benefits go beyond faster decisions. They also provide the ability to have greater control over the data and who sees it.
In addition, ad hoc reporting powered by your BI tool can be updated on the fly as new data is discovered or old data is revised. This helps keep the content fresh, giving it a longer useful life without watering down the insights.
For your company, embedded ad hoc reporting can provide a more agile way to get data in front of the people who need it. It can also help you stay responsive to changes in your industry. Learn more about embedded ad hoc reporting and how it can benefit your decision-making process.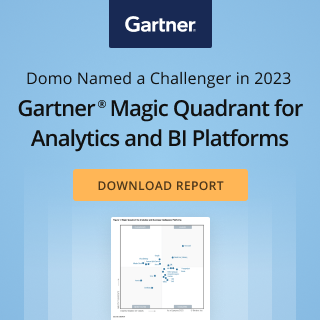 Check out some related resources:
Domo Ranked #1 Vendor in Dresner Advisory Services' 2022 Analytical Platforms Market Study
Domo Named a Leader in Nucleus Research's 2023 Analytics Technology Value Matrix
Elevate Your Organization's Data-Driven Culture with Strong Governance Practices
Try Domo for yourself. Completely free.
Domo transforms the way these companies manage business.