/ How BI tools make sharing dashboards easier
Article
How BI tools make sharing dashboards easier
In the modern market, collecting data is essential. Knowing how to analyze and act on that data is critical, and having the ability to share the data with others is key.
By sharing data insights using a business intelligence tool, such as Domo, members of an organization can make informed decisions that will help them achieve their business goals.
Cloud-based tools allow for ease in sharing across an organization as users can access them from any location or device. Additionally, BI tools allow you to embed analytics right within existing applications.
Cloud-based business intelligence software enables you to place data visualizations directly in the hands of your users without needing to provide access to a variety of systems. With all the data in a single environment, a team can collaborate in real-time and gain meaningful insights.
So how can easily sharing data benefit your organization's performance? In this article, we will explore how collaborative business intelligence solutions are a great benefit to your organization, and how you can get the most out of your BI tool.
How BI tools benefit your organization
When it comes to business intelligence (BI) tools, one of the most important feature sets revolves around users being easily able to access the information they need without support from IT.
This is especially true when it comes to mature organizations that have a variety of systems and legacy processes. Your BI tool can bring all that data into a single environment. As long as employees have been given permission to access the data, they can view visualizations and share insights with others. This makes it easy for users to interact with the data without needing to navigate to a separate application.
Even if you can't provide access to every user, embedding your data visualizations within existing applications provides a way to scale your analytics solution and provides flexibility in how you present information to users.
The benefits of embedded functionality
Embedded functionality allows you to place visualizations directly into your reports, dashboards, and portals, so others can access them without opening a separate application. This capability offers a variety of benefits, such as:
Better collaboration
The ability to embed data into your reports and dashboards means that more people in your organization can use it. This can make it easier for other departments to collaborate and use the information together.
Every person must have accurate information to do their job well. If one member of a team is not aware of updated information, their completed tasks won't be worth anything, and they'll have to redo them once they realize they've been using old data. This can slow down team efforts. With business intelligence tools that allow for embedded functionality, data can be instantly available without multiple steps or excessive effort.
Advanced analytics
Embed functionality can also be used to provide advanced analytics capabilities through an embedded platform, which may have been previously unavailable.
This allows users to experiment with different data sets or perform calculations they would not have had access to in the past.
For example, some organizations are using this type of functionality with machine learning algorithms to improve their business processes.
Easier data integration
Embedded functionality can also help with data integration.
When data is embedded into reports and dashboards, importing and exporting the data becomes easier. This can simplify combining data from different sources and create a more holistic view of your organization's performance.
Enhanced security
When visualizations are embedded directly into your reports and dashboards, it becomes more difficult for unauthorized users to access the information.
Because your existing dashboards and portals are often secured, you can limit who has access to your system by controlling what user accounts are allowed to access this functionality.
Improving the user experience via apps
Apps are another great way to make it easier for your users to consume and act on the data they have access to. This is a beneficial aspect of the Domo platform. Customizable apps allow you to build on out-of-the-box dashboard functionality to tailor the experience to your audience.
For example, a sales scorecard app can quickly and easily keep your sales team focused on the most important performance metrics. What-if calculators built into the app enhance the users' experience by allowing reps to forecast commissions based on deals they see in their pipeline.
Making it easy to share and consume data provides several other advantages:
Data preparation
A BI platform will help with data preparation by automating some of the tasks that need to be completed before analysis can take place. This can save you time and money while also making sure that downstream analysis is being performed on accurate information.
Presentation
Shareable dashboards can also help with business presentations by allowing you to articulate strategies via a data story. Data can support your decisions and help you clearly conveying to your team the why behind a given program or strategic direction.
Execution
When it comes to execution, sharing data via user-friendly dashboards creates accountability. If your team knows the metrics on which they're measured, your organization will be more likely to work together towards a transparent goal.
Data analysis
When it comes to data analysis, your BI platform can provide data-science tools for the more technically skilled. If your organization is ahead of the curve and ready to move on from descriptive analysis, leverage advanced machine learning models to begin the journey of predictive and prescriptive analytics.
Where to start
When starting with a BI solution deployment, the first step is to understand your various business needs. Dashboards can be built in a variety of different formats, so you will need to stay focused on the business outcome you're hoping to drive.
Next, take some time to think about the different personas involved. A united team that is working together performs far better than a siloed and territorial organization.
Sharing access to data quickly turns into enhanced collaboration. Transparency creates a culture where successes are celebrated and failures are analyzed and quickly improved upon.
Finally, start automating the process of data ingestion. Now that you know your goals it's time to ingest the data that will populate those KPIs. The beauty of modern BI tools is that this step is the easiest of all.
Conclusion
There are many different ways that the collaborative nature of BI tools can improve company morale and performance.
Individuals who are trusted with information feel valued and vital to the team's success. For those who can't be given full access or need a more streamlined experience, use an embedded or app-based solution to provide the needed access without inordinate costs or confusion.
Business leaders need to understand how a BI tool will help to shape an organization's performance and culture. Selecting a tool that easily allows for the sharing of dashboards and reports will unlock each team member's potential and save their time from mundane manual processes.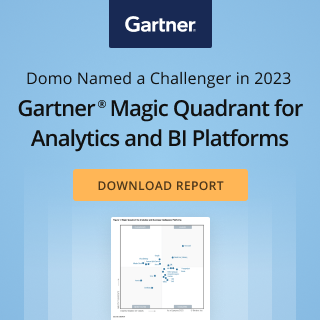 Check out some related resources:
Creating modern data experiences that help your customers succeed
Domo for Marketers: Tips and tools to seamlessly manage marketing data
POV: Next-Generation Banking
Try Domo for yourself. Completely free.
Domo transforms the way these companies manage business.