/ Enhance your data efficiency with self-service BI
Article
Enhance your data efficiency with self-service BI
Self-service business intelligence (BI) is a popular new trend in the world of data analytics. It gives you all the power and control to turn your data into actionable insights without having to wait for a data analyst.
With self-service BI, there's no more getting lost in translation between what your managers or employees want and how they actually get it.
However, it is essential to understand that self-service BI is not the same as just making data accessible to everyone in your company. There are some very clear advantages that you should be aware of before diving right into the world of self-service business intelligence.


What is self-service BI?
Self-service BI is the practice of allowing all of the decision makers within your company to explore data, ask questions, and create their own reports without having to rely on a data analyst.
With self-service BI, you don't have to go through the time-consuming process of requesting reports and then waiting for someone else to build them.
There are many different kinds of self-service BI tools on the market but the tool you choose will depend on your needs. The feature sets of BI tools can vary quite greatly but most modern cloud-based BI solutions will fall under the umbrella of self-service BI.

What are the benefits of self-service business intelligence?
Self-service BI provides a range of benefits for companies—which is why so many businesses are making the switch. Here are a few of the biggest benefits:
1. It gives everyone access to data
Self-service BI makes it possible for everyone in your company to take advantage of their own data.
With traditional business intelligence, only people with special training (i.e., data analysts) could access the reports and data that would be useful to them. With self-service BI, anyone can pull the data that's relevant to their responsibilities.
2. It can lead to better business decisions
Self-service BI makes your company more data-driven, which leads to better business decisions overall.
This is because everyone has access to data, everyone can ask questions about their own performance, and managers can view all metrics to see their impact on the company.
3. It puts you in control of your data
One of the biggest benefits of self-service BI is that you are finally in control of your own data.
No more struggling to communicate requirements for a report or clarifying additional data-points needed for a follow-up question. With self-service BI, you spend less time worrying about the integrity of your data and more time driving business value from it.
4. It results in a more reliable source of answers to questions
Self-service BI leads to a more reliable workplace because everyone has reassurance that the data they have access to is accurate and appropriate for their individual role. The best tools on the market today allow for content certification. This means that you can use and share certified datasets and visualizations with others in your organization and align on the metrics that matter the most.
Managers will no longer have to wait to hear back from data analysts or IT specialists who "own" reporting for their organization. Instead, they can do their own analysis and see the results as soon as possible.
5. It's more time- and cost-efficient
Finally, self-service BI is more time- and cost-efficient across an organization. Trusting people to do their best work when given the data they need will produce an enhanced sense of ownership and in turn improved performance.

What are the pitfalls of self-service business intelligence?
Of course, there are a few pitfalls to be aware of as well:
1. If rolled out without a proper training strategy, it may increase the risk of errors
Just because data is accessible doesn't mean people will use it correctly or won't make mistakes.
In fact, making data accessible often puts it into more people's hands and increases the chance that something will be done incorrectly. For this reason, it's critical to make sure you have a roll-out strategy as part of your implementation plan. This will ensure that your people will be ready to use their new BI solution effectively on day one.
2. It can lead to unnecessary redundancies
Just because everyone has access to data doesn't mean they will all ask the same questions. In fact, self-service BI can lead to multiple people asking the same questions. This is why it's important to choose a modern solution that allows you to easily audit what's happening within your self-service BI tool. If multiple people on duplicate dashboards or datasets, a certified dataset or visualization should be created and made available on a shared dashboard.
3. The tools aren't always perfect
There are a lot of different self-service BI tools on the market, and many of them aren't perfect, which means you may have some problems with data access when it comes to integrating a large number of different data sources.
You should carefully investigate your options to make sure the one you choose is capable of providing accurate data and easy-to-use reports. Time to value is one of the most important aspects to consider when choosing a new self-service BI solution. With over 1,000 pre-built connectors, Domo allows you to start getting insights from your data on day one.


Is self-service BI right for your company?
While self-service BI is definitely not for every company, it has many benefits that can change the way your business operates.
If you're considering making the switch from traditional business intelligence to self-service BI, make sure you understand that self-service BI is so much more than a visualization software. The tool you choose needs to have integration, ETL, and visualization capabilities built into a single platform. Otherwise, you won't be getting complete value from your BI solution.
However, if you want more control over your data, increased efficiency, and more accurate data overall, self-service BI is worth considering.
To help you select the right self-service BI solution, consider these questions:
Do you need more control over your data?
Which user personas in your organization are most likely to take advantage of self-service BI?
How would greater access to data increase efficiency for analysts and managers?
Are your managers short on time or stressed out by too many reports?
Could self-service BI reduce redundancy?
What efficiencies could you gain through self-service BI?
In most cases, your answers to the above questions will lead you down the path of considering self-service BI. The benefits can have a huge impact on the way your company operates, and it will help you accomplish more in less time.

Summary
Self-service BI is a new way for companies to use their data and many people love the increased efficiency that comes with it.
However, there are considerations on how to transition from traditional IT-centered BI before switching to self-service BI. With the right tool and the right training plan for your employees, you can make the switch and enjoy all of the benefits that come with it.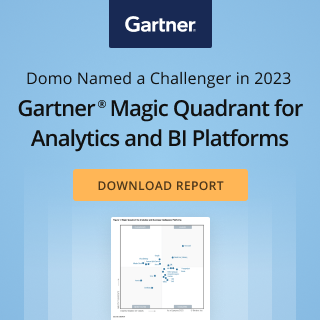 Check out some related resources:
2024 Planning: Budget Cuts? Reducing Spend? Consolidating Systems? Hard Decisions!
Domo Named a Leader in Nucleus Research's 2023 Embedded Analytics Technology Value Matrix
Domo and Regional One Health Named 2023 Nucleus ROI Award Winners
Try Domo for yourself. Completely free.
Domo transforms the way these companies manage business.