/ 10 ways your business can scale with the cloud
Article
10 ways your business can scale with the cloud
As a business owner, you know that growth is essential for success. Having the capabilities to enhance business operations using the latest technology is also essential for your company to grow and thrive.
One of those capabilities is the cloud. The cloud can provide your business with numerous resources to scale without overloading your resources.
Cloud computing can help you make the most of the latest technologies without the heavy investments in capital and resources that could slow down your business.
For business owners to successfully scale their business operations with the cloud, they must know the features of the cloud and how it can be of benefit to their business.
In this article, we will look at 10 ways you can scale your business with the cloud.
What is the cloud?
The cloud is an infrastructure that allows you access to computing resources on demand. This can be anything from email servers to web hosting and virtual desktops.
With these services available in the cloud, your business doesn't need to invest in its own hardware or software licenses. Instead, you only pay for what you use when you use it.
By scaling with the cloud, businesses can take advantage of several benefits:
1. Scalable capabilities
The cloud's scalability makes it easy to grow with your business. You can start small with basic services, slowly expanding as your company grows using the cloud for more features and capacities. This way you don't have to invest in new systems before you really need them.
2. Faster access to resources
In addition to making it easy to grow as your business expands, cloud computing also helps obtain those resources faster. Your employees will obtain the tools they need to do their jobs without wasting time waiting for downloads or installations.
3. Increased automation
With several functions automated and streamlined, you can save valuable time and money by not paying staff and resources to perform actions that can be managed by the cloud. Your employees will have more time for other tasks while their needs are met by the automation of the cloud.
Leveraging BI in the cloud
Cloud technology continues to rapidly advance, and it will continue to promote great benefits for your business. In order to better understand your business and where efficiencies can be promoted, leaders often turn to cloud-based business intelligence (BI) solutions that can rapidly scale as the business grows.
10 ways to scale BI with the cloud
1. Enhance and protect data with decentralized data storage
Data can be a tricky issue for businesses, as it needs to be stored and accessed on secure servers at all times.
The decentralized nature of the cloud makes this easier by storing your data across several systems instead of keeping it contained on one server. With several copies of your data stored in different locations, you can rest assured knowing that even if some backups fail or a system is compromised, your data is still safe.
The cloud allows you access to decentralized data storage that can help your business better protect its information. This will allow you to respond faster in the event of an emergency by not having to wait for data backups before taking action.
2. Plan for multiple locations with more efficient collaboration
The cloud can help you expand efficiently by allowing your business to work within one system, no matter the location of the users or servers.
This allows businesses that are rapidly expanding into several offices to be able to maintain better communication and collaborate on projects more easily across different locations. By allowing employees to work together, you can scale your business more efficiently.
3. Easily handle high-load processing with shared resources
Shared resources are one of the biggest advantages of cloud computing because they allow several businesses or companies to share the cost and workload of servers instead of investing in their own systems.
By using shared cloud servers, you can support a high number of users or transactions without having to purchase expensive hardware or licenses that would be used for only a brief time period. That means less money spent on servers and more invested in expanding your business.
4. Reduce IT maintenance with automated solutions
In order for businesses to scale, they need to decrease the amount of IT maintenance and housekeeping required to maintain systems.
The cloud can do this by utilizing virtual servers that are managed and maintained through the software you use for other tasks, such as office productivity or email management.
This way your employees get access to collaboration tools while their needs are fulfilled automatically so they don't have to waste time on upkeep. When teams are freed up to work on other projects, your business can more efficiently and quickly scale and grow.
5. Increase mobile capabilities with flexible collaboration tools
Cloud computing means that you can access software and data from several different devices with ease.
Your employees will be able to connect securely while working remotely or while out in the field because cloud-based systems can be accessed from any location and on different systems.
These increased capabilities will allow your business to expand and grow quickly and efficiently because you'll always have the tools you need, regardless of where your employees are located.
When you combine this with the other benefits of shared resources, you'll have mobile employees that are working together seamlessly.
6. Store backups in offsite locations for rapid recovery
Cloud computing allows companies to store data across several systems instead of keeping it on one server. This can be extremely helpful when disaster strikes because your company will always have a backup of your data stored somewhere else.
The location of the backup is not important because it's housed across several systems, meaning that even if some backups fail or are compromised, you still have access to all your data.
Having one centralized system where all of your data is stored can help keep your business running efficiently and smoothly during times of crisis.
7. Increase productivity with faster communication
Some of the biggest disadvantages to working remotely or having employees in different cities located far away are the barriers that arise between them due to time differences and lack of communication tools.
By using cloud-based communication, all your employees will have access to the same instant messaging services they would if they were all sitting in the same room.
This can increase productivity because your employees will not have to waste time waiting for messages or double-checking that they are successfully communicating with you, instead of someone else in their company.
8. Streamline client interactions with virtual customer service agents
Your customers want instant access at all times, no matter what your company may be doing.
By having a cloud-based system, you can reach out to customers from any location and interact with them through the same software that's used internally by employees at your business.
This will give your customers access to all of their data and records, helping them resolve issues quickly and easily while reducing the amount of time you or your employees spend on client service issues.
These virtual agents can help you provide 24/7 customer service to maximize productivity and respond quickly with instant solutions to benefit both you and your customers.
9. Implement an emergency communications plan
With the proper data backup system in place, your business can recover quickly after any crisis, whether the failure was due to natural causes or sabotage.
By having quick access to all your accounts along with a detailed knowledge of how each one interacts with the others, you'll be able to get back up and running quickly and efficiently.
10. Manage your business from anywhere with remote access tools
The last advantage to cloud computing is that by using web-based software or remote system access, you can manage all aspects of your company while on the go.
This will not only save you time, but it can also benefit many employees by allowing them to work from any location.
Having your employees working remotely will increase productivity and take advantage of the latest advancements in technology to help simplify company management.
Conclusion
The benefits of using cloud technology with modern BI can produce massive benefits for your company. By working with a BI vendor that is cloud-first and cloud-focused, you can reap all these benefits.
If you add up all these benefits, cloud computing can do wonders for your business. By using it correctly, you'll be able to enhance employee mobility, improve customer service and streamline managerial tasks while increasing productivity.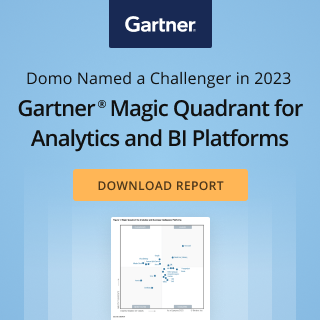 Check out some related resources:
Domo for Marketers: Tips and tools to seamlessly manage marketing data
Domo Named a Leader in Nucleus Research's 2023 Analytics Technology Value Matrix
There's an App for that—Tips for Crafting Apps, Dashboards, and other Engaging Data Experiences
Try Domo for yourself. Completely free.
Domo transforms the way these companies manage business.