/
How Domo Can Support a Remote Workforce
The COVID-19 outbreak has triggered a trial of remote work at great scale for a vast number of organizations around the world.
Millions of people who are used to working in an office environment are now trying to get things done from their home studies, living rooms or even kitchens.
Among the big questions that many companies will be trying to answer as this practice becomes the new norm are: How effective is my remote workforce? How are our systems performing to support them? And how can I make better sense of my teams' activities to ensure productivity is maintained?
Most businesses use—or at least have—an array of productivity, project management, and collaboration tools. But to gain total visibility across your organization or team, those tools must be connected.
Domo, which offers more than 1,000 data connectors, is designed to make that process easy. Any of the connectors can be configured in minutes, meaning line-of-business leaders can have insight in mere hours—and therefore begin to react to situations as they unfold.
For those who work in three key departments—project management, sales, and IT—here are some some connectors you can apply that will help you better manage and support your remote workforce:
Project Management
If you're a project manager or leader of a software development team, and you use JIRA, Basecamp or any other project management tool, you probably want to know if you are on track to complete a customized solution or product for a customer, what the status is of individual tasks, or what the completion rate is on larger projects.
You'd probably also love to get a notification when new code is pushed into a GitHub repository by your development team, or when multiple tickets are being raised for the same issue or of a certain type in FreshDesk or JIRA.
Domo not only allows you to plug data from all of those sources into the platform, it allows you to set up alerts, so you can begin to manage by exception and respond to internal- or customer-facing demands at a faster rate.
Sales
Do you lead a remote sales team? You can use Domo's Salesforce connector to visualize leads and pipe being built, allowing you to easily gauge and decide where the team's efforts should be placed.
Your can also connect any Voice Over Internet Protocol (VoIP) service—such as DialPad, Webex or Twilio—to Domo to ensure your team is making outbound calls and engaging with your potential customer base.
Connecting all your sales-related data also makes it easy to see who the top performers are, so you know exactly who to give credit to, when credit is due.
IT
Finally, if you work in IT, you've probably noticed that your systems are being put under a lot of strain because so many people are connecting to the organization's VPN remotely. As well, there's probably an increased number of support-desk tickets being raised as users get used to the new ways of working remotely.
With Domo, you can stream your log-level data from IT systems—whether they're hosted by AWS, Azure, Google or locally—and set alerts for outages and errors.
You can also set alerts after connecting whatever ticketing platform you use (e.g. Freshdesk, JIRA or ZenDesk) within Domo. So, if you're getting close to missing an SLA requirement, you'll be notified, from one central, easy-to-interpret dashboard.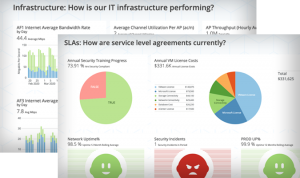 Connect and Conquer
Whatever tools you use to support and manage your remote workforce, Domo provides a place where you can combine important metrics and KPIs into a consolidated view so it's easy to measure success.
If you're not using Domo, start your free trial now. If you are already using Domo but would like some support to deploy a solution mentioned above, contact your customer success manager. And if you don't have time to build a dashboard, no problem—you can get one started with just a few clicks within the Domo Appstore.