The cloud-native platform that creates faster value from your data.
The Domo platform plugs into all of your existing systems, quickly turning your data into a valuable resource for everybody in your business.
Quickly access all of your data, from any source.
Domo provides a way to access and use data from disparate systems—whether in the cloud or on-premises—to optimize data storage, normalize your data, ensure quality, and provide governance.
Optimize your investments.
As a key cloud-native platform in your technology stack, Domo plugs into your existing infrastructure, and provides immediate value by making your data consumable with pre-built apps and tools.
Best in class data security and governance.
With Domo, you get enterprise-grade data protection and workflows to certify the data in your system. Integrate with your existing governance tools, and increase user self-service while still controlling data access with your own specific data access parameters.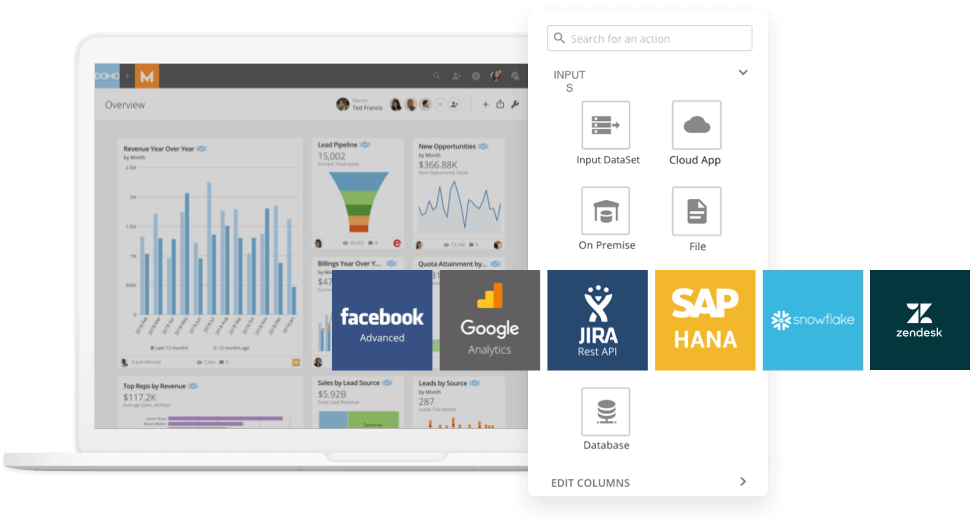 Unparalleled speed to value.
Domo provides the fastest time to value you'll ever experience, with pre-built APIs that quickly integrate your data, and apps that help you visualize and monetize it.
With Domo's collection of pre-built APIs and federated queries, you can connect to your data in minutes, with no engineering time required.
Our comprehensive appstore provides access to apps built by partners, clients, and Domo. Find apps already built by industry leaders to help make sense of your data and drive action.
Access dashboards with pre-built visualizations for commonly used data sources.
"Domo gave us faster time to market. We started using it within a few weeks and now share daily results. We'll need to leverage more data sources as we expand and more technology is developed. The business insights and actions that we get from Domo will contribute to the growth of our group organizations."
Keiji Taguchi | CIO
Compatible with your existing architecture.
Domo is designed to augment your existing systems, not rip and replace. Domo connects with your existing tools—including data lakes, data warehouses, and ETL tools—to help manage data access, quality, integration, and governance.
Access data from all systems connected to Domo or leave it where it is—no data movement required.
Query data directly from where it's hosted using federated queries.
Change source systems without impacting business users.
A central, secure source for data governance.
Domo's governance structure provides a single, trusted source of access and permission management across your data sources.
Domo provides robust security features including 2FA, SSO, event logging, and BYOK encryption.
Personal Data Permissions (PDP) add security down to individual rows of data.
Data governance features allow you to visualize system dependencies, monitor the health of your data, and audit your organization's use of Domo.
Content certification allows you to ensure the quality of the data in Domo.
Automatic, truly massive scaling.
Domo's architecture is designed with growth in mind. All your data is instantly available on any device, with an architecture that scales to trillions of records and thousands of users.
With a live cache layer to store your data, you never have to worry about long query times as your data grows.
With Massively Parallel Processing and dynamic scaling, Domo scales so you can store billions of records without worry.
As your organization grows, use our enterprise governance features to efficiently manage user accounts and access, including customized user roles, access based on user attributes, and account management via API.
Related resources.
See how Domo's CTO uses Domo every data.
See how Domo handles Federation.
Domo, under the hood.
5 Challenges CIOs Are Facing Today—and How to Solve Them.
Learn more about Domo for IT.