/ Using custom data apps to power your business
Article
Using custom data apps to power your business
Imagine being able to take all of the data your company collects on a daily basis and turn it into actionable insights. That's the power of business intelligence (BI).
And with custom BI apps, you can supercharge your business by unlocking even more value from your data.
Customizable data apps have become increasingly popular as a way for businesses to get more out of their BI tools. By extending the functionality of these tools, businesses can tailor them to their specific needs and use cases.
The case for customizable data apps
Custom apps can be extremely helpful in making your employees more efficient while at work. Modern companies run on software, but oftentimes so many different pieces of software are used that it can become quite tedious to manage them all.
Custom apps help alleviate this issue by integrating systems that your teams already use to create a single, unified view. Using a business intelligence (BI) tool as the platform, a custom app can gather information from different data sources into a central location to use for generating reports. Users then only have to log into one tool to access the data and information they need to perform their jobs effectively.
There are endless possibilities for how custom apps can be used to power a business. The key is to think about the specific needs of your business and how a custom app can help you meet those needs.
Understanding customizable data app development
If you're not a developer, the thought of building a custom app may seem daunting. However, there are many BI platforms that offer intuitive drag-and-drop app builders.
These allow anyone, regardless of technical ability, to build a custom app without any coding required.
Of course, more complex apps will require some coding. But even then, there are many BI platforms that offer APIs and other developer resources to make the process as easy as possible.
To build a custom app, you'll first need to identify the specific problem you're trying to solve. Once you've done that, you can start building your app.
The app development process will vary depending on the platform you're using. But in general, you'll start by designing the user interface and then connecting to the data source.
After that, you'll need to deploy the app so that it can be used by your team.
Again, the exact process will vary depending on the platform you're using. But most platforms make it easy to deploy an app with just a few clicks.
Examples of use cases for customized data apps
Most custom apps deal with the management of data to some extent. The software leverages preexisting data infrastructure to create a custom app where disparate data sources are brought together so that users are able to view and analyze data.
There are numerous types of business needs that face organizations today. Fortunately, there are also many types of custom apps that can satisfy these needs. A few of these are highlighted below:
Forecasting apps
A common use case for a custom app is a sales forecasting app that takes data from sales CRM systems, email marketing tools, and billing systems. With a single login, sales leaders can view the overall performance of their sales department. Informative dashboards and charts can be presented as the end product, prompting action to be taken.
Integration apps
Integration apps use pre-built data connectors to push and pull data between different source systems. With the advancement of modern APIs, integration services can easily be created to reduce the amount of manual data entry required for employees to keep multiple systems updated.
Data write-back is a term used to describe an integration app that is able to push data back into the source system automatically. An example of this could be an integration app that analyzes email marketing data. Whenever a customer clicks a link in an email, a write-back service is called to update the contact record in the email marketing tool. All this can be done automatically, without any human assistance needed.
Communication apps
Communication apps are an excellent use case for custom apps. Businesses of all sizes can struggle with communicating effectively with their customers, especially considering the many different means of communication. Email, text, phone call, website chat—it can get quite complicated. Custom apps can be created to streamline the way you communicate with your customers, helping to create a unified view of every interaction you've had with them.
A custom communication app can also help your customer service team be more efficient. Since timely information is critical to making customers happy, creating a custom app that enables agents to monitor all communication with customers can greatly increase efficiency and productivity.
Leveraging a BI tool to create a custom app
Thanks to modern BI tools, customized data apps can be easily created and adopted by organizations of all sizes. Custom apps are no longer just for the enterprise. By using a BI tool, custom apps are much easier to produce and can be deployed in a fraction of the time, facilitating quick adoption of the app throughout the organization.
Finding a BI tool with the ability to create custom apps is important, as not all are created equal in this aspect. In order to create a custom app, the tool must have robust capabilities, including data integration, write-back, ETL capabilities, and UI/UX design. It's also important to be able to partner with the BI vendor while trying to accomplish your custom app initiatives.
Conclusion
Custom apps can bring so much power to your business. By leveraging a BI platform, you can more easily create custom apps that will help you automate data tasks unique to your business.
Custom apps can give your organization a competitive edge by enabling you to interact with your data in the exact way that you want. In today's data-driven world, businesses that can make the most of their data will be the ones that succeed.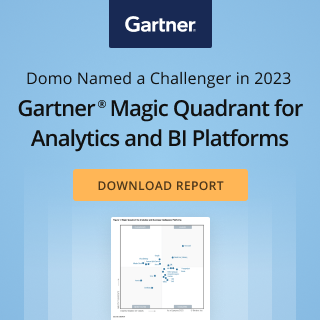 Check out some related resources:
How to ignite insight-driven decision-making across your business
Climate Impact Analysis for Flood Mitigation Planning & Action
Elevate Your Organization's Data-Driven Culture with Strong Governance Practices
Try Domo for yourself. Completely free.
Domo transforms the way these companies manage business.