/ Real-world applications for data integration
Article
Real-world applications for data integration
The first step to realizing data's total value is to integrate it. Companies can get the most crucial and precise insights into their information when it is all in one location. These insights provide businesses with a competitive edge over their rivals.
Any organization can build a modern data architecture that incorporates any data source, regardless of the data's kind, format, origin, or location, using a BI tool. With a BI tool, businesses can combine their business data to find insights that would otherwise be invisible.
Data integration can meet many business needs. While improving customer experience is usually the top priority for businesses, there are other objectives for cost savings, more precise marketing, and streamlining current procedures.
Data integration procedures vary since each data storage choice and requirement is unique. Regardless of how it's collected, data is then stored within the BI tool, and recalled when it's needed.
Businesses don't just want data integration because it makes their BI tool work better. They want it for the real-world benefits that it provides. Here are some real-world examples of how data integration makes people's jobs easier.
Real-world data integration use cases
Education
Higher educational institutions often use data integration solutions in the context of their learning management systems. Using a BI tool, they can analyze student grades, see what sort of teaching strategies are most effective, and pinpoint exactly where students struggle.
A teacher's effectiveness can be adjusted and evaluated based on the number of students, the subject matter, the demographics, the aspirations, the behavioral classification, and a variety of other factors.
Marketing and advertising
Marketing teams need access to fresh, valuable customer data so that they can build campaigns that will resonate. Without good data, they'll end up building marketing strategies that don't work.
With data integration and the power that a BI tool provides, marketing teams can examine and compare huge streams of information to better understand customer sentiment. This allows them to understand their own market better, which leads to more effective targeting.
Natural resources and manufacturing
Data integration enables predictive modeling to enhance decision-making in the oil and gas sector. Acoustic analysis and reserve characterization are two exciting applications of this. Among other advantages, data has been used to solve current production problems and acquire a competitive edge.
Retail
Online and brick-and-mortar retailers work with a lot of data. Having all that information in one place, irrespective of what outlet or employee inputs it, is essential for tracking performance. The capacity to manage stock, track production time, analyze sales, and manage other critical KPIs across all of their platforms and outlets is made possible through data integration.
Retail businesses can offer seamless brand experiences thanks to data integration. They are ready to obtain all the data and put it together into a single database so that it can be examined and saved. Without a doubt, data integration gives retail businesses the chance to harness the data they are already creating and turn it into insight.
Communications
In telecommunications, providing top-notch customer service is essential but challenging to maintain due to the enormous work required. A good degree of perspective on business-client relations is attainable by integrating data from as many sources as is practical. Identifying and fixing problems that cause more customer service inquiries or worse customer service experiences is possible. With enough data, businesses will eventually be able to treat each consumer in an effective way.
Medicine
Integrating patient data supports healthcare organizations in cost reduction, result improvement, and wellness and healthcare promotion. These facilities can quickly combine all the patient data into a single comprehensive record, thanks to data integration tools—this aids businesses in producing the best outcomes.
For example, the University of Florida has combined free medical data with Google Maps to provide visual data that enables quick identification and effective analysis of health data used in tracking the development of chronic disease.
Securities and banking
The SEC uses data integration insights to track activities in the financial markets. They use some basic strategies, like tracing the location of someone who did insider trading, as well as some newer strategies, like neural nets and qualitative data analysis.
Data integration is also utilized by retail traders, large banks, and hedge funds for trade analytics such as large trading, sentiment analysis, and pre-trade decision-support analytics.
Fraud is a massive and growing issue in finance. Banks and other financial organizations can detect, eradicate, and prevent fraud as long as all of their data is interconnected. Once this is achieved, AI can mine the data for anomalies and outliers, frequently detecting fraud before it affects the client. However, if the data is still siloed or fragmented, such early action is not possible.
Utilities and energy
Intelligent meter readers capture data roughly every 15 minutes, compared to traditional meter readers once a day. This detailed data is being utilized to assess utility consumption better, allowing for increased customer feedback and better control of utility use. In utility firms, data integration enables improved asset and personnel management, which helps detect and resolve faults as soon as possible before total failure occurs.
Entertainment and media
Organizations in the entertainment and media fields analyze customer data as well as behavioral data at the same time to create content for diverse target audiences, recommend content, and measure the performance of the content being watched.
For example, a streaming platform like Netflix might collect one customer's data, and then compare that one user's data to the data of the user base as a whole. With this comparison, the streaming platform could make recommendations based on the content currently watched or greenlight new projects based on what their consumers prefer.
Insurance
By evaluating and forecasting customer behavior using data obtained from social media and other sources, data integration has been employed in the industry to deliver customer insights for transparent and more straightforward pricing.
Data integration also assists insurance businesses in improving customer retention. When it concerns insurance companies, prescriptive analytics through data has been employed to provide speedier service, because large amounts of data may be processed primarily during the underwriting stage.
Anomaly detection has been improved, and legitimate surveillance of complaints throughout the complaints cycle has provided insights using large amounts of information from digital channels and social media.
The bottom line
Data integration isn't just a niche BI feature. The ability to combine all your sources of business data and find relationships between them is essential for any business that wants to stay competitive in today's data-driven world.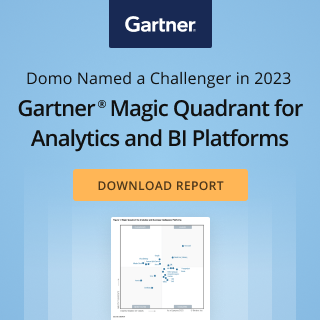 Check out some related resources:
Start With Data Governance for Better BI
Why is no one visiting my lakehouse? Unlock the power of your lakehouse for low-code and no-code users
Bridge the Gap: How Domo Cloud Amplifier Harmonizes IT and Business Data Needs
Try Domo for yourself. Completely free.
Domo transforms the way these companies manage business.