DOMO FOR MEDIA
Optimize your content, audience, and revenue with unified data.
Combine all your data in Domo to see how consumers are interacting with your content and simplify yield management—all in one system.
MANAGE YIELD
Optimize yield and increase revenue.
Get real-time views into your inventory and campaigns across all platforms, so you can make faster, better decisions that maximize revenue.
Make better decisions about inventory allocation.
Drive more revenue based on demand.
Maximize fill rates with visibility into all campaigns and partners.
"Optimization is the name of the game, and Domo enables us to make our media and advertising spend more efficient."
Jay Glogovsky | Director of Yield, Advertising
OPTIMIZE PROGRAMMATIC
Accelerate your programmatic revenue.
Unify your data and see performance across all sell-side platforms and ad servers, including: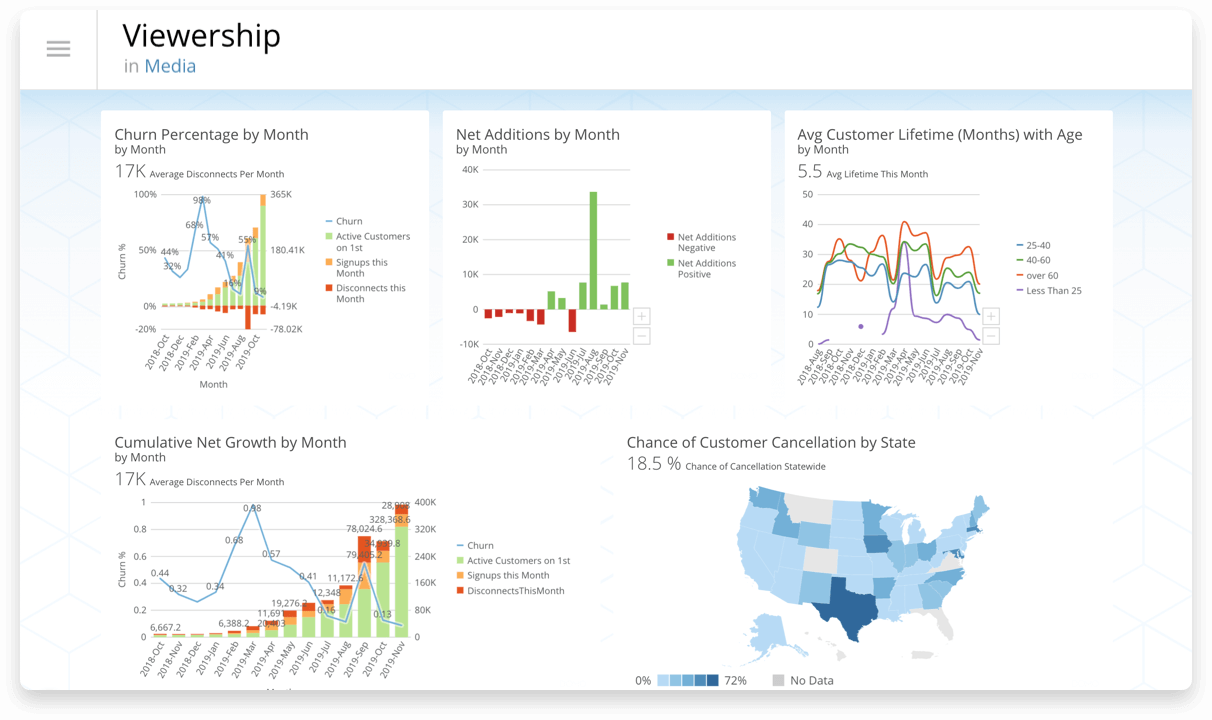 INCREASE ENGAGEMENT
Get insights to your audiences.
Understand how your audiences are engaging with your content across all media and platforms. Domo allows you to track audience behavior to help acquire and retain consumers, and better understand where your business opportunities are.
Domo empowers us with the real-time fan feedback loop we need to transform the customer care experience
AUTOMATE REPORTS
Automate billing and reporting.
Simplify the process of reconciling daily and monthly reporting to prepare billing reports, provide feedback to clients with automated reports, and learn about sales performance and pipeline projections.
You usually find out about a problem when you try to go and bill for it, and you realize you can't bill for an entire campaign. But now we've moved into a lot of trade metrics like a diagnostics dashboard, which has been extremely helpful for us.
Domo's Media Suite
Bring all of your programmatic advertising data together for on-demand, customizable insights with Domo's Media Suite. The Media Suite includes three apps:
Programmatic Revenue App. Connect data from all sell-side platforms and ad servers so you can see performance across all systems and optimize revenue.
Programmatic Buying App. Get an instant view of your programmatic media buys and track performance by integrating data from your DSPs, ad server, and ad viewability vendors.
Campaign Wrap-Up Report. Automate reports on campaign delivery and performance metrics.
See how these customers are using Domo.
Nativo makes data tell a better story with Domo.
Domo gave Univision the kind of visibility they needed to unify and focus their data.
National Geographic uses Domo to create narratives with its marketing data.
NBC tracks their content in real time across hundreds of millions of rows.