/ OEM BI Tools: The best way to enhance your SaaS application
Article
OEM BI Tools: The best way to enhance your SaaS application
Businesses are always looking for ways to expand their customer base and improve their margins. One of the best ways to do both is by building new BI SaaS applications within your existing applications.
But what if you don't have the time or expertise needed to build a complex application? What if you're not sure that your software development team has the skills required?
The solution may be OEM BI tools, which offer features that are particularly suited for SaaS providers and need to be white-labeled to provide a seamless user experience with the rest of the application.
This article explores how businesses can benefit from these solutions.


What are OEM BI tools, and how can they help businesses?
OEM stands for "original equipment manufacturer." It refers to a company that supplies parts, components, or assemblies for another company's finished product. OEM BI tools offer a similar service: they provide a complete suite of pre-built analytic functions, features, and data connectors for your SaaS application.
By using an OEM solution instead of developing one in-house, you can avoid many common pitfalls of custom development. For example, you won't have to worry about:
Building something that meets all your specific needs
Determining which analytics and BI features are important for your application
Integrating with your existing data sources
Creating a user interface (UI) that your customers will like
Implementing security, authorization, and authentication measures
Instead, an OEM BI tool would bring those capabilities to your SaaS offering as part of the package. And you can just focus on customizing it for your specific business needs to ensure a seamless user experience.
OEM BI tools are designed to help SaaS providers build differentiated, revenue-generating capabilities into their products. They offer features that are particularly suited for SaaS providers. They need to be white-labeled to provide a seamless user experience with the rest of the application.
In other words, OEM BI tools provide a simple way for SaaS providers to create a unique selling proposition and derive more value from their existing applications.

Who should use OEM BI tools?
Not every business needs an OEM BI tool. But if you're confident in your team's abilities and you're looking to expand your SaaS offering, then an OEM BI tool may be the right choice for you.

Benefits of OEM BI tools
Creating new capabilities like this can be extremely useful as it enables users to become deeper involved with your application. It also makes the app more sticky, which leads to increased customer lifetime value (LTV). For businesses, the benefits of using OEM BI tools include:
Differentiation
Businesses can add new analytical features and add-ons to their apps, creating differentiation. If you have a good product, this is extremely beneficial because customers will stick with your app if it's useful enough and the data you share demonstrates clear value.
Increased revenue
Users are more likely to purchase your app if it has a lot of features. Adding new analytical capabilities will increase the value of your product, resulting in increased revenue.
Improved margins
By building new OEM BI features and functionality into your app, you're able to improve margins since you're not relying on development resources to create BI functionality from scratch. This strategy also allows you to dedicate development resources to your unique value proposition while leaving the analytics to a BI vendor.
Improved customer loyalty
When users are able to better understand the value your application offers, they're likely to be more loyal to it. They'll also be less likely to switch to a competitor's product since they won't be able to find the same level of analytical detail as is available within your offering.


Why should a business invest in OEM BI tools?
Even though integrating a third-party application into your existing solution can feel intimidating, OEM BI tools are built to be extremely flexible. This means that you shouldn't have much of a problem adding an OEM BI solution to your existing application. Before making the decision to go the OEM BI tool route, you'll want to consider the following questions:
Is investment in an OEM BI tool worthwhile?
OEM BI tools provide fully featured BI environments right within your application. If you're looking to make a variety of data available within your application, there's a good chance a BI tool integration is going to be your best bet. While the need for a single chart or table might not be worth an OEM BI integration, anything much more than that will most likely be more expensive to build from scratch.
Does your app have specific technical integration requirements?
Before going too far down the OEM BI route, it's important to check with your BI vendor to make sure their options for embedding BI content are compatible with your application's current framework. OEM BI deployment methods vary and checking for compatibility is a key decision point to consider.
What is the time frame?
The time frame for a homegrown BI solution is always much longer than initially expected. If time to value is a key factor in your decision, there's a great chance that an OEM BI integration is going to be the answer.
What's the most scalable option?
OEM BI tools offer a wide array of feature sets that make them easily scalable. While your initial implementation may be focused on making seamless reporting available to your users, the need for additional functionality usually follows fairly quickly. Making data exports available, allowing users to create ad hoc reports, and allowing users to interact and filter data are just a few examples of advanced functionality that you'll end up finding useful. While a home-grown solution may get you to an MVP, it's important to consider what additional costs will be incurred as additional features are needed.
When it comes down to it, integrating BI functionality is an important feature-set that more and more companies are taking on. If your application can be made more sticky, useful, and user-friendly with the addition of analytical capabilities, an OEM BI solution is probably right for you. By understanding the benefits and key decision points when considering one of these tools, you'll be in a better position to make an informed decision.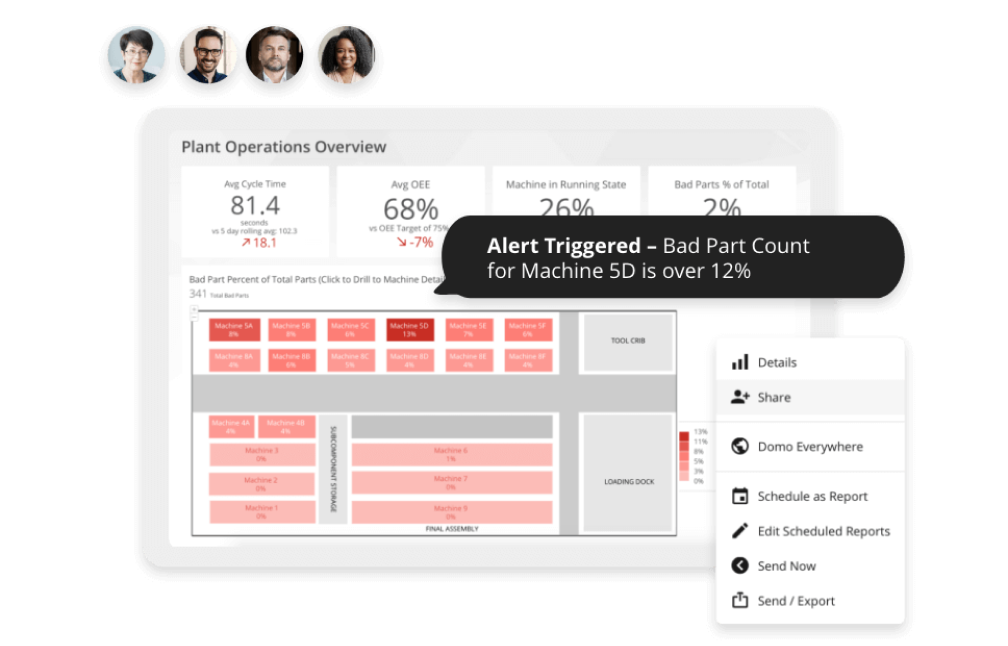 The future of OEM BI tools
In the next few years, the OEM BI tool market is only going to expand. In fact, some reports predict that it will increase exponentially throughout 2022. This means that businesses would do well to stay up-to-speed on what these new capabilities can offer or risk falling behind their competition.
Only a handful of SaaS providers are currently using OEM BI tools to uplevel their analytical features, so there's a lot of room for growth in this area. If you're looking to stay ahead of the curve, then investing in these tools is essential.
OEM BI tools are quickly becoming an essential part of the forefront of the SaaS landscape. By understanding their benefits and drawbacks, businesses can make an informed decision about whether or not they're the right move for their organization.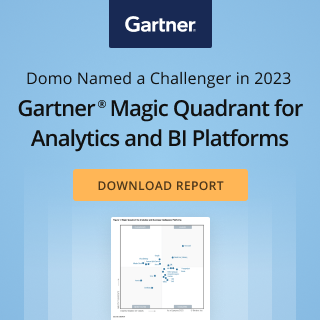 Check out some related resources:
Creating modern data experiences that help your customers succeed
Domo Recognized as an Overall Leader in the 2023 Dresner Wisdom of Crowds® Business Intelligence Market Study
Domo Ranked #1 Vendor in Dresner Advisory Services' 2023 Cloud Computing and Business Intelligence Market Study
Try Domo for yourself. Completely free.
Domo transforms the way these companies manage business.