/ Embedded BI for better reporting
Article
Embedded BI for better reporting
Every business is becoming a data business, and the ability to leverage data and analytics distinguishes industry leaders from the herd. Customers are seeking actionable intelligence in the apps, products, and services they use on a daily basis, and businesses of all sizes are trying to provide it.
Product managers are well aware that they must provide their users with solid insights produced from processed data, yet creating these products from scratch can become a demanding task. The solution: invest in and integrate a cutting-edge analytics platform into the company's core product.
Purchasing analytics rather than developing them allows businesses to get to market faster, show analytics ROI sooner, concentrate on their core strength, gain incremental gains over time, and more. It's the way to go for companies that are serious about providing their users with the finest analytics experience possible, but don't necessarily have the resources to build analytics services from scratch.
What is embedded business intelligence (BI)?
Embedded business intelligence is the integration of dashboards, reports, and data visualizations within an application. A BI platform usually displays and manages the data, and it is integrated directly into the app's user interface to increase data usability as well as decision-making.
A comparison between traditional BI and embedded BI
Business intelligence (BI) has continued to evolve from its early days as a stand-alone tool used to perform routine reporting chores. Application teams for businesses in a variety of industries are now incorporating data analytics into the software solutions that customers use on a regular basis. Prior to embedded analytics solutions, users would need to access a separate business intelligence tool to retrieve analytics and insights. This back and forth between applications is not the most convenient for busy executives and other business users.
Embedded BI addresses this issue by embedding analytics and dashboards in the applications that users are already using, ensuring that customer operations are not disrupted. This is one of the key reasons why embedded BI is more widely used than standalone analytics solutions. Simply, utilizing one application at a time is easier and more productive than using multiple at the same time.
Users benefit from embedded BI because it allows them to gain crucial actionable information and data insights from the tools they use every day to do their jobs. Users save time by not having to switch back and forth between other independent analytics solutions and the business process application.
What is the benefit of embedded business intelligence?
Embedded BI integrates the capabilities of BI into the user experience of an existing application, providing users with greater context and new information within the operational apps they now use. The incorporation of BI into operational or custom apps that are currently in use regularly boosts user adoption and makes the applications more effective than standard BI. This uptake puts data at users' fingertips, resulting in more insights and wiser decisions based on the data.
The following are benefits of embedded business intelligence:
Seamless integration
Make the SaaS software stand out by embedding it seamlessly. Integrate pixel-perfect dashboards and reports into your app's UI for a fully integrated BI experience. Customers can learn more about their data through interactive embedded reporting. This platform is built to provide you with as much or as little control over embedded BI features as your clients require.
Self-service reporting
Assist users in resolving their data issues. Are you slowed down by customer requests for reports and dashboards? By including self-service reporting into an application, you can give users another reason to appreciate your program by allowing them to locate answers on their own.
Remote business help
Throughout the worldwide COVID-19 pandemic, most companies asked for workers who could work remotely. Data visualization and real-time data technologies were (and still are) in more demand than ever before.
With self-service capabilities, BI tools can help analysts and managers have increased access to data (without having to wait for IT to execute requests). This is especially important in an era when many individuals perceive remote work to be the "new normal."
Quicker access to information
Embedding BI allows more customers to benefit from analytics, providing insights that are more accessible to all approved users, independent of technical skills. Embedded analytics technologies provide users with fast access to information that can assist them in making better business decisions.
Lower initial cost
Embedded BI provides reporting and data visualization, as well as analytics without the time and cost of developing them in-house. Because the software is embedded within the application(s) that end-users are actively using, embedding analytics can cut down on learning curves, onboarding time, and the requirement for development and continuing technical personnel.
Lower maintenance cost
As businesses consider the best ways to increase their BI and analytics capabilities, pricing becomes a major consideration. Data is easy to modify or change with embedded BI, and if the BI dashboard is straightforward to use, there's generally no need for maintenance, tech support, or upgrades during its use.
Scalability
When it comes to cost management, scalability comes into play. A cost estimate frequently overlooks the different indirect expenditures that you may incur and does not reflect the total cost of ownership (TCO). While the TCO of a software solution may be minimal while there are 50 users, what would the TCO be when the number of users increases to 500 or more?
Improved collaborative skills
Organizations can increase internal cooperation through the use of embedded analytics, which is critical as more organizations move to a remote work environment. End-users start trusting the institution's data as the institution's data channels are developed and safeguarded. As an outcome, data-driven conversations begin to emerge in every department and at all levels of authority.
What are key features of embedded business intelligence?
Pixel-perfect reports: Make your app's reports and charts immaculate with on-the-fly processing, filtering, and as formatting of column data and headers.
Multi-tenant BI: Easily isolate customers, roles, reports, and relevant permissions for SaaS-based apps using a single environment.
Native integration with your application: Use a JavaScript framework to customize the look and feel, as well as the interactive behavior of the application.
Interactive dashboards: Create dashboards which are easy to navigate for app users by combining interactive reports, charts, and other web material into a single screen.
Ad-hoc reporting: Incorporate self-service reporting into your application to enable users to find their answers utilizing a simple drag-and-drop interface.
Conclusion
Embedded BI solutions provide data in new ways, increasing user satisfaction and engagement. Embedded BI removes the requirement for end-users to switch from their current application to a separate analytics solution. This improves efficiency and makes data analysis for commercial decision-making considerably easier.
Even the most basic internal apps or commercial websites may be turned into a strong data analysis platform with embedded BI. BI functionality can be weaved into the institution's existing software tools, eliminating end-user pushback and reducing the learning curve.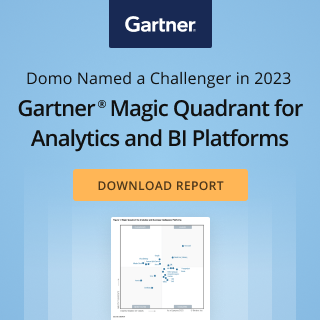 Check out some related resources:
Harnessing the Power of Data to become a better Credit Union
Data Never Sleeps 10.0
Domo for Marketers: Tips and tools to seamlessly manage marketing data
Try Domo for yourself. Completely free.
Domo transforms the way these companies manage business.