DOMO VARIABLES
Answer any question with dynamic dashboards.
Variables turn dashboards into interactive data experiences that allow users to answer questions on their own.
Customizable, interactive dashboards to fit any business scenario.
Variables are custom fields that users can adjust inside of cards and dashboards, so data teams don't have to create multiple charts and dashboards for every possible scenario. Variables allow dashboards to be used for:
What-if Analysis
Free up IT resources and lower the bar for self-serve analytics by enabling business users to perform ad hoc what-if analysis.
Metric Exploration
Easily build dynamic variables to make your business stories more interactive.
Time Comparisons
Create sophisticated period-over-period visualization and analysis to answer critical business questions.
Pivot Tables
Give users the power to adjust their data any way they want in a pivot table with point-and-click controls.
Learn how to create interactive data solutions with Variables.
Equip teams with self-service capabilities.
Variables allow business users to make changes to key chart and dashboard elements on the fly—no data team required.
Build a data driven culture.
Save time, money, and resources by providing teams with tools they need to self-serve.
Allow users to change parameters such as date range, dollar amounts, and more.
Reduce reliance on IT.
Variables make data teams and business users more efficient:
With variables, any data consumer is empowered with dynamic analytics capabilities that make reports and dashboards interactive and allow them to explore and make changes on their own.
Variables give analysts tools to design flexible self-serve data apps that rapidly deliver insight and save data teams precious time and resources for high value projects.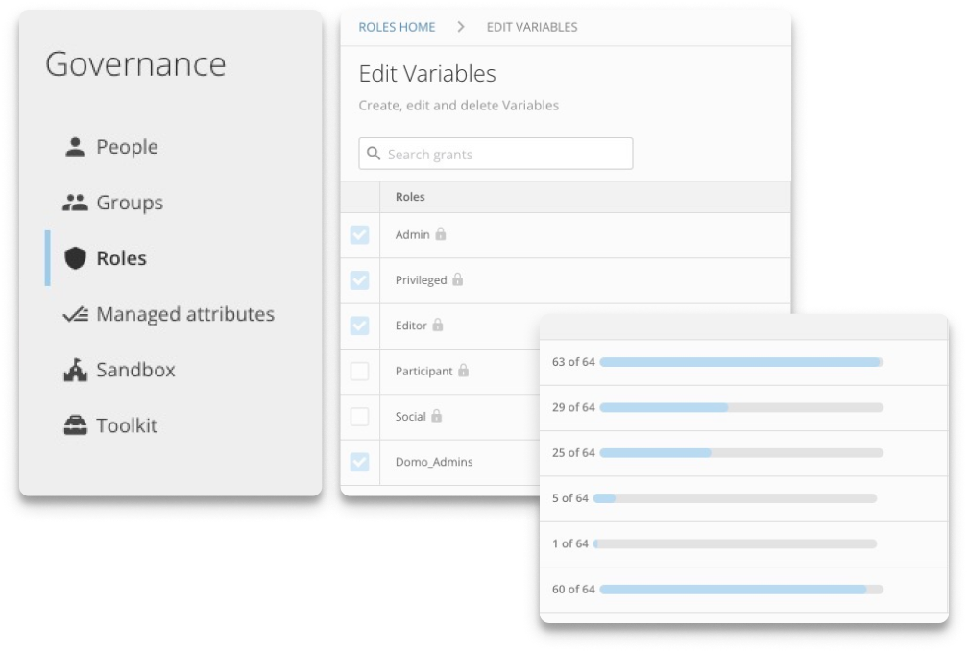 Oversee usage of variables.
Domo admins have the power to control access to variables and monitor their usage. You can decide who can create and edit variables. And new DomoStats connectors provide all the data you need to understand how variables are being used across your instance.
データ活用でビジネス成果を最大化
Domoのシンプルかつパワフルなプラットフォームが、役割や部門を超えて、全社にビジネスチャンスとアクションをもたらすデータ活用体験を提供します。
ビジュアライゼーションとダッシュボード
誰もが簡単に作成でき、インサイトをもたらすデザイン性に優れたビジュアライゼーションとダッシュボードを提供します。
レポート作成とセルフサービスのデータ分析
リアルタイムのデータ分析と直感的なUIで、全ての人にセルフサービスのデータ分析を提供し、レポート作成を進化させます。
ビジネスアプリ
ローコードおよびプロコードのビジネスアプリを作成して、ビジネスプロセスを自動化・効率化します。
エンベット アナリティクス
社外へも安全にダッシュボードや分析レポートを共有できます。
プラットフォームの概要