/ Top features to look for in business intelligence financial reporting apps
Article
Top features to look for in business intelligence financial reporting apps
Business intelligence (BI) and financial reporting are important aspects of a business. These elements provide the essential metrics, data, and analytics that organizations need to understand their performance.
They are used to track progress towards goals, identify where problems lie, discover areas of improvement, plan future actions, and support critical business decisions.
BI can be extremely time-consuming and expensive to create and manage if a company attempts to do it on its own. Luckily, managed BI solutions can help reduce complexity and increase value and insights.
While there are several tools that can be used to generate BI and financial reporting, traditional solutions such as SAP and Oracle require costly licensing and implementation by IT personnel—who also have to oversee day-to-day usage.
As the speed of business increases, so does the need for real-time data across all divisions of an organization.
This has led to the creation of shareable, cloud-based business intelligence financial reporting apps that are accessible to all employees. While not all financial app solutions are created equal, there are several features every business should look for when evaluating different products.
A good business intelligence financial reporting app will pull in real-time data from all your accounting systems, including sales orders, purchase orders, invoices, and fixed assets, into a central location for easy access.
What financial reporting app features should you look for? In this article, we will take a look at the top three features you should look for in a business intelligence financial reporting app.

What is financial reporting and why does it matter?
Financial reports can be used by companies to gain a deeper understanding of how their business is operating on a daily, quarterly, and annual basis.
Routine financial reporting is an integral part of any company's day-to-day operations, but it becomes even more important when unexpected transactions or events occur that would considerably impact the state of your business.
For example, financial reporting can be used to determine if an increase in sales is leading to a corresponding rise in expenses or whether your company's balance sheet will have enough liquid funds to carry out daily operations.
What to look for in a business intelligence app for financial reporting:
1. Clean Data
A good business intelligence financial reporting app should make it easy for users to find the data they need without any cumbersome searching.
It should also be able to pull in clean and accurate information, such as sales transactions that include all important details like item descriptions, tax details, and product costs.
2. Powerful visualization tools
Visualization tools are crucial because they help you spot trends in data faster than traditional reporting tools such as spreadsheets.
Some examples of these include bar, line, or pie charts, but the best visualization tools are able to show you multiple data points in one graph so you can immediately spot any irregularities within your company's financials.


3. Timely alerts & notification
The importance of financial reporting is sometimes underappreciated until problems start cropping up. These can include unanticipated changes in cash flow or a sudden dip in revenue. BI finance apps can alert you via email or text message whenever irregularities occur, prompting you to act.
4. Flexible reporting
Financial report data can come from several different accounting systems, or different employees could manually enter it.
The ideal business intelligence financial reporting app would allow users to pull in this information regardless of where it originates. It should also include various reports that you can customize.
5. Data security & protection
Data security is crucial. Any business intelligence financial reporting app should include suitable measures to protect the company's data, which might include end-to-end encryption, data governance, and permission controls.

Potential pitfalls of financial reporting and how to avoid them
When automating your financial reporting, it is important to be aware of some common mistakes that can cause problems further down the line:
1. Unreliable Data
This is a big issue with many accounting systems, and it thereby undermines the usefulness of any reports you generate.
One way to avoid this problem is by using a business intelligence financial reporting app that pulls in data from all your accounting systems into one central location rather than requiring manual input from each employee. When data entry is automated, fewer manual errors occur.
2. Promises of full automation
It can be tempting for companies to automate their financial reports entirely but bear in mind that no amount of automation will fully eliminate the need for human analysis.
Business intelligence financial reporting apps are designed to provide you with the information you need to make important business decisions, but you are still required to act on that information. These BI apps act as excellent tools for alerting managers of potential problems so they can quickly take action.


3. No flexibility or scalability
Adaptability is crucial, especially when it comes to financial reporting. This is because your business changes over time, and there might be new and unforeseen issues to address.
For instance, you might start out with your financial reporting system based on manual input, and it works well enough. But as the company grows and more people are involved in this task, there is a greater risk of human error creeping into reports.
Any business intelligence financial reporting app worth its salt would be able to address this issue by scaling alongside your business.
4. Lack of security controls
Security is key, especially when it comes to the confidential financials of a company. A financial report can contain a wealth of information about your business, and any leakages could prove problematic down the road.
Therefore, it is important to choose a business intelligence financial reporting app that provides suitable data security, such as end-to-end encryption or permission controls.
5. Financial report information that is not useful for analysis
A financial report can only be as useful as the information it provides, so you have to make sure that any data you receive is in a format that is actually helpful.
For example, if your company has multiple locations with different business models, then your reporting system should allow for this distinction. Without it, you might not be able to spot the real causes of problems, meaning that it will take longer for you to address them.

Business intelligence financial reporting apps can benefit your business
If you are looking to improve your financial reporting, these are just some of the features you should consider before committing to a specific app.
The important thing is to choose a business intelligence financial reporting app that can adapt as your company changes and provide suitable security measures.
This will ensure you have access to accurate reports without overspending on expensive software licenses or wasting time entering data manually.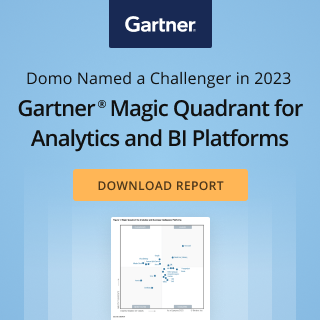 Check out some related resources:
Creating modern data experiences that help your customers succeed
Domo Recognized as an Overall Leader in the 2023 Dresner Wisdom of Crowds® Business Intelligence Market Study
Harnessing the Power of Data to become a better Credit Union
Try Domo for yourself. Completely free.
Domo transforms the way these companies manage business.