/ Integrating BI apps into your business workflow
Article
Integrating BI apps into your business workflow
BI tools allow businesses to create custom apps specifically tailored to their workflows. By partnering with a BI vendor, you can expedite the creation of a BI app that can start helping your business in weeks, rather than months or years. In this article, we will discuss the benefits of integrating BI apps into your business workflow and how doing so can help improve efficiency and productivity.
What are BI apps?
BI tools can help businesses save time and money by automating tasks that would otherwise be manual and time-consuming. This automation and integration of data is what we call a BI app.
For example, a BI app can be used to automatically generate reports based on data that is collected from various sources. This can help businesses make better decisions by having access to up-to-date information. In addition, BI apps can also help businesses automate marketing tasks such as email campaigns and social media postings.
How can BI apps benefit my business?
A BI app can be incredibly useful to your business by providing your employees access to the critical data they need to perform their daily job responsibilities. Instead of presenting the data in messy spreadsheets or databases, a BI app can present the data using visualizations, dashboards, and summary numbers, making it easy to consume at a quick glance. We'll now talk about some of the powerful ways BI apps can benefit your business as you integrate them into current workflows.
BI apps empower your employees to make smart decisions
Throughout the work day, employees are constantly making quick decisions that will impact the business. The aggregation of these decisions is what determines the continued success of your business. By building BI apps to help business users with these decisions, you can ensure they have all the information they need to act wisely.
An example of this could be a call center representative who uses a BI app while interacting with a customer on the phone. While the customer is explaining their reason for calling, the customer service rep can look up their info on the app and be provided with previous conversations or notes on the customer. Accessing this information in a timely manner can make all the difference in providing a quality customer experience.
BI apps can streamline your business processes
Many business processes are still highly manual and have not yet been transformed through the use of software. Since your business is unique, it's likely to have unique processes that employees must follow. Creating a custom BI app can help streamline these processes because they are tailored to the exact needs of your business.
A great example here could be a patient intake form at a hospital or medical facility. Instead of written paperwork, patients can be given an online form that is connected to the BI app used by receptionists. Tedious tasks such as filling out name and date of birth, authorizing approval through signature, and uploading documents can be taken care of in the blink of an eye. That data can then be stored and used for later visits, increasing the efficiency of the hospital staff.
BI apps provide better oversight for management
Good managers are always concerned for the welfare of their employees. Better understanding how employees operate and how best to help them can be accomplished through analyzing data around them. Custom BI apps can be created for company leadership to help track employee performance.
Let's say an HR manager wants to have a better understanding of employee engagement and satisfaction with the company. Using technologies such as HR management software, surveys, and employee records, they can create a more unified view of each employee. All this data can then be aggregated and displayed on a BI app for further analysis. HR leaders can check the app often or even be alerted when major events occur, such as an employee's work anniversary, time being requested off, or employee termination.
BI apps reduce manual effort and allow employees to do what they're best at
Modern BI is built to help business users get back to what they're best at. Too often, employees spend countless hours doing routine tasks such as data entry, highly manual processes, or administrative tasks not related to their job role. BI apps help alleviate these issues by turning over routine tasks to the software.
Let's say your sales team is spending countless hours recording emails and phone conversations with prospects. They are constantly hopping between systems to accomplish the different tasks, and this results in wasted time and efficiency. Creating a custom BI app exactly for this purpose can help your sales teams save time and energy. That way, they can focus on what they're most passionate about: helping customers solve their problems through your product or services.
Getting started with BI apps
BI apps are a new technology that will transform businesses of all sizes in the coming years. When researching different BI vendors, it's important to find one you can partner with to accomplish your unique business initiatives. Having your own data team can also be beneficial, but not necessarily required. Clearly identifying what you want to accomplish and what success looks like for your business is a critical first step.
Conclusion
BI apps are becoming an increasingly popular choice for businesses of all sizes because they offer a way to quickly and easily integrate data from various sources, then generate insights that can be presented in a user-friendly format. This allows employees at all levels of the company to make better decisions faster.
By integrating BI apps into your business workflow, you can improve efficiency and productivity while also saving time and money. If you are not using BI tools in your business, now is the time to start.
If you're not already using BI apps in your business workflows, we encourage you to consider implementing them. They can help your team become more efficient and productive while gaining valuable insights into how your business is performing.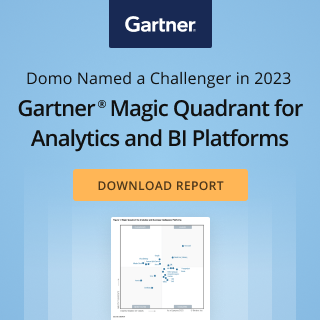 Check out some related resources:
Variables use case and feature walkthrough
Domo Named a Leader in Nucleus Research's 2023 Analytics Technology Value Matrix
Keeping a Pulse on Performance: Using Domo to Monitor the Business of Healthcare and Improve Patient Outcomes
Try Domo for yourself. Completely free.
Domo transforms the way these companies manage business.