/ Cashing in: How modern-day retailers use data to overcome obstacles 
Article
Cashing in: How modern-day retailers use data to overcome obstacles 
Data is the lifeblood of modern retailers. It can provide a window into everything from customer behavior to sales momentum. And when it is easily accessible and consumable to everyone from the CEO to sales associates, it can improve business decision-making and propel organizations in the directions they need to go, quickly. 
More and more, retailers are realizing this. Since COVID-19 came onto the scene and disrupted the retail industry on a multitude of levels, every manner of store has been forced to confront challenges many probably never considered before. 
For instance, those who relied on historical data for planning had to face up to the fact that they could no longer lean on such a baseline; in a lot of cases, that information became irrelevant. 
As well, the rapid growth of e-commerce made it difficult for retailers to reconcile stock at hand; often, products were listed for sale long after they had sold out. And because global supply chains got thrown into disarray, there was little to no visibility into when those products might be replenished.  
What's more, last-mile shipping times became meaningless, as retailers were forced to courier components of the same order from different locations. This also raised freight costs and cut into margins.  
To make matters worse, past customer models bore little resemblance to the new needs, behaviors, and preferences of shoppers, making stock planning extremely difficult. 
Retailers who have succeeded amid all this change and upheaval came to understand one thing: that they needed to develop a new data capability—one that is anchored by data quality and granularity, stronger processes, and a more data-literate workforce. 
In this article, we'll detail what a modern data capability can do for retailers, why culture is such an important component, and what tactics can be used to create the ultimate data-driven retailer—so that continued disruptions and shifting dynamics do not stand in the way of success. 
The foundations of a strong data capability
To withstand the unpredictability of today's world, retailers need a data capability that goes well beyond what traditional business intelligence (BI) tools have offered. 
It can't just report data back to senior managers anymore; it's got to be able to put useful data into the hands of all employees, so everyone is equipped to find answers to today's questions, resolve issues in the moment, and even manage by exception. 
It's also got to be designed to give people access to data that is constantly refreshed at a speed suitable for the business, so everyone—from senior leaders to shop-floor workers—has the most up-to-date picture of the company's performance and the state of the market.  
And it's got to link everything from demand forecasting to marketing and sales motions to operation planning and execution systems, so powerful outcomes can be attained. 
Just think about this: If a grocery retailer has better access to information such as in-store customer traffic data and long-term weather forecast data, it can manage stock levels with greater efficiency and better predict buying patterns. 
Meeting today's challenges is not easy, especially for older retailers whose systems are cobbled together from a variety of platforms—some of which were designed primarily for an offline world. 
But for those retailers who are willing to rethink the way they use data and install a data capability like the one described above, there is a real opportunity to cash in on changes of any magnitude and cultivate a significant competitive advantage. 
Why culture is key
Creating a new data capability starts with a commitment to developing a culture that is comfortable using data and is therefore capable of tackling any situation with confidence, quickly.  
This does not mean hiring only data experts, or putting every employee through extensive data training. Nor does it mean forgoing experience and instinct.  
What it means is building an organization where employees have access to the data they need to properly perform their tasks—and can use that data effortlessly to generate better outcomes. 
Reaching such a state means taking the time to truly understand the tasks that employees are trying to perform, and how having better access to data would enable them to perform those tasks better.
So, before you begin, ask yourself: Where is my data? Is it accessible to the people who need it? And, can those people act on it? 
The idea is that employees see the value of data through improvements to the way they work, and become comfortable making suggestions as to how data might help them to work even better.
The virtues of access
A key part of the culture-building equation involves enabling employees to quickly and easily access readily consumable data that could inform the decisions they make and speed up processes.  
Even simple implementations, such as giving staff access to stock levels or enabling them to see how close they are to reaching sales targets, can improve productivity and boost performance. 
Many retail employees are not trained to read spreadsheets. And even when they are, the data found in spreadsheets is often static or infrequently updated.  
Creating a live data environment that pushes data to employees in an accessible way — such as through live dashboards or custom apps, as is possible with Domo — not only ensures that employees see the data that is important to them but enables them to act on it with ease. 
Once these cultural foundations are in place, the retailer can then start to build the data architecture that will sit above it. And if that architecture is thoughtfully considered and intelligently constructed, then the data flows to the people who can most benefit from it instead of getting lost or trapped in siloes. 
When retail organizations tear down the siloes and make data accessible and actionable, they can create the kind of changes that will matter for customers. 
"Gamifying" and data collecting
While technology and people are crucial to creating a new data capability, there are ways to make it even more powerful. 
One such way involves "gamifying" the presentation of the data to nudge employee performance. For instance, if it becomes clear that a group of employees is approaching a new sales record, the sales manager could incentivize the team to break that mark by offering bonuses. 
Similarly, a manager could allow employees to see how they are performing in comparison to their peers, as presenting such information to field reps tends to drive an immediate response. 
Making employees data collectors has its advantages, too. This already takes place at many retailers thanks to the handheld scanners that are commonplace in warehouses and on shop floors. But modern personal devices can allow for even more.  
Take, for example, the grocery retailer again. If floor staff is willing to note when vegetables are spoiling, then management can check into the potential causes. Is the supplier struggling to get its hands on quality produce? Or is the refrigeration system not running properly?  
By inputting observations as text and images, you create a record of activity that can also be leveraged across stores. 
Gamification can be implemented in this area, as well. When you hand out bonuses or awards to employees who collect the most useful data over a given period, you encourage that behavior, which in turn bolsters the business. 
Conclusion
When it comes to winning in the retail space today, retailers cannot rely on what worked in the past—or even what data served them best before COVID-19 came along.  
They not only have to have a system that allows them to leverage new datasets, but they must foster a culture that understands how to use that system, which more than anything needs to be accessible and intuitive.  
With those blocks in place, retailers have the foundation of a data capability that is strong enough to help them withstand whatever comes next.  
Learn how Domo's Modern BI for All platform makes building such a foundation easy, and what else it can do for retailers as the world continues to evolve in unpredictable ways.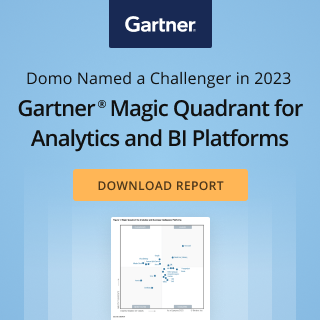 Check out some related resources:
Intro to Domo Workflows: Intelligently Automate Business Processes 
Domo Named a Leader in Nucleus Research's 2023 Analytics Technology Value Matrix
Keeping a Pulse on Performance: Using Domo to Monitor the Business of Healthcare and Improve Patient Outcomes
Try Domo for yourself. Completely free.
Domo transforms the way these companies manage business.