/ Finding the right data analysis tools for your business operations
Article
Finding the right data analysis tools for your business operations
Many tools for data analysis are available, so how do you choose between them? It depends on the capabilities of the software and your business needs. There will most likely not be a one-size-fits-all solution for your industry. A platform for one business may not work for another, even if you are similar in design, goals, and operations.
For most companies, data is the driving force behind making strategic business decisions and projecting growth. So it's no surprise that executives put a great deal of emphasis on collecting, organizing, and analyzing their data to make better business decisions.
Since there's so much data in the world today, how do you know what tools you should be using? How do you select the best data analysis tools for your industry and niche business? Leveraging automated and powerful AI-based tools to gain insights into operations is key to staying competitive.
What are data analysis tools?
Knowing what data to collect and how to use it can often be difficult. Data analysis tools help you make sense of all this information so that you can make better decisions about your business.
Data analysis tools are software programs designed specifically for analyzing data sets and visualizing results in various ways based on different criteria set by the user. They are often automated and allow you to make assumptions, predictions, review possible weaknesses, and function with more agility in today's fast-paced, highly volatile world driven by consumer behavior.
How can these tools help my organization?
The correct data tools can help your organization make the most of its data. The first is through data collection and organization. A centralized mechanism that collects all the customer, internal, marketing, and other data points and prepares this information for reporting is key.
The second is bespoke analysis. You want a system that will help you explore your specific data so you can gain valuable insights into potential benefits you may have never noticed before.
What solution is best for me?
The first thing you need to know when choosing an analytics tool is what you want to accomplish. There are a variety of tools out there, and they all have different functions and capabilities, so you must start by knowing what your business needs.
What are your needs?
Think about the type of data you currently collect and how it needs to be managed. What are the goals you hope to achieve, and how can a certain data analysis tool help with that? Outline some basic outcomes you want with this tool so you can narrow down your options to those software solutions that will give you a pathway towards your goals.
How much can you invest?
Determining your budget for data analysis tools is more than just knowing how much it costs to buy a license or subscription. You also need to consider the cost of implementing the tool, as well as how much support you'll need from the vendor or other consultants.
What is your company size?
You should consider your company's size and platform options. If you're a small business with only a handful of employees and need to track leads, then a simple data analysis tool may suffice. However, if your team has dozens of people across multiple locations working together on projects with varying degrees of complexity (or all at once), it might make sense to look into more robust software solutions like a powerful business intelligence dashboard tool.
How agile of a solution do you need?
Your goal should be to choose a tool that gives you options so that if one part of your operation suddenly changes or fails, there are other parts of the system that can still function independently while you find solutions or make adjustments elsewhere in the process.
How does your company handle data?
Create a list of data needs based on your current flow and infrastructure, and then on what you hope to achieve with a new data analysis tool. Make sure you'd be able to connect the data analysis tool with other systems you currently use in your organization. Without proper accessibility, no amount of tools will improve your business. You need to have adequate data governance in place to leverage these tools.
Who will be using the tool?
Who in your organization will use these tools, and do they have the background and skill set necessary to effectively analyze data using the tools? Think about the reporting options available and how you will want to view the resulting information.
Is visualization included?
Data visualization is a great way to communicate data to a broad audience. Data visualization tools can be used to create charts, graphs, and other visual representations of data. They can also be used to create dashboards and other interactive data-driven applications. Consider if this is a feature you want to have.
Types of data analysis tools
Business intelligence tools
Business intelligence (BI) tools are used to analyze data, extract information from the database, and present it in a way that's easy to understand. BI tools can help you make decisions, monitor operations, and communicate with customers.
BI tools come in many different forms, such as spreadsheet templates, dashboards, and reporting software. The most common form is through a dashboard template, where users can configure their data points by selecting pre-existing visualization options such as bar charts and tables. These pre-existing visualization options and a drag-and-drop interface are tailored for users without any technical knowledge about analytics or coding who simply want an overview of how their business is doing at any given time.
Customer analytics tools
Customer analytics tools allow you to analyze your customer data and use it to better understand behavior. These tools are also known as CRM, customer relationship management, which is a way of understanding your customers' needs. Customer analytics helps you understand your customers' demographics, purchasing habits, and attitude towards your company.
This information can then be used to make changes that improve the experience for future customers or current ones who might want something different next time they visit.
Digital experience platforms
A digital experience platform (DXP) is software that helps you understand how your users interact with your digital services and products. It also enables you to understand the customer experience in real time as they use your company's offerings.
These platforms allow for more sophisticated data capture and analysis because they're integrated with your organization's technological products. They're great for any company looking to optimize their digital properties to increase revenue or improve customer satisfaction.
Bespoke solutions
Bespoke solutions are built specifically for one company's needs. Because they're created from scratch based on specific criteria from users, they are extremely customized to meet every need of an organization. This flexibility makes them great for companies looking for more than just an off-the-shelf product that may not fulfill all their requirements.
Features you should look for
Before you think about which tools to use, you should consider what features are most important to your business. These can be divided into categories like data visualization, connectivity, and governance. Other aspects of a data analysis tool include the following:
Professional service and support
Support is crucial because it helps you get the most out of your tool. Your business goals should be aligned with the capabilities of your chosen data analysis tool, which means that the tool should cater to your needs. A great way to ensure this is by working with a professional team that knows the platform well and can help guide you towards an effective strategy. They can also provide ongoing support as needed.
Data storage options
You want to ensure that the data analysis tools you choose are flexible and scalable. Your company's data storage options should be able to grow and adapt as your business grows, so a cloud-based solution is a must for this reason.
Your data storage should also be secure and accessible. Data security breaches can have devastating consequences for companies of all sizes, so your business must have access to tools that protect sensitive information from unauthorized parties.
Affordable costs
You need to look closely at ongoing maintenance costs and scalability. The upfront fixed costs of a subscription are easy to account for, but expenses that arise over time may be harder to determine. A clear estimation of the total cost of the tool is critical when making this decision.
Flexibility for communication and mobile integration
You have many options when it comes to integrating your data analysis tools. If you want to access your data analysis tools on the go, consider mobile integration capability. This will allow you and other authorized users of the tool to access it through their smartphones and tablets. Most businesses prefer this option because it makes communication easier when everyone is not in one place at once.
Wrapping it up
Data analysis tools should empower operations teams to make informed decisions. These tools should be easy to use, implement, maintain, and scale across your organization. In addition, they should be able to integrate with existing systems without disrupting the business workflow or adding complexity.
It all comes down to your needs and which data analysis tool will best offer the solutions required over time. You do not want to keep upgrading and adding new tools that cannot be integrated into a simple, easy-to-understand platform. Take your time making this decision and carefully research the best option based on your team, business, stakeholders, management, and customer needs.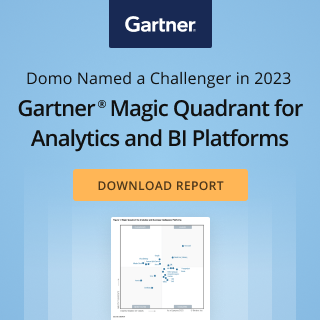 Check out some related resources:
Domo recognized by Forrester in new Generative AI report
Elevate Your Organization's Data-Driven Culture with Strong Governance Practices
Keeping a Pulse on Performance: Using Domo to Monitor the Business of Healthcare and Improve Patient Outcomes
Try Domo for yourself. Completely free.
Domo transforms the way these companies manage business.