/ Embedded reporting: Sharing your data with partners and customers
Article
Embedded reporting: Sharing your data with partners and customers
Embedded reporting is a powerful business intelligence tool that can be used to share data with partners, customers, and employees. By embedding reports directly into your applications and websites, you can make it easy for stakeholders to get the information they need.
Business intelligence (BI) tools make it easy to create custom reports that meet the needs of any stakeholder. In this article, we will discuss how embedded reporting can benefit your business.
What is embedded reporting?
Embedded reporting is the process to transform business data and share it with end-users in an easy-to-read format. Instead of presenting the data in a complicated spreadsheet, embedded reports can display information in the form of charts, dashboards, summary numbers, and key performance indicators (KPIs) of the business.
Benefits of embedded reporting
The power of embedded reporting comes from the fact that your business will be able to use its data more easily than ever before. Data is no longer siloed in IT departments or with upper management; it can be shared across the entire organization, and even be distributed outside of it to your partners and customers. We'll now talk about some of the main key benefits of using embedded reporting.
Increased transparency
When data is embedded in an application or website, it is easily accessible by all stakeholders. This increased transparency can help improve communication and collaboration between departments.
Data can also be shared outside the organization to the general public, key stakeholders, or larger customers. When you are transparent with your data, you will find that people will increase trust in your business.
Easier access to data
Embedded reporting makes it easy for stakeholders to get the information they need without having to navigate to new systems. Sharing data becomes that much easier when it can be accessed on platforms that employees are already familiar with.
Data can also be accessed outside the organization so that it can be provided to partners and stakeholders. If you have your own software or websites that your customers visit frequently, embedding reports can be as easy as a few clicks thanks to modern business intelligence tools.
New insights
Embedded reporting allows users to look at their data in entirely new ways. Many key insights cannot be extracted from the data because traditional reporting is buried in spreadsheets and archaic software. Embedded reporting follows a visual approach to sharing the data. Users can quickly view dashboards to gain a better understanding of the data and then execute decisions based on those insights.
Embedded reports also allow users to dig even deeper into the data through drill-down capabilities. As users begin to adopt the BI tool, they will start to become more curious about the data that powers your organization. Drill paths allow users to take a step into the data to further analyze it. Embedded reporting also allows for the export of the raw data, meaning more advanced users can further analyze the data.
Fast Implementation
By partnering with a BI vendor, your organization can create embedded reporting faster than ever before. Instead of relying on an internal development team to build out reporting capabilities from scratch, BI tools allow you to leverage pre-existing reporting engines that can easily be embedded into your software and websites.
Organizations succeed when they focus their time and energy on what they're best at. BI tools can perform the heavy lifting when it comes to back-end infrastructure, data architecture, and data distribution. This leaves your team with more time to do what they're best at: helping customers and finding creative new insights with their business data.
Key Considerations with embedded reporting
Embedded reporting can provide powerful capabilities to your business—no matter the size. When beginning to explore embedded reporting options, there are a few considerations you should plan for.
Data Governance
Data governance refers to the manner in which you share and protect your data within your organization. Making sure data doesn't enter the wrong hands is extremely important in today's marketplace. When looking at BI vendors, make sure you investigate their data governance capabilities.
Modern BI tools have excellent data governance capabilities that allow you to restrict access so that only qualified users have access to certain dashboards and content. This can be extremely important when distributing data externally to partners and customers. Making sure they only have access to the data that pertains to their companies is vital.
Training and documentation
Embedded reporting tools are incredibly intuitive and very easy to get started. However, to ensure user adoption across your organization, it's important to create training materials and reference documents that users have access to.
Training is an important part of any organization that wants to continue to develop its employees. When starting an embedded reporting initiative, consider creating a data steering committee that will execute on these important decisions.
Expand the vision
Embedded reporting can transform so many aspects of your business, but it's important to start small and create a proof of concept. Consider starting with a single use case—such as a partner portal—that is important to your organization. Through the process of iteration and refinement, you will learn so much along the way about what it takes to successfully implement embedded reporting.
Once you have successfully created an embedded reporting solution, you can continue to expand to the entire organization. Departments will start to get excited as they see how transformative embedded reporting is for your first use cases. Expanding the vision to include customers, partners, and other stakeholders will maximize the value you will get out of embedded reporting.
Conclusion
Embedded reporting can be a transformative business tool for your organization. By making it easy for stakeholders to get the information they need, you can improve communication and collaboration. When everyone has access to the same data, decision-making becomes easier and faster. Modern BI tools make it faster and easier than ever before to get started with embedded reporting. By partnering with a BI vendor, you can ensure that your business gets the most out of its data, helping your customers, partners, and employees.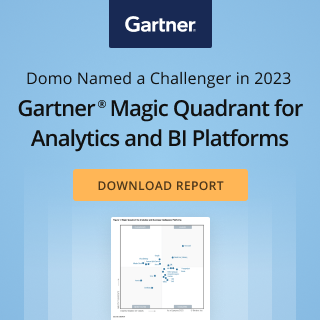 Check out some related resources:
Fight the 'Sleepworking' epidemic with better data and tech access
Domo Ranked #1 Vendor in Dresner Advisory Services' 2022 Analytical Platforms Market Study
Developing a Data Governance Model that Meets Your Modern Business Needs
Try Domo for yourself. Completely free.
Domo transforms the way these companies manage business.