/ How can embedded BI help businesses compete in a data-driven world?
Article
How can embedded BI help businesses compete in a data-driven world?
In a world where data is being generated at an exponential rate, BI has become more critical than ever. For companies looking to gain a competitive edge, embedded BI is a necessity.
We have seen a huge shift from traditional reporting and analysis to interactive dashboards and visualizations in the business intelligence industry. The data-driven landscape demands a new way of making sense of all this information.
Embedded BI is a form of BI integrated into the applications and systems companies already use every day. This makes it easy for employees to access their data to make informed decisions. As a result, businesses can thrive in a data-driven landscape. Access to recent and relevant information makes it possible for companies to stay ahead of the competition and be agile enough to react quickly when needed.
The evolution of business intelligence
There was a time when business intelligence consisted primarily of reports and dashboards that were generated from structured data sources.
In those days, BI was created primarily by IT professionals who designed reports and visualizations for executives to review after a batch process ran overnight. Business intelligence used to mean spending big bucks on complicated software that took months to learn, much less master.
But today's business intelligence provides users with insights that were nearly impossible to obtain before the advent of modern data visualization tools. It is now possible for companies to use BI tools and dashboards without being overwhelmed by all the data and statistics. One way that this is possible is through embedded BI.
What is embedded BI?
Embedded BI is a term for software that allows people in an organization to access analytics easily. Unlike traditional business intelligence, which is often only accessible from a specific computer or server–usually, the one used by IT professionals–embedded analytics can be accessed from the sites and applications that people are already accessing day to day.
Embedded BI also allows for greater collaboration as users can share their findings and analysis more easily than before because more people have access to the information and insights. As teams work together more closely, they are better able to identify and act on opportunities and trends quickly.
When embedded BI meets big data
So what does embedded BI have to do with big data? Everything. With the amount of data that companies are generating at an exponential rate, they must have a way to make sense of it all, take action based on their findings, and share it with their stakeholders.
Embedded BI allows for this by making advanced analytics more accessible and user-friendly, no matter how large the datasets may be. Companies who use embedded BI to take advantage of big data and stay ahead of the competition do so by:
Accessing and sharing more information in real-time than ever before.
Achieving better business outcomes by getting more comprehensive insights to decision makers.
Becoming more agile and competitive by being able to adapt to changes quickly.
Gathering and sharing valuable business intelligence while the insights are relevant.
With the number of devices out there just waiting for users to access data, modern BI has come a long way since its bulky, expensive beginnings. Embedded BI is making it easier than ever for companies to take advantage of big data, and businesses that don't use this technology are sure to be left behind. BI tools offer a step-by-step approach for breaking down these big datasets into information that can be more easily understood.
The benefits of embedded BI
With embedded business intelligence, employees can access real-time information as soon as it becomes available—allowing them to make better-informed decisions and provide faster feedback. This ultimately helps teams be more productive and agile while also boosting employee morale by making people feel like they are informed and their contributions are valued.
Employees need the right tools to do their job well, which means that business intelligence software must be easy to use and up-to-date with the latest technological advancements. Embedded BI helps organizations by making it easier for everyone to access and find relevant information when they need it most. This saves time and reduces stress levels by eliminating inefficiencies in the normal workflow.
Business intelligence software should also be accessible across various devices and platforms, including PCs and mobile phones. This is an important consideration for companies who want to create a work environment that encourages collaboration and cross-functional communication.
Embedded BI use cases
There are many different ways that businesses can benefit from embedded BI. Some of the most common use cases include:
Customer relationship management (CRM): Gain a better understanding of customer behavior and preferences in order to improve customer service and marketing strategies.
Sales and marketing: Analyze sales data to identify potential opportunities and to improve product offerings.
Operations: Identify ways to reduce costs and increase productivity, automation, and quality control through real-time data analysis.
Embedded BI can also help companies bring together various aspects of an organization into one cohesive unit that is able to work more efficiently towards a shared goal.
Businesses that use embedded BI will experience a higher level of teamwork, transparency, and productivity.
What's next for embedded BI?
While embedded BI does have a lot to offer, it's not a one-size-fits-all solution. Certain tasks such as connecting to, transforming, or creating new visualizations needs to be done within your BI tools. Embedding BI content is the method of sharing analytics and insights.
It's crucial for companies to carefully assess which tools are right for their current needs before jumping into a full-fledged implementation. When deciding whether to invest in embedded business intelligence tools for your company, it's essential to take a close look at the organization's needs. Modern BI tools like Domo were designed with embedded functionality in mind. For this reason, Domo is one of the highest rated embedded BI solutions on the market.
The right software solution should fit seamlessly into your workflow while making it easier for employees to access real-time data. Once you've identified the right tools, it's time to roll up your sleeves and start exploring all that embedded analytics has to offer.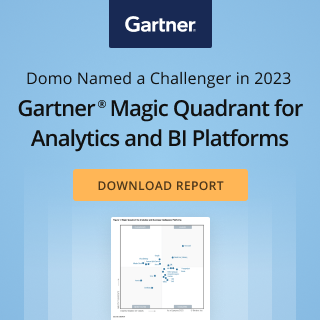 Check out some related resources:
Constellation Research Whitepaper: Next-Generation Embedded Analytics Spark Digital Transformation
Domo Named Leader in Nucleus Research's 2021 Embedded Analytics Technology Value Matrix
Full Event: Revolutionizing Embedded Analytics
Try Domo for yourself. Completely free.
Domo transforms the way these companies manage business.