/ Driving business success through intelligent insights
Article
Driving business success through intelligent insights
In today's business world, data is king. The more insights you can glean from your data, the smarter your decisions will be and the more successful your business will be. That's where business intelligence (BI) tools come in. BI tools allow you to analyze your data and create intelligent insights that can help you make fast and actionable decisions for your company.
In this article, we'll discuss how businesses can use BI tools to drive success. We'll also look at some of the benefits of using BI tools and give you a few tips on how to get started. So let's dive in.
What are BI tools?
BI tools are built to help end users extract better information from the data they use on a daily basis. They establish an end-to-end process that allows companies to access their data, transform and combine it with other data sources, and present it in meaningful ways through charts and dashboards. By creating a comprehensive solution, BI tools allow businesses of all sizes to extract valuable insights from their data, helping them make better business decisions.
When it comes to business intelligence, there are a few key benefits that businesses should keep in mind.
BI tools can help you save time
With the right BI tool in place, you'll be able to quickly and easily access the data you need to make decisions. BI tools come with pre-built data connectors that make it as easy as a few clicks to access the data in your different systems. These tools are built to reduce the amount of manual data entry your teams have to do, saving you valuable time.
BI tools can help you improve your decision-making process
By giving you insights into your data, BI tools can help you identify trends and patterns that you may not have otherwise noticed. This can allow you to make better decisions for your business. BI tools also allow you to analyze data in even larger quantities, meaning you're not limited in the insights you can generate. Chances are, your business may have millions of rows of useful data that can be collected and analyzed by a BI tool.
BI tools unite your business data
Even small businesses can use 20+ different software tools in order to run their operations. These tools generate valuable data each and every day. BI tools can import all this data to create a single unified view where employees can look at and analyze their data. This provides for faster analysis, as less time is spent on downloading and preparing the data.
BI tools can help you save money.
By helping you make smarter decisions, BI tools can ultimately help you reduce costs and improve efficiency within your company. Subscription-based tools also reduce the barrier to entry if you want to try out the tool. Instead of investing in your own IT infrastructure such as servers and on-premise software, you can partner with a cloud-native BI provider that does the heavy lifting for you. As your organization grows and continues to adopt the tool, you will continue to see cost savings.
How do I extract insights from my data?
By using a BI tool, you will have access to more data than ever before. Knowing how to use that data to generate insights for your business is extremely important.
Bring in data from all different systems
Data can reside in hundreds of different systems within your organization. Insights can be extracted when this data is combined together to create new views. Understanding the importance of data connection is critical to generating new insights from your data. As you adopt a BI tool, always strive to find new data sources your teams can use.
Create data specialists who take ownership
Understanding what the data actually means is a critical first step in producing actionable insights from it. Creating new roles within your organization specifically focused on data can be extremely valuable in adopting a BI tool. Data specialists should be subject matter experts that know the data better than anyone else. When employees have questions about a specific data source, they can turn to them for easy answers.
Establish a center of excellence
Data-driven companies succeed when employees understand that management has bought into the vision. Creating intelligent insights with your data starts with the executives and managers in your organization. By leading through example, leaders can demonstrate the power data can have on the organization.
Share insights with employees of all levels
It's also important to not silo BI tools within IT or certain departments. Intelligent insights occur in all aspects of the business, on every level of the organization. Individual contributors and managers alike should have access to BI tools and the data. Given the opportunity, you will find that many employees are eager to dive into the data and extract useful insights that can benefit them and their teams.
How can intelligent insights transform my business?
If the past couple of years has taught us anything, it's that businesses need to adapt to the rapidly changing economic climate. Technology and digital transformation are no longer nice-to-haves for a business; they are essential.
Data lives in your organization and is used by your employees every day. By harnessing the power of that data, you can make better business decisions for the good of the company. You will also find that employees will be more satisfied with their daily work, as they feel they are making meaningful contributions to the business. Generating intelligent insights from data is an amazing feeling, and it only takes a spark to ignite excitement across the entire organization.
Conclusion
BI tools are essential for turning data into insights. By giving your employees the ability to explore and analyze data in new ways, you can unlock a world of intelligent insights that will help your business grow. If you're not already taking advantage of BI tools, now is the time to get started. With so many options available, there's sure to be a tool that fits your needs. Watch how your team transforms when they have access to the power of BI.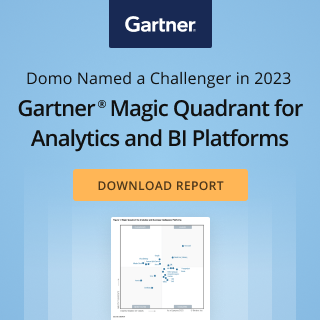 Check out some related resources:
Keeping a Pulse on Performance: Using Domo to Monitor the Business of Healthcare and Improve Patient Outcomes
Intro to Domo Workflows: Intelligently Automate Business Processes 
Elevate Your Organization's Data-Driven Culture with Strong Governance Practices
Try Domo for yourself. Completely free.
Domo transforms the way these companies manage business.