/ Why your company should be investing in automation apps
Article
Why your company should be investing in automation apps
We live in a world full of apps and mobile devices that can do anything at the push of a button. As such, it's no wonder that automation app technology is becoming more and more prevalent in the workplace.
Automation apps can hugely benefit your business, so why not invest in them to reap the rewards? With automation apps, you can manage tasks more easily and efficiently, saving you time and money in the process.
In this article, we will take a closer look at automation apps, the features they offer, how they can benefit your business, and how they can be integrated into your existing systems.
The rise of automation apps
The world is moving towards a 24/7 society. We want things fast, and we want them now.
Passengers expect flight times to be correct, packages to arrive on time, and payments to be processed straight away.
As a result of this constant need for speed, technology has come to our aid in order to make our lives easier. Automation apps are becoming more and more prevalent, and their popularity is set to rise.
Features of automation apps
There are a number of ways that automation apps can make your company's working life easier. Automation apps can be used in so many ways, but some of the most common features include:
Productivity tracking
Automation apps can help you to track the amount of time spent on tasks and projects. This can be particularly helpful when allocating accounts to various employees, as it shows how much time they have spent on the task and lets them know how efficiently they are working.
As a result of this knowledge, your staff members will become more efficient in the workplace, reducing stress levels and improving productivity.
Document sharing
Many processes are made easier when you are able to share information between different departments or colleagues.
Many companies often rely on email as the primary method for sharing documents. This can be less secure and makes it hard for everyone to stay in sync.
An automation app can automate this process, saving time and ensuring that everyone always has the latest version of all the most important documents.
Workflow management
When you are working with several manual processes, it can be difficult to make sure each step has been completed successfully. This can often lead to mistakes and delays.
An automation app can help to streamline these processes and ensure that each step is completed in the correct order. This will improve accuracy and save time.
Efficient communication
Traditional forms of communication like email and phone calls can be clunky and inefficient.
You can use automation apps to make communication amongst team members and customers much more efficient.
Where to find the right automation apps for your business
If you are considering investing in an automation app for your company, you may be wondering where to start.
The first thing you need to consider is whether you will purchase an off-the-shelf product or work to develop something custom that meets your needs.
Here are a few tips to help you find the right app for your business.
1. Do your research
Before investing in an automation app, it is important to do your research.
Make sure you are aware of the different types of apps that are available and how they can benefit your business.
2. Consider your needs
Not all automation apps are created equal.
You need to consider your specific needs and what you want the app to do for you.
There is a wide range of automation apps available, so you are sure to find one that suits your needs. If you are having difficulty finding an existing app that meets your specific needs, it might be a good idea to consider something more custom.
3.Talk to others in your industry
Chat to other business owners in your industry and find out which automation apps they are using for their own businesses.
This information can be incredibly useful when you are considering which app to invest in.
4. Research integration with your existing systems
When you are looking for an automation app, remember to consider how it will work with your existing systems. Domo provides a robust platform that puts integration at the forefront. Within the Domo platform you can either develop a completely custom solution or use hundreds of pre-built apps from the Appstore.
5. Trial the app before you buy it
One of the best ways to determine whether an automation app is right for your business is to try it before you buy it.
This way, you can test out all of its features and benefits before committing.
If you need any help with deciding on an automation app for your business, contact a company that provides one of the apps listed above. They will be able to answer any questions or queries that you have and help you find the app that is right for you.
Conclusion
Automation apps can be hugely beneficial for your business and is a market that is poised for growth in the years to come. Consider a fully integrated platform like Domo to take your automation apps to the next level.
If you are considering investing in this technology, remember to do your research and talk to others in your industry to get their insights.
When you find the right app for your business, take the time to implement them effectively across all areas of your business to ensure proper adoption.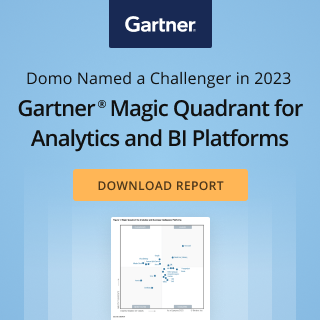 Check out some related resources:
Domo Ranked #1 Vendor in Dresner Advisory Services' 2023 Cloud Computing and Business Intelligence Market Study
Domo Recognized as an Overall Leader in the 2023 Dresner Wisdom of Crowds® Business Intelligence Market Study
Domo Named a Leader in Nucleus Research's 2023 Analytics Technology Value Matrix
Try Domo for yourself. Completely free.
Domo transforms the way these companies manage business.