/ The benefits of investing in a white-label BI solution
Article
The benefits of investing in a white-label BI solution
Modern businesses rely on data to drive their business decisions. Through the use of business intelligence (BI) technology, enterprise organizations gather data from a variety of different sources such as databases, websites, social media, and cloud storage.
BI software facilitates the management of an organization's data. It provides business intelligence capabilities that allow users to analyze the past and forecast future events. This information is used to produce reports and effective decision-making tools. Modern analytics produce tools that allow companies to make important business decisions quickly and effectively.
Through the use of a standards-based, structured data access architecture, modern BI software enables users to create reports from different sources by combining and cleaning data by implementing a data pipeline and modern ETL tools.
However, many companies are looking to implement BI solutions without investing in a full solution. White-labeling a BI solution provides considerable financial and administrative benefits by allowing the reseller to become the customer relationship owner and take responsibility for delivering BI services.
In this article, we will look closer at white-label BI solutions, why they are beneficial, and how they work.


What is white-label BI?
To understand the benefits of white-labeling a BI solution, let's look at how it works.
When you white-label a product or service, you remove all identifying marks that relate to the original manufacturer. You then resell the product with no visible indication of its origins.
In the context of business intelligence, this means removing all branding and reference to the vendor from any embedded reports, dashboards, and data visualization.
A white-label business intelligence solution is a self-service BI tool that includes all the necessary components for creating, deploying, and managing reports and visualizations without exposing any reference to its original brand.
Although not required, this type of solution typically provides an embedded approach where the vendor's software resides inside the product or application you are using. This allows the white-label BI solution to run as a layer on top of it without compromising its functionality.

Benefits of white-labeling a business intelligence solution
1. Avoid vendor lock-in
When you purchase any kind of technology, there is always an inherent risk that the vendor will go out of business, be acquired by a larger company or change direction and stop supporting the product you rely on.
In these cases, any licensing you have invested in may no longer be available to use with your current technology infrastructure. The benefit of white-labeling a BI solution is that it allows an organization to avoid vendor lock-in.
When you use a white-label solution, you are able to completely remove any branding that identifies the product as coming from one specific vendor. As a result, if your business needs to switch its BI tool for whatever reason, you will not be locked into using only one brand of solution.
Instead, the white-label BI solution you have deployed continues to function as a generic, standards-based BI tool. As the owner of the customer relationship, you control the technology that powers your BI solutions.
2. Increase flexibility and lower investment costs
By white-labeling a BI solution, you can customize the product to meet your specific needs without having to pay for custom development from the original vendor. In addition, you can avoid expensive subscription fees that come with the commercial use of most self-service BI tools.
As a white-label solution, the BI tool is also easily scalable to meet your organization's changing needs. Onboarding new customers or partners? Create new reports and visualizations specifically tailored to their needs in minutes. In addition, since you are not required to pay any license fees, you only pay for the software that you need when you use it.
3. High availability and support
White-labeling a BI solution allows an organization to create a solution that does not depend on the vendor's existing infrastructure. Instead, you are able to use your already existing infrastructure by embedding the content wherever your company would like. Whether it's in software, a web portal, or a mobile app, you have the freedom and flexibility to choose.
By white-labeling, you are able to integrate your chosen technology into your own applications and use it as an embedded BI tool with no direct dependency on third-party servers or cloud platforms.
As a result, you retain full control over the availability and support of your solution without requiring assistance from the vendor. This results in a higher customer satisfaction, as your end-users are already familiar with your teams.
4. Enhanced branding capabilities
The most significant benefit of white-labeling a BI solution is the ability to add your organization's branding and customize it with company logos, colors, and other custom design elements.
Although vendors may provide you with some customization options, such as the use of your company logo or color schemes, this rarely extends beyond minor tweaks to existing templates. By contrast, when you white-label a solution, you have full control over both the look and feel as well as the functionality of your BI tool.
In addition, the vendor's brand will not appear on your customized solution. As a result, you can ensure that your company branding remains consistent with other communications channels your business uses.
In addition, if your white-labeled solution is integrated into your website or other online applications, you can remove any reference to the vendor that would otherwise be displayed in these areas.


When to invest in a white-label BI solution
There are many benefits of white-labeling an embedded business intelligence solution, such as greater flexibility, lower costs, and enhanced brand opportunities.
You should consider investing in this type of solution when the requirements for your organization do not align with what is offered by off-the-shelf commercial software packages. This may be due to the need for a highly customized solution or a more open-ended tool to allow users to integrate it into existing technology infrastructure.
In some cases, white-labeling a BI tool can be accomplished at no additional cost beyond what you would have paid for the commercial license from the original vendor. In other situations, you may need to invest in a special license to white-label a solution according to your requirements.
If you decide that the benefits of white-labeling a BI tool outweigh the costs, consider working with an experienced software development partner who can help you to tailor it to meet your needs and add company branding where appropriate.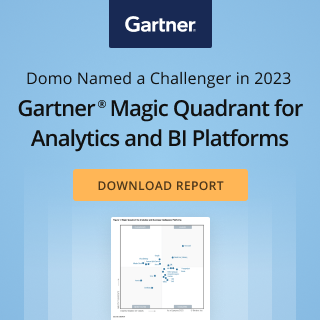 Check out some related resources:
Developing a Data Governance Model that Meets Your Modern Business Needs
Elevate Your Organization's Data-Driven Culture with Strong Governance Practices
Variables use case and feature walkthrough
Try Domo for yourself. Completely free.
Domo transforms the way these companies manage business.