/ How visualization tools maximize business analytics
Article
How visualization tools maximize business analytics
As a business leader, you know that data has the potential to greatly impact–or even define–your future. Fortunately, many robust technologies and tools are available for storing and analyzing this data.
One of the most popular ways to store and analyze big data is with business intelligence (BI) software. The question is: how can I use a BI software to maximize the insights I am gaining from my data?
In this article, we'll explore how BI tools can be used for business analytics. We will specifically focus on how data visualizations can maximize insights into your data.
Why invest in visualization tools?
Before you make an investment in BI technology, there's one thing you should keep in mind: visualization.
As data scientists have discovered, it's much easier to understand big data once it has been visualized. This concept is what drove the development of BI software, which allows you to turn raw data into meaningful charts and graphs that give actionable insights.
That being said, not all visualization tools are created equal. Some are easy to use, while others can be downright confusing.
Because of this, it's important to find the right visualization tool for your business and organizational needs. In this article, you'll learn about some of the most popular visualization tools available.
How can I extract business insights from visualizations?
Humans are naturally visual learners. Instead of overwhelming a user with tables containing thousands of rows of data, visualizations can be an easy vehicle for data insights. Visuals such as a bar chart or gauge graph (similar to the speedometer you see in your car) can be easily interpreted in seconds.
Visuals are also easy to interpret. With most business users being familiar with spreadsheet tools such as Excel, they will find it much easier to comprehend and consume visualizations created by BI tools.
When users want to extract even more insights, they can explore the data by drilling down into it. Starting at a high-level visualization that engages your audience is key. Once they understand the visual, they'll start to ask questions that will prompt further insights and analysis into the data.
How can I use visualization in business?
If you want to get the most out of your customer data, it's important to be able to visualize it. That way, you can quickly get a clear picture of customers' behaviors and preferences.
In fact, visualization allows business leaders and other decision-makers across your organization to make more informed choices faster than ever before. By connecting business data to a BI platform, employees across the company can easily generate their own data visualizations and dashboards, thereby improving their individual departments.
An important tip when getting started with data visualization in your business is to pick a department and identify some quick wins that can generate excitement. For example, your sales team might greatly benefit from visualizations that show their current sales pipeline and how certain prospects are progressing.
Visualizations can have huge impacts on any department or job role. This includes everything from identifying revenue leaks that need plugging to pinpointing the best time and location for sales events.
Real-world application of visualizations
When executed correctly, visualizations can be used in a variety of areas, including:
Retail businesses
More retail companies are using data storytelling techniques like narratives and storytelling using dashboards customized for specific audiences (e.g., executives or store managers), use cases (e.g., equipment maintenance), and goals (e.g., growing revenue).
Online businesses
Visualization is becoming increasingly popular on eCommerce websites because it provides an engaging way for shoppers to interact with products, giving them the opportunity to explore items in more detail before making a purchase.
Customer service
Gathering data about customer sentiment and other trends can give your company's support teams real-time information about issues affecting customers, helping them avoid costly problems by proactively offering assistance.
Healthcare organizations
The healthcare industry benefits greatly from visualization technology because it allows medical professionals across different specialties to access critical patient data quickly.
This helps doctors make accurate diagnoses and speeds up treatment times, resulting in better patient outcomes.
Transportation and logistics
With big data analytics, transportation & logistics companies are able to make smarter decisions related to demand management, supply chain optimization, network design, and more.
Just think of how it can help airlines decide where they should place flights or trucking companies decide the best time to schedule deliveries.
How do I get started with a BI tool?
BI tools are extremely easy to use because they are built with the business users in mind. Where traditional software relies on technical teams such as IT and engineering, BI and data visualizations are meant for business professionals in departments such as sales, finance, and marketing.
It's very easy to get started with data visualization. Once your data has been imported into the BI tool, it will help you visualize it using prebuilt visualizations such as a bar or line chart. These tools are incredibly intuitive and require minimal training.
Once you have incorporated visualizations into your everyday work, your employees will start to understand the value a BI tool can bring. You can start doing visualization and analytics in one department. As the company starts to see its success, other departments will soon want to follow.
Conclusion
There are many different types of visualization tools available, but deciding which one is right for your organization can be challenging unless you know what makes them tick.
In order to take full advantage of visualization data, it's important to look beyond the surface and evaluate key factors such as cost, the time needed for implementation, and scalability.
The good news is there are plenty of resources available, including case studies from companies that have used visualization tools to improve their decision-making. This will help you make a more informed choice based on your specific goals and budget.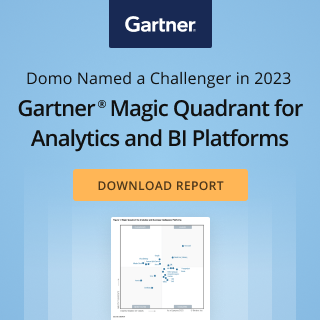 Check out some related resources:
Variables use case and feature walkthrough
Intro to Domo Workflows: Intelligently Automate Business Processes 
Domo Named a Leader in Nucleus Research's 2023 Analytics Technology Value Matrix
Try Domo for yourself. Completely free.
Domo transforms the way these companies manage business.