/ How data integration fuels decision-making
Article
How data integration fuels decision-making
Analytics has become something of a buzzword across all industries in the last decade. And it is no secret that it's becoming the lifeline for any organization. Analytics uses statistics or data to answer business questions, discover relationships and correlations, and predict outcomes.
By leveraging the wealth of knowledge available at their fingertips, company leaders can use analytics to make more informed decisions that will impact short-term revenues and long-term growth. The first step is implementing the right tools to help you orchestrate and analyze the data accurately and promptly.
Meeting the Data Needs of Your Team
Data-driven decision-making (DDDM) uses data to make strategic business decisions that align with your goals, objectives, and company initiatives. Data flows from various sources within any company including dashboards and apps. The repository of information (such as customer demographics, purchases, website hits, marketing campaign interactions, and so many more) can help support the needs of managers and business users to make critical decisions about:
Defining customer preferences
Increasing customer retention
Tracking sales trends
Improving customer service
Predicting market growth
Building modern analytics products is dependent on integrating data from disparate and often fragmented sources. Much of this data can be stored in a data lake, and may not be readily accessible for business drivers. Other data is stored in data warehouses, sometimes easier to access, but stored in rigid cubes or for specific use cases that make it difficult to add new dimensions to business intelligence processes.
As organizations look to modernize and become more digital and agile, the key factor to their success is how data is stored, how it flows, and how it's accessed throughout the organization to ensure the capabilities to make better-informed decisions quickly.
Data integration for analytics is the most important facet of building a data product because when your data is truly integrated you can deliver innovation, greater efficiency, consistency, relevance, and compliance across the organization. This function enables the business to have a complete view of data so the business can continuously make insight-driven decisions.
This means pulling in data that may be stored in cloud-based data warehouses alongside data gathered and stored on-premises. Because of the nature of how data is created, many companies have a hybrid model for storage.  While an excellent solution to ensure all data is stored, it can limit the ability of teams to ensure they have all the data they need in one place to accurately analyze business processes and predict future outcomes.
One problem many companies face is that dark data (data stored outside a data warehouse, sometimes as much as 40% of a company's data) lives in a different place than the data warehouse, and it isn't able to be brought in to support analyses. Or often the unprocessed data stored in data lakes means all that information cannot be brought into one cohesive, visualized whole.
Cloud data integration can work with various storage models. Whether data is all saved in a data lake or your company is utilizing a hybrid model for storage, you can centralize flows of hybrid data from various sources is through cloud data integration. It will establish processes to manage and centralize flows of data from across your organization to use that data to guide decision making.
How to Access, Analyze, and Act Upon Data
Advanced analytics platforms serve the needs of IT and business users alike as each needs the ability to bring in their data for analysis. But often the current architecture makes it challenging for IT to extend their backend tech (ETL, IpaaS, data warehouse, etc.) to these individuals. Limitations in flexibility and cost, security, governance, and ease of use are all contributing factors.
Some companies may implement a traditional or basic system integration for analytics. Basic system integration simply moves data between systems so that all systems function together. This process may seem simple and maybe even cheaper; in reality, a basic system orchestration can be more burdensome and can sometimes take the form of getting applications to work together for one specific business need with no flexibility to support future business and analytic needs. Additionally, the room for error for losing data during the process is rather large.
According to Forrester, traditional data integration fails to meet new business requirements that demand a combination of real-time connected data, self-service, and a high degree of automation, speed, and intelligence.
To meet the needs of managers and users, your company should build best practices to help meet these new business requirements, including:
Implementing proper governance standards for data integration.
Separating integration processes from business intelligence tools.
Emphasizing performance, cost reduction, and control.
Competitive Advantages of Cloud Data Integration for Analytics
As enterprises transition from on-premises enterprise applications to cloud computing and AI-enabled apps, the focus has been building new applications. Leaders who fundamentally understand application integration and system orchestration will have a significant advantage by focusing on integration for visualization and business intelligence use cases. Cloud data integration for analytics can allow your organization to maintain all its data in a single environment, so your team has a comprehensive and virtualized view of business operations and customer interactions.
Cloud data integration for analytics allows you to:
Promote widespread data literacy
Spot and capitalize on hidden opportunities
Improve performance
Promote innovation
Maximize Value in Data Architecture Investments
Most Chief Information Officers (CIOs) have invested a significant amount in their data warehouses (where clean and transformed data is stored) but find it difficult to access, extract, transform, and put critical data in the hands of business users quickly and in real-time. This means they will continue to rack up technical debt — spending countless hours updating analytical cubes and building operational processes while complexity compounds the end goal.
Data warehouse projects often aim to solve inefficient integrations by adding more business processes to an already abundant litany of jobs and IT data access requests. A simplified process, or architecture, and sophisticated auditing processes will prove more valuable in the long run in maximizing data architecture investments.
Utilizing a cloud data integration strategy with a data warehouse allows CIOs and IT teams to get the most out of their data warehouse investment. It will be able to access the data in cubes and will bring in additional data from other sources to perform complex analysis, giving business users the depth of information they need to add another dimension to business intelligence.
Conclusion
Businesses need to get their data to users quickly and accurately. This access includes the ability to integrate all the data sources (clouds, applications, servers, existing data warehousing, big data analytics platforms, etc.) to build a unified repository of information at cloud scale, wherever your data resides and without the need to move sensitive or referential sources. Through best practices, implementing a cloud data integration strategy will help meet the needs of all users as well as maximize the ROI of data architecture investments.
For more on how cloud data integration can benefit your business, please read our whitepaper.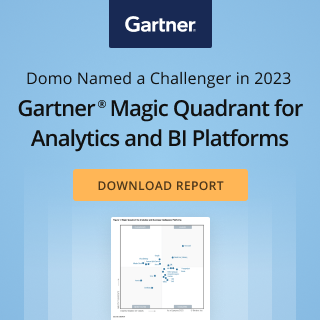 Check out some related resources:
Start With Data Governance for Better BI
The Third Wave of Data Architecture Design: Decentralized, Frictionless, Self-Service Access
Why is no one visiting my lakehouse? Unlock the power of your lakehouse for low-code and no-code users
Try Domo for yourself. Completely free.
Domo transforms the way these companies manage business.