/ A simple look at business intelligence dashboard tools
Article
A simple look at business intelligence dashboard tools
Dashboard tools are information management systems that monitor, collect, and present corporate data in engaging and adaptable representations that allow users to assess the performance of an organization and examine business processes.
Team members can instantly generate charts and automatic reports using a professional company dashboard tool, then share them with the appropriate decision-makers. Any authorized team member has the power to find, visualize, present, and share data in whatever way they see fit.
Business users can utilize dashboard software to compile a visually appealing report from a variety of indicators and big data trends. These data analysis dashboard technologies take complex data and create visualizations that convey a story that is simple to understand.
The best dashboard solution will make it possible for management and team members to analyze critical data patterns more quickly and effectively.
Benefits of dashboard tools
Real-time updates
A real-time dashboard enables you to keep track of activity as it occurs across all of your business operations. Your charts and reports are automatically updated less than a second after the action takes place.
Holistic view of KPIs
No matter what data sources you need to use, all of your key performance indicators are visible from a single central spot. You may quickly connect social media, help desks, ERP and CRM data, flat files, and databases to get immediate access to whatever business information you would need to gather and analyze.
Increased business efficiency
You increase business efficiency by reducing manual tasks, which is one of the top priorities when it comes to boosting productivity. Modern dashboard tools will instantly warn you if a business anomaly arises or a certain target is achieved, allowing you to take prompt action to avert a business disaster.
Dashboard tools also speed up the process of generating reports, so employees can spend time on other important tasks.
Opportunities for all team members
Dashboard tools allow you to build and analyze your dashboard without writing any code by simply dragging and dropping the necessary chart onto the canvas space. This means that team members who are not programmers or skilled data analysts can take the initiative and build effective dashboards.
Decreased risk in decision making
Dashboard tools help business leaders remove guessing from the decision-making process. The ideal dashboard program ultimately fosters a data-driven culture that benefits the entire organization.
Increased flexibility
Some tools let users access dashboards via any type of device. This enables them to access visualizations on the go. They're able to know when data is updated and take action accordingly.
How to select the best dashboard tool for your business?
Consider these data dashboard capabilities when selecting business dashboard solutions to locate the option that best suits your organization.
Collaboration capabilities
Data dashboards enable you to work together with coworkers, executives, and team members. The dashboard you're thinking of investing in should have lots of options for sharing across departments. The dashboards should also be simple to publish and disseminate, including, if necessary, with a URL to share with the general public.
Intuitive user interface
The quality and design of a dashboard's user interface matter when selecting a tool. Make sure users within a range of technical skill levels find the interface of the BI tool intuitive. If a tool isn't easy to use, members of your organization will have a difficult time adopting the tool into their current processes.
Data connectors
For corporate dashboard software, the issue of connectors to data sources is vital. Connectors to various data sources, such as Dropbox, AWS, or any one of dozens of other data sources, are a necessary part of an exemplary dashboard tool. Before choosing a dashboard tool, it's critical to know whether it connects to the many data sources you use to store data.
The bottom line
By using dashboard tools, users have the opportunity to have complete confidence in their data because the software serves as the one source of truth. It's important to thoroughly consider the many capabilities and options of business intelligence dashboard tools to find one that best suits your business.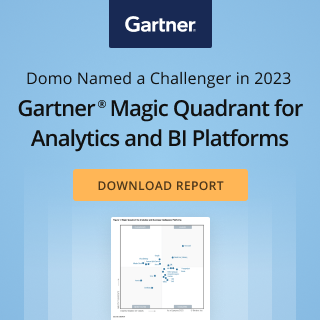 Check out some related resources:
Climate Impact Analysis for Flood Mitigation Planning & Action
Elevate Your Organization's Data-Driven Culture with Strong Governance Practices
Domo recognized by Forrester in new Generative AI report
Try Domo for yourself. Completely free.
Domo transforms the way these companies manage business.