Sign Up
Domo puts data at the center of an organization's thought process with clear, impactful insights in real time.
Domo takes the subjectivity out of decision-making by putting the right data, in the right hands, at the right time, and empowers your people with the ability to react and make decisions, right from the palm of their hand.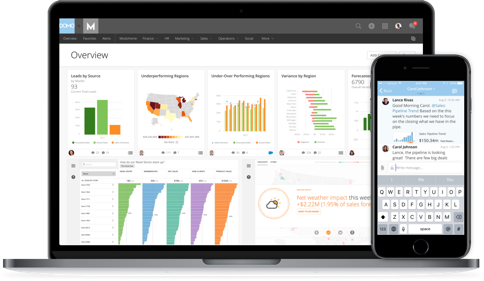 Domo is helping many of the world's top companies transform their business. See how Domo makes it possible to:
Pull data from anywhere to benefit everywhere. Connection to any data source through a cloud—based platform makes it incredibly easy to lay the right data foundation.
True speed to market. Developed for today's mobile world, real-time data access is seamlessly made available to everyone, across all platforms and devices.
Work better, together. An intuitive interface makes everyone in the organization data-savvy, while real-time alerts allow users to take immediate action anytime, anywhere.
Power at scale. With the ability to query billions of rows of data in seconds, Domo is infinitely scalable with capacity and security for the largest enterprise organization.
Automate analysis to help get answers. Domo's machine learning capabilities facilitate a better understanding of business results and encourage action.
Feel the impact of Domo for yourself with a free trial.
Domo helps businesses of all sizes, in every industry: