/ Why create and use KPI dashboards?
Article
Why create and use KPI dashboards?
In a world where data is everywhere, it has become harder than ever to figure out what's most important. In fact, research shows that less than half of all data collected is analyzed.
As a result, the majority of organizations are not using their data as well as they could be to answer crucial business questions and make better decisions.
In contrast, organizations that use Key Performance Indicators (KPIs) are able to do just that. By creating KPI Dashboards, they're able to take their data and create an efficient system of tracking progress towards meeting company goals.
By using KPIs, you can begin building a culture where everyone works collaboratively, collectively knowing how the company is progressing and where the next steps should be taken.
In this article, we'll go over what KPIs are and how to create a KPI Dashboard that can help you or your business meet its goals.


What are KPIs and why do we need them?
KPIs can be defined as "metrics that matter."
More specifically, numerical values indicate how close a business is coming to reaching its goals. They should, above all else, help you understand where your company's performance stands and why.
Why? Because it helps you determine what, if anything, needs to change for the better.
Instead of relying on a standard set of indicators, KPIs are specific to your business and should be tailored according to your own unique goals.
In other words, there's no such thing as a single perfect KPI—each organization should create its own.
For example, if your goal is to increase sales, you might choose KPIs that focus on things like customer retention, employee satisfaction, or client acquisition.
Once you have a few figures that help you understand a problem needing solving, it's much easier to take action and make real changes—whether technological, cultural, or both.

What should I include in my dashboard?
In order to set yourself up for success, there are a few characteristics that your KPI Dashboard should embody.
First and foremost, it should be actionable.
In other words, the information in your KPI Dashboard should help you understand what is going on in real-time. This is especially important in situations where you need to take prompt action if something has gone wrong.
For instance, you might also include historical data in your dashboard to show how things have progressed over time (to some degree).
Still, if the purpose of your KPI Dashboard is for troubleshooting, it would be best to focus primarily on information that can be used immediately.
Your dashboard should also provide insight into what's working well, as well as what needs improvement.
As you can see, this is especially important when it comes to taking actionable steps because if the data isn't separated between good and bad, there's no way of knowing where to start making changes. The end result could be that your business continues to run in the same direction without improvements, even though you think things might be getting better.
Additionally, it's essential to keep your entire company in mind when creating a KPI dashboard. When done correctly, KPIs are something that every employee should be familiar with and able to contribute towards.
Using KPIs effectively can help everyone work together, know exactly what they need to do each day, and understand why those priorities are relevant.
KPIs can also be a great way to stay transparent.
In fact, one of the best ways to create a culture where everyone works together is by being upfront about what's going on at all times. This includes sharing how close your business is coming to meeting its goals–if you're going to have a dashboard, you really should share it with your employees.

Why do I need a KPI dashboard? Why not just use Excel spreadsheets or another software program?
Sure, spreadsheets and software programs can be helpful in some ways when it comes to KPIs. But when it comes down to effectively communicating and sharing information, there's no better way than to use a digital dashboard.
There are two main reasons why: first, when you're tracking KPIs, the number one thing that you need is up-to-date information about what is going on at any given moment.
If your spreadsheet or other software program isn't up to date, it can be a pain to constantly have to update spreadsheets and make sure that data is accurate before sharing it with other employees.
Secondly, creating KPIs within a digital dashboard allows you or your business to take action as soon as something becomes apparent.
In other words, if there's a problem with a KPI in your dashboard, you can fix it right away. Using a spreadsheet or other software program for tracking will slow things down in comparison to making changes immediately in a digital dashboard that everyone knows is accurate.



How can I get started with KPI dashboards?
First, create goals. This includes creating specific numerical values for the goal itself and a time frame for achieving it.
Next, identify the KPIs that will help you track your progress towards meeting the goal. Make sure to gather data from a variety of sources in order to get a comprehensive picture of what is going on with your business at all times.
When you have determined which actions will lead to achieving your goal, incorporate these steps into your dashboard. The more detailed you are with what you want to accomplish, the easier it will be to share this information with your employees.
Finally, start sharing your dashboard. Make it accessible for everyone so that each person is responsible for tracking the KPIs that matter most to their role or department.
This includes sharing the goal with each employee making sure that everyone knows why the KPI is important and what steps need to be taken in order to achieve it.
Make sure that employees are following through on their responsibilities to achieve your goals by determining KPIs together. Once you have these processes set up, you'll quickly be able to see if anything is off track, take action faster and keep your business moving towards success.

Conclusion
KPIs are tools that can make your business more efficient when done correctly. They allow you to take action immediately based on real-time information, knowing exactly when it's time to update or make changes for your business to continue meeting its goals.
They also help employees understand what is most important when coming up with new strategies or meeting deadlines. If you're looking for a way to take your business in a new direction, track important data and give employees an easy-to-understand picture of what is going on at all times, then it's time that you consider creating and using KPIs in your organization.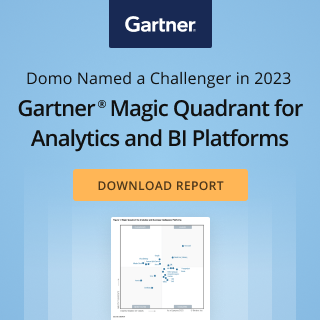 Check out some related resources:
There's an App for that—Tips for Crafting Apps, Dashboards, and other Engaging Data Experiences
POV: Next-Generation Banking
Domo Recognized as an Overall Leader in the 2023 Dresner Wisdom of Crowds® Business Intelligence Market Study
Try Domo for yourself. Completely free.
Domo transforms the way these companies manage business.