/ Sharing dashboards and insights through business intelligence
Article
Sharing dashboards and insights through business intelligence
If you're like most businesses, you have data scattered across different departments and teams. This can lead to inefficiencies and missed opportunities. But with business intelligence (BI), you can easily gather all of your data into one place so that everyone can access it. BI also enables users to create dashboard reports, which makes it easy for others to see the big picture at a glance. With BI, you can break down silos between different departments and accomplish more with your data.
In this article, we will talk about how modern BI tools are transforming the way teams work together through the use of shareable dashboards. These dashboards can easily be accessed by any user—including external users—and allow them to perform additional data analysis.

What is business intelligence (BI)
BI software was initially developed to help organizations make better use of their data. Business users generate and access data more than ever before, and they often need that data to accomplish their day-to-day responsibilities.
BI tools help enable business users to accomplish so much more with their data. Using a BI tool, an employee can import data, perform analysis, and visualize the data through a report or dashboard. BI tools are very intuitive and easy to get started with, meaning that any business user in your organization can start to leverage them.
The benefits of sharing BI dashboards and insights
Data becomes much more powerful when it is easily accessible and shareable across an organization. Even small companies can generate millions of data points per day during the normal course of business. Being able to access that data and easily share it with coworkers and customers can be critical to business success. Here are a few benefits BI can provide you when it comes to sharing dashboards and insights:
1. Ease of use
Data dashboards are incredibly easy to get started with because they leverage charts and visualizations in order to share the data. Rather than sending an Excel report or spreadsheet, a shareable dashboard can be shared with end-users for easy analysis. Insights can easily be generated from the data when it is displayed in common chart types such as a bar, line, or pie chart.
2. Instant accessibility
Modern BI is in the cloud, and this increases the accessibility your business can have with the tool. BI vendors normally distribute licenses or users to an organization, which allows users from all areas of the company to access the same data.
Getting started with a BI tool is so easy because it's possible to only work on data projects with a specific team or department. As soon as a dashboard is ready for sharing, it can be easily shared with employees from different departments. All that is required to access the dashboard is a license, web browser, and internet access. In the connected world we live in today, this means your dashboards can be shared and viewed by literally anyone at any time
3. Data governance
When sharing data and dashboards, it's also important to consider the protection of that data (often referred to as data governance). Modern BI tools have sharing settings that allow you to limit the different dashboards your employees are able to view. Roles can also be established within the tool that limits a user to certain functionalities, such as viewing a dashboard or creating a data source.
Data is also protected and encrypted by the BI tool. Compliance standards such as SOC 2 and HIPAA can be enforced on the data that powers your dashboards. This can be a huge relief for IT teams who are traditionally responsible for these procedures. Modern BI can become IT's best friend when it comes to data governance.
4. Cross-platform compatibility
In a mobile-first world, having access to dashboards and data while on the go can make all the difference for your company. BI tools offer cross-platform compatibility, meaning you are able to access your dashboards on any device. This could include a mobile device, tablet, desktop, or laptop. Dashboards can be created on a computer and then shared to employees' phones for daily use. This can greatly increase the value you gain from your BI tool.
How to share BI dashboards and insights
The benefits of sharing dashboards and data within your organization are numerous, but how do you get started? When starting a new shareable dashboard, it's often best to ask yourself questions like:
Who will be viewing the dashboard?
What kind of data will be helpful for the end-user?
What data sources will I need to create the dashboard?
What's the best way to distribute the dashboard?
Starting with the end goal in mind is critical to any dashboard project. End-users want to feel empowered by the discoveries and insights they make from the data.
Tips for creating effective BI dashboards
Using a BI tool to create shared dashboards may seem like a daunting task. Even if you don't have technical skills or previous experience with data, modern BI makes it easy for anyone to get started with creating dashboards. Here are some best practices we've identified for getting started:
1. Start simple
Oftentimes, end-users can benefit from even the simplest data sources and insights. By starting with simple visualizations and metrics, you can begin to demonstrate the value of the BI tool to your team. Simple visualizations such as bar graphs, line charts, or single-value summary numbers can produce helpful insights for end-users. As you become more comfortable with the tool, you can continue to further develop your shareable dashboard.
2. Identify what's most important
It's also critical to truly understand the underlying data with which you are working. Data is unique to every business, and it's important to understand the nuances in order to derive as many insights as possible. Different data types may also have varying degrees of importance for your organization. When starting a dashboard, make sure to begin with the data that is most relevant to your end-users. This could be something as simple as opportunity data for a sales team or product
3. User experience design
In order for insights to be extracted from a shareable dashboard, the content must be presented in a way that is both engaging and easy to understand. The user interface (UI) of the dashboard should be intuitive for end-users of all kinds, especially those who don't have much technical experience.
When designing a dashboard, it's important to follow basic design principles such as color, spacing, font, chart type, and size. Each one of these elements contribute to creating the perfect shareable dashboard.
4. Work with end-users
Shareable dashboards can have several different end-user personas, including other teams, customers, or partners. Working with these groups of people is essential for the success of your data dashboards. As you begin designing content, be sure to share it with end-users as much as possible. Many companies perform user acceptance testing (UAT) on small test groups to ensure the dashboard fulfills their needs.
5. Iterate and improve
A common pitfall with BI and shareable dashboards is the assumption that a dashboard is finished as soon as it's distributed to end-users. This couldn't be further from the truth. In order for dashboards to be effective, the business must continue to iterate and improve upon them as feedback is gathered from end-users.
Iteration embodies the idea of small incremental improvements. As you iterate on a dashboard, you will refine each element according to the unique needs of those with whom you share the dashboard.
For example, a sales dashboard can be distributed to several different executives on a weekly basis. Due to an increased emphasis on the quarterly sales goal, a new metric needs to be created to show the sales forecast on a quarterly basis. This metric might replace the current top-level sales metric that is measuring sales on a daily basis.
Conclusion
When it comes to dashboard software, there are a lot of options available on the market. But not all dashboard tools are created equal. To find the best dashboard tool for your business, you need to consider your specific needs and requirements. Do you need something that's simple and easy to use? Or do you need something that's more robust and customizable? Once you know what you need, you can start narrowing down your options.
Sharing dashboards and insights is more important than ever before. By partnering with a BI tool that possesses these capabilities, you can help to create a data-driven organization with well-defined goals and objectives. Through shareable dashboards, employees can have the data right at their fingertips, allowing them to be confident in their ability to execute.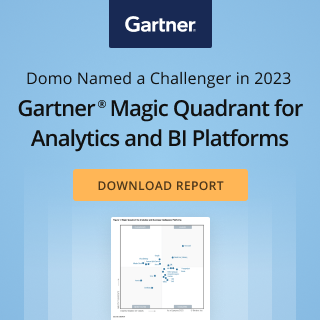 Check out some related resources:
Developing a Data Governance Model that Meets Your Modern Business Needs
Domo Ranked #1 Vendor in Dresner Advisory Services' 2022 Analytical Platforms Market Study
Domo Named a Leader in Nucleus Research's 2023 Analytics Technology Value Matrix
Try Domo for yourself. Completely free.
Domo transforms the way these companies manage business.