/ How 'Modern BI for All' Is Advancing the Life Sciences Industry Through Intelligent Action 
Article
How 'Modern BI for All' Is Advancing the Life Sciences Industry Through Intelligent Action 
The life sciences sector is likely to look a lot different in the future than it does now. According to research by 3M, not only did the industry's response to COVID-19 elevate global trust in science and its practitioners, but the pandemic itself accelerated change in areas that have the potential to advance initiatives related to digitization, customer experience, financial planning, and market conditions as a whole.
Customer behaviors are evolving, too. A recent study conducted by PwC's research arm found that 78% of patients were interested in being able to choose between in-person and virtual care options, post-pandemic. 
Similarly, investments in digital marketing that were already on the rise are increasing. According to one 2019 study, which surveyed more than 100 pharmaceutical and bioscience companies, one-third of pharma companies will spend more than 50% of their marketing budget on digital channels by 2022.  
Indeed, countless changes in the demands of both the patient and healthcare professional customer segments are taking place and affecting the way sales and marketing teams make planning and execution decisions. The way for teams to respond, adapt, and innovate is to enable them to start taking intelligent action based on data-driven insights.  
That's exactly what modern BI for all was designed to facilitate. Whereas traditional business intelligence data has been centrally managed and difficult to interact with in the field by the people who need it, when they need it, modern BI for all puts the power of data into the hands of everyone within an organization, encouraging curiosity, driving innovation, and, above all, doing it at speed.  
What this enables is the ability for commercial teams to go beyond static dashboards or reports and make data-driven decisions in the field based on live data.
The commercial advantage of intelligent action from data
Vast competition and high price sensitivity in the life sciences industry mean commercial growth will come from data-driven insights that fuel agile and productive field teams. In this volatile space, such insights help sales teams track opportunities, analyze their efforts, and predict their pipelines.
Key performance metrics for field sales teams are generated both in the field and online, and across all phases of the sales management process. To effectively manage their field sales teams, these sales reps also need to be able to analyze win-loss ratios and manage proposals.  
But obtaining such critical information doesn't always come easy. A lot of tools just aren't built to ingest, clean, and organize all the data required to produce intelligence that makes for effective decision-making.  
To overcome this hurdle, one global Fortune 500 life sciences company turned to Domo. It wanted to predict its sales pipeline more accurately, to understand how it was tracking against the market, and identify the profile of a model rep. Within a matter of weeks, it was able to achieve all of those goals.    
"Something as simple as layering CRM data with financial data was extremely complicated before Domo," a national sales leader at the company said. "Now, we have a global view of our sales performance and can more accurately forecast and manage pipeline."
Domo not only helped the company optimize sales effectiveness, but also navigate the complexities of running a modern sales organization. An important factor was the power of Domo's mobile interface, which enables on-the-go sales reps to access real-time data and insights on their phones from wherever they are.  
 
What's more, the organization has been able to gain more accurate predictions of revenue and pipeline, reduce time and energy spent on internal planning, and better understand the market trends and competition.  
 
The intelligent action component of modern BI for all also elevates marketing teams. Traditionally, marketers in the life sciences sector have had difficulty measuring ROI on digital spend and communicating across the business about how marketing is delivering sales and financial impact. The problem can be traced to fragmented and inaccessible data, preventing access to a unified view of the media mix.  
 
Modern BI for all counteracts this by driving intelligent action through the provision of real-time, data-driven insights, which not only gives your marketing organization the ability to make informed decisions when they need to be made, but creates a competitive advantage. 
Moving beyond traditional BI to enable intelligent action and proactive insights
Life sciences companies must embrace a modern-BI-for-all approach to ensure their teams have the mindset, tools, and strategy needed to take intelligent action from wherever they are. 
Once data is connected through Domo's powerful integration capabilities, it can be processed at much greater scale and shared instantly across departments and locations. 
Extensive governance and self-service features help to streamline workflows and speed up the time it takes to answer questions so decisions can be made more quickly and with more confidence.  
Additionally with Domo, sales organizations can safely and securely share data with partners, which allows for a stronger business ecosystem wherein everyone has a better opportunity to grow. 
To learn how you can bring your data together to improve operational speed and decision-making through intelligent action, explore Domo's Life Sciences Solutions or watch a short product demo.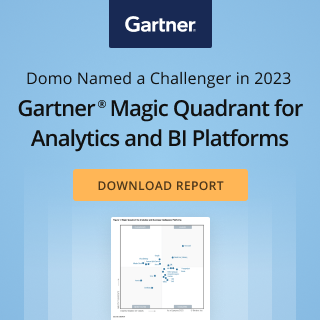 Check out some related resources:
How data leaders are making the move to Modern BI for All
Domo for Life Sciences
Why Life Sciences Companies Need Data Literacy Across the Entire Organization
Try Domo for yourself. Completely free.
Domo transforms the way these companies manage business.