/ Business Intelligence Tools: Why BI integration matters
Article
Business Intelligence Tools: Why BI integration matters
The past decade has seen a dramatic change in the way businesses operate.
The rise of big data and the ubiquity of mobile devices has forced companies to rethink the way they collect and analyze information. As a result, traditional tools are no longer adequate for meeting the needs of today's businesses.
From enterprises to organizations, handling data is a time-consuming and complicated process.
For decades, business intelligence (BI) tools provided organizations with the means to turn their data into actionable insights. However, these traditional BI tools require IT experts or trained analysts to interpret raw data and share meaningful information across departments.
While this model worked for companies in the past, today's businesses require a different type of BI tool. With this generation's tech-savvy employees, the demand for instant access to data is stronger than ever. Domo was designed with the business user in mind so that decision-makers have access to the data they need.


Modern businesses require modern BI tools
In order to keep up with the ever-changing business landscape, organizations need to adopt BI tools that can keep pace. That means finding a tool that can easily integrate with the systems you're already using without the need for specialized training.
This has given rise to a new wave of tools that incorporate pre-existing enterprise systems and work with large amounts of data.
These next-generation BI tools aim to collect and organize information and make this data immediately accessible, regardless of the device.
By eliminating the need for specialized knowledge and skill sets, businesses can solve problems more quickly than ever before.
Modern business intelligence tools like Domo are built with integration in mind. BI integration is crucial for giving users the full picture of their business so that informed decisions can be made. In this way, platforms like Domo not only provide organizations with actionable insights, they also help speed up processes and facilitate collaboration across small and large departments.

Top 6 reasons why BI integration matters
The following are some of the top reasons why integration is increasingly becoming a necessity when picking BI tools.
1. Data overload
Companies now generate between 10 and 100 times more data than they did just a handful of years ago. While this has forced organizations towards readily available cloud-based storage solutions, it's also created another problem that needs to be solved: how can businesses effectively sort through all this data?
The answer is by integrating their BI tools with existing business applications. By doing so, organizations are better able to harness the power of big data without being overwhelmed by it. Instead of spending valuable time sorting through data, employees can now quickly gain insights and make decisions based on that data.
2. The need for speed
In order to remain competitive, businesses need to move fast. Unfortunately, the traditional BI model often doesn't allow for quick turnaround times. This is because it relies on humans to extract meaning from data, which can be time-consuming manually.
However, BI tools like Domo that are integrated with other business systems can help organizations overcome this obstacle.
By integrating these tools with existing infrastructure, businesses can more easily build dashboards and create visualizations without the need for IT support or pre-built connections.
This way, users can quickly gain access to the information they need, turning data into insights.
3. Collaboration at scale
Collaboration is one of the key tenets of working in a modern business environment. Unfortunately, traditional BI tools don't support collaboration well. This is because not everyone has access to information or can see what other employees are working on day-to-day.
Domo's Buzz feature can help facilitate better collaboration and can integrate with existing communication tools within an organization. By doing so, employees from different departments – no matter how large – can easily and quickly share insights with one another. This helps break down silos and improve communication within an organization.
4. The need for actionable insights
To make informed decisions, businesses need actionable insights. Unfortunately, many BI tools provide information that is non-actionable or difficult to turn into action.
However, BI tools integrated with other systems can help make insights more actionable. By doing so, businesses can easily access the data they need and take immediate action on it. This helps reduce the time it takes to go from questions to answers.
5. The need for increased mobility
As more employees work remotely or struggle with limited access to information at their desks, the need for increased mobility has grown tremendously.
By integrating BI tools with other business systems, businesses can create actionable insights that are easily accessible on mobile devices. With Domo, dashboards are always available on desktop and mobile without additional development. This helps employees access the information they need no matter where they are, turning data into valuable insights.
6. The need for accountability
There's a growing sense of accountability among businesses today. Not only must organizations now answer to shareholders and boards of directors, but they're also accountable to their customers as well.
The good news is that BI tools integrated with other systems can help organizations remain accountable to both groups.
By integrating these tools, businesses can create dashboards and reports to track the effectiveness of their company's marketing campaigns in real-time, all while developing meaningful insights about customer sentiment.


How to integrate BI tools with existing systems
Now that we've seen the many benefits of integrating BI tools with other business systems, let's look at how to do so.
There are a few different ways to go about integrating BI tools with other systems. The most common way is to use connectors, allowing BI tools to connect to and extract data from other business systems easily.
Domo has a library of over 1000 pre-built connectors that allow users to pull data from the most popular cloud-based systems and databases. This makes it easy for businesses to get started quickly without the need for IT support. Additionally, with Domo's Integration Cloud, you can use write back connectors to send data from Domo back into your source systems.
Alternatively, businesses can use APIs to integrate Domo with other systems. APIs allow businesses to create custom integrations that meet their specific needs. This can be a more time-consuming process, but it allows companies to have more control over the data they're working with.
Regardless of which method you choose, it's important to make sure the BI tool you're using is compatible with the other systems you're integrating with. Most BI tools are cloud-based, making it easy for businesses to access their data from anywhere – no matter where it lives.

The future of business is here
As the boundaries between work and life continue to blur, more and more people are working on projects that require up-to-date insights at all times.
Businesses need actionable insights to make the best possible decisions, but this isn't always easy when your employees are spread out across different departments, locations, and time zones.
Luckily, BI tools like Domo are integrating with other business systems to help facilitate better collaboration.
By doing so, employees from different departments—no matter how large—can easily and quickly access the information they need to make informed decisions. This helps businesses stay agile and responsive in an ever-changing world.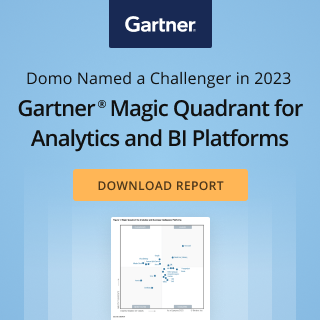 Check out some related resources:
Domo Showcases ESG Solution for Gartner BI Analytics Showdown
Harnessing the Power of Data to become a better Credit Union
POV: Next-Generation Banking
Try Domo for yourself. Completely free.
Domo transforms the way these companies manage business.