/
Virtual escape room in Domo
Domo's community looks forward to an awards ceremony every year for its intimate setting and chance to spend time to gather. Historically, the awards ceremony has been held in tandem with Domopalooza, a time when thousands of Domo customers come together to learn the power of the Domo product.
During this exciting week, the community finds an evening to sneak away from the crowds for a fancy dinner, community awards, and an engaging activity. With the COVID-19 pandemic cancelling yet another year of our in-person ceremony plans, we knew we needed to get creative and make this a memorable experience.
Before Domopalooza was announced as fully virtual, Domo's community team booked an in-person escape room activity for this group of technical community members. Once we transitioned this event to Zoom, we wanted to create a similar experience.
So, we turned to Zack Cameron, Domo's current director of education and former technical solutions manager. In other words, he's a Domo expert who can build dreams with the Domo product. And that's exactly what he did, by building a virtual escape room within a Domo instance.
The caveat of the puzzle was to find seven digits throughout the game and enter that final code to "escape" the trap of Domo cards one found themself in. As one discovered clues, unlocked pages, and found digits, the capabilities of Domo got ever more fascinating.
Keep in mind, the users participating in this puzzle are our most Domo-advanced, and we broke them into groups of 4-6 to combine their brain-power. Teams "escaped" within 45-55 minutes. Even these groups of exceptional Domo users were shocked at the level of expertise required to build the puzzle and were bewildered by how it was created.
Attendee Bryan VanKampen said post-event, "that's probably the best virtual event I've been to, Domo or otherwise."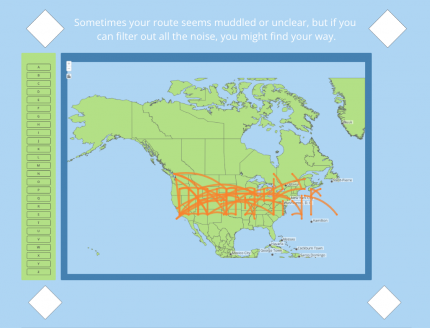 Zack used a mix of custom apps, interactive filters, drill paths, and APIs to build out this game—and in one of our next user groups, he'll be there to demonstrate how he built this complex activity.
Everyone who participated left the meeting room smiling. One attendee even went so far as to say, "today's session was absolutely AMAZING. So much fun. Not only did we complete the most complicated Domo puzzle, but we also made new connections and shared a great experience together."
If you didn't attend this awards ceremony activity, make sure to attend our user groups in the future. We have a feeling the Domo escape room theme is here to stay.