Tuesday, June 12, 2018
Domo Announces Programmatic Revenue Solution, a New Solution for Media Publishers to Simplify the Complexity of Audience Monetization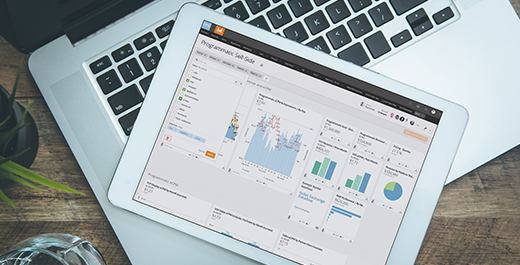 SILICON SLOPES, UT –  June 12, 2018 – Domo®, the cloud-based operating system for business, today announced a new pre-packaged solution focused on optimizing programmatic revenue for media publishers. The Programmatic Revenue Solution brings together complex data from ad servers and sell-side platforms into a set of cards and dashboards built on best practices in the ad tech industry. The solution makes it easy for publishers to increase programmatic revenue by automating reporting and displaying potential opportunities.
Media publishers are leveraging large volumes of data in increasingly complex ways to monetize their audiences. They need a large number of platforms to optimize programmatic revenue, and the large volume of data often creates discrepancies and analysis problems. Sell-side platforms generate complex data that publishers must manually aggregate, analyze, and optimize to increase yield and resolve discrepancies. With the Programmatic Revenue Solution, Domo integrates all of those systems, automates all of the reporting, and puts the controls in the hands of publishers.
"At Domo, we're trying to solve business problems that our customers face every day. Media publishers, in particular, are faced with increasingly complex ways to monetize their sites and apps. The multitude of systems create a massive amount of data that is nearly impossible to oversee," said David Katz, managing director, media industry at Domo. "The Programmatic Revenue Solution combines the expertise learned from our media customers and the ad tech industry to drive value simply and quickly. We want Media publishers to open up Domo and immediately understand how their business is doing and what they can do to increase revenue."
With Domo's Programmatic Revenue Solution, publishers can:
Track any metric from any system, including total revenue, impressions and true, effective cost per thousand (CPMs);
Instantly filter revenue performance by key optimizable factors such as date range, device platform, geography, ad type, advertiser, site, supply-side platform (SSP) and more; and
Locate where revenue opportunities exist in real-time, from any device.
Domo's Programmatic Revenue Solution for media publishers is the first of several industry-focused solutions. Domo plans to offer additional solutions for Marketing, Retail, IoT, Financial Services and Healthcare. These industry solutions will be announced as they become available.
For more information about Domo's Programmatic Revenue Solution, visit: https://www.domo.com/solution/programmatic-revenue
About Domo
Domo's mission is to be the operating system for business, digitally connecting all your data, your systems and your people, empowering them to collaborate better, make better decisions and be more efficient, right from their phones. Domo works with many of the world's leading and most progressive brands across multiple industries including retail, media and entertainment, manufacturing, finance and more. For more information, visit www.domo.com. You can also follow Domo on Twitter, Facebook and LinkedIn.
# # #
Domo is a registered trademark of Domo, Inc.