/ ​Domo Everywhere Product Demo: Revolutionizing Embedded Analytics
Video
​Domo Everywhere Product Demo: Revolutionizing Embedded Analytics
Take a deep dive into Domo Everywhere as Domo's product leaders reveal the powerful embedded analytics solution's various capabilities.
Domo's product experts show you how Domo Everywhere works, from embedding basic charts and graphs to editing visualizations and connecting shared data with proprietary external data for deeper insights.
They also address some of the questions they receive the most, such as: What kinds of experiences does Domo Everywhere allow me to extend to my customers and partners? How much control do I have over the interactions they can have with the data I share? What options does Domo Everywhere offer for deploying an embedded solution? How much control do I have over the data my external partners see in an embedded environment?
FEATURED SPEAKERS
Adam Landefeld
Senior Vice President of Product
Domo
Promoting a culture of innovation and execution is the norm for Adam. As Domo's vice president of product, Adam leverages eleven years of focused BI software experience combined with a creative background in computer graphics and 3D modeling to drive Domo's industry-defining products. Adam joined Domo from Corda Technologies where he started as a software engineer and was ultimately responsible for building and growing the company's services organization. As VP of Product, Adam's leadership has been critical to Domo's elegant combination of five core products into one solution, the world's first business management platform.Adam not only knows how to build a successful product, he knows his way around a body shop. In his free time he restores classic muscle cars and is also a nationally recognized, sponsored RC helicopter pilot.
Dan Hendriksen
Domo Everywhere Expert
Domo
Dan has nearly 20 years of professional experience using data to help both himself and his teams throughout sales and marketing organizations make smart and informed decisions. As GM of Domo Everywhere he heads up Domo's effort to help organizations of all sizes, all around the globe, with their data distribution and data monetization strategies. His regular focus includes exploring data democratization and data monetization strategies and bringing the insights back to Domo's product development teams. Prior to Domo, Dan worked leading sales organizations in the broadcast and digital media space, as well as the automotive industry. Dan has also founded and exited 2 different companies that were focused on using technology to innovate stagnant market segments. When not working, Dan enjoys spending time with his wife and 4 sons, traveling the world and riding any type of bicycle he can find all over the country.
Try Domo for yourself. Completely free.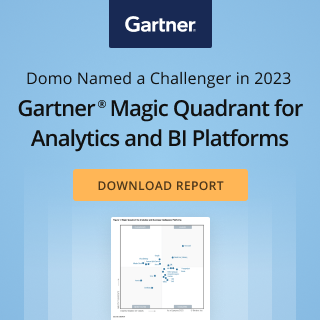 Domo transforms the way these companies manage business.